Bachelor of Arts in English, Writing, and Media
An English, Writing, and Media degree combines the liberal arts core curriculum with those of professional writing – including writing for digital media – resulting in a program that fosters critical thinking and written expression in a variety of practical modes.

Today's writer no longer writes for one medium. They must be adaptable to all forms including traditional, social, and digital – something that takes flexibility, creativity, and quick thinking (and writing too). Many companies look for multimedia journalists as they must post their story on multiple platforms in words, images, and video.

Interdisciplinary in nature, the English, Writing, and Media program enables students to bring different disciplines together to address complex issues in a fast-paced and highly innovative world.
What Makes English, Writing, and Media at Albertus Different?
Engaged
Students
Hands-on, experiential learning
Interdisciplinary perspectives
Emphasis on collaborative work
Great
Teaching
Personally invested professors
Small class sizes
Innovative, well-rounded programs
Resources and opportunities for research
Vibrant
Communities
Lively extracurricular activities
Campus-wide events
Service and community engagement
Successful
Outcomes
Active career counseling
Opportunity-building networks
Access to internships and professional experiences
The Albertus English, Writing, and Media Degree Program
Students will undertake a practicum course where they apply what they have learned to a real-world scenario. The practicum will align with their internship and be used in a project at their internship site. This experience will allow students to gain valuable experience in the field and apply their learning in a professional setting.

Careers for English, Writing, and Media are on the rise, being an essential function of the Constitution and Freedom of the Press. The average compensation for English, Writing, and Media Managers ranges from $49,000 for reporters to $75,000 for technical writers – one of the fastest growing fields in the industry.
Chair of Department of English
"The traditional English major has been part of the Albertus liberal arts curriculum since the founding of the College, and continues to serve a variety of students, including creative writers and teacher candidates. Our new major in English, Writing, and Media builds on the strengths of the traditional major while enabling students to acquire professional writing skills for working in print and digital media. The program also fosters critical thinking and cultural literacy through the study of literature, film, and television."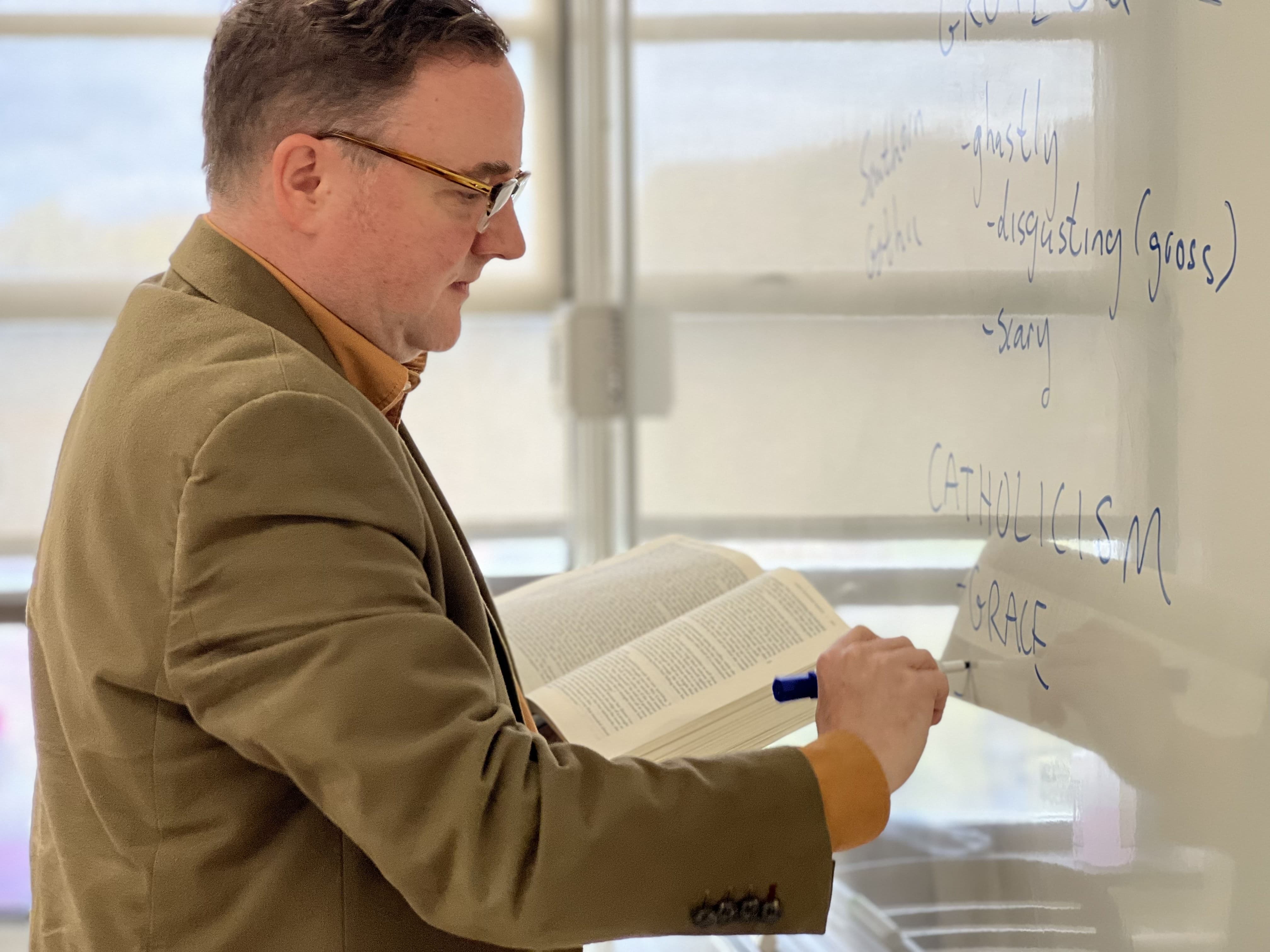 The Albertus English, Writing, and Media Faculty
Where Will Your English, Writing, and Media Degree take You?
The U.S. Department of Labor Bureau and Statistics categorizes English, Writing, and Media professionals as those with excellent written and verbal communications skills, knowledge of media production, and the tenacity to come up with something new and creative.
Possible career paths with a Bachelor of Arts degree in English, Writing, and Media include:
Digital Content Strategist
Public Relations Specialist
English, Writing, and Media Courses
Majors in English are introduced to the discipline in Foundations of Literary Study and take core classes in British, American, and multicultural literature. English majors find that training in their academic discipline enables them to excel in many fields such as: education, publishing, law, library science, civil service, business, and journalism. Through completing the English program, students will possess the writing and research skills, and the literary knowledge necessary to flourish in the liberal professions and relevant graduate programs.
Upon completing the program of study in English, Writing, and Media, students will:
Write persuasively in a variety of professional modes and media, including digital media.

Think critically about literature and other contemporary forms of cultural expression.

Create original content in written, visual, and digital media.
View Courses and Curriculum
Interested in learning more about the diverse courses offered at Albertus?
We have Faith in Your Future
Become Part of the Albertus English, Writing, and Media Community
Have questions about English, Writing, and Media? Ready for the next step?
Let us know how we can help plan your future.
Request English, Writing, and Media Undergraduate Information