Master of Science in Human Services (MSHS)
The Master of Science in Human Services is a 39-credit graduate program designed to prepare students to pursue rewarding careers in a wide variety of human and social service settings.

Program Tracks in Human Services and Counseling

With courses like Case Management, Counseling Techniques, and Addictions Counseling, students gain advanced professional knowledge and skills to work in leadership positions with a diverse range of clients and populations.

The Master of Science in Human Services is offered in our eight-week accelerated format. All of our classes are held either on our East Hartford or New Haven campuses two evenings per week, or held in the blended format. Students can begin the program in Mod 1 which begins in late August or early September, or in Mod 3 which begins in January. For specific dates for this academic year, be sure to check out our Academic Calendar.
What Makes Human Services at Albertus Different?
Engaged
Students
Hands-on, experiential learning
Interdisciplinary perspectives
Emphasis on collaborative work
Great
Teaching
Personally invested professors
Small class sizes
Innovative, well-rounded programs
Resources and opportunities for research
Vibrant
Communities
Lively extracurricular activities
Campus-wide events
Service and community engagement
Successful
Outcomes
Active career counseling
Opportunity-building networks
Access to internships and professional experiences
The Albertus Human Services Degree Program
The M.S. in Human Services requires 3-6 credits of field-based experience in a private or public human service agency, which provides students with opportunities to pursue careers that match their personal interests. Through the College's partnerships with local and regional nonprofit organizations, local schools, state agencies, housing developments, and urban coalitions, students are exposed to many opportunities that exist in the field of human services and are given the advantage to network with many prominent community leaders.

---
Masters in Human Services & Addictions Counseling Certificate
Interested in state licensure?
The M.S. in Human Services is not a license-track program. However, in combination with the postgraduate Addiction Counseling Certificate it can lead to the L.A.D.C. (Licensed Alcohol and Drug Counselor) credential. These programs can be pursued concurrently and completed in just 2 academic years. Alternatively, students who have already earned the M.S.H.S. degree can apply for and complete the Addiction Counseling Certificate in just 1 academic year (4 mods).
Learn More: Masters in Human Services & Addictions Counseling Certificate >
Select Your Preferred Human Services Schedule
Offered in an accelerated format, students can complete their master's degree in Human Services in a year and a half while taking only two classes at a time.
Students choose between the following:
Online
Take 2 classes every 8 weeks (including summer).
Work from the comfort of your own home, office, library, or favorite coffee shop.
For most classes, work on assignments on days and times of your own choosing, provided work is completed on schedule. (In some classes synchronous sessions are held using videoconferencing. Note that field placements generally expect in-person attendance by interns.)
On Campus/Blended
Take 2 classes every 8 weeks (including summer).
Classes are a combination of in-class sessions with online assignments. Attend classes on campus 1-2 evenings per week, while all other assignments are done from the comfort of your own home, office, library, or favorite coffee shop.
Benefit from in-person discussion with professors and peers while completing many projects and assignments.
FLEX - A mixture of the two!
Decide whether to attend in person or study online each session by registering for the option you prefer.
Human Services Student Perspective
Sharon Gentles '19 found it important to learn in a community-driven learning environment, where she would be treated as a person and not as a number.
"Albertus professors are people you can talk to, you can relate to them. They see your potential and they bring that out."
Graduating with an M.S. in Human Services, Sharon continues to use the skills she learned at Albertus to advance in her human and social services career.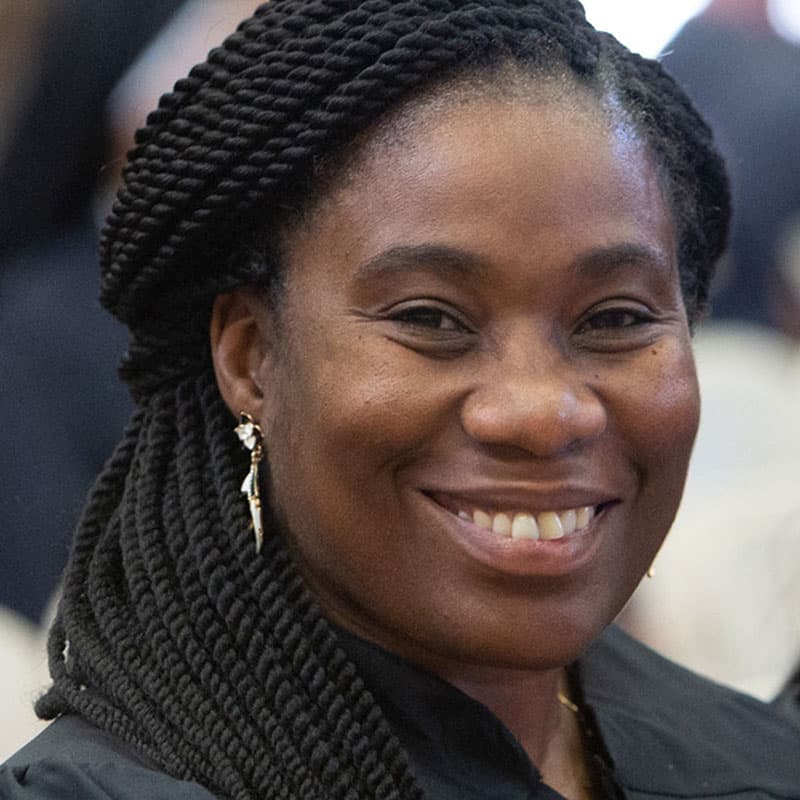 Dr. Ragaa Mazen is a professor and Director of the Master of Science in Human Services. Dr. Mazen studied at Ein Shams University in Cairo, Egypt and Yale University.
"I started teaching in the United States in 1967. As a professor, my students and my teaching are very important to me."
She teaches classes in Psychological Assessment, Personality Structure and Dynamics, and Cultural and Diversity Issues. Dr. Mazen is an active member of several national organizations, including the American Mental Health Counselors Association and American Art Therapy Association.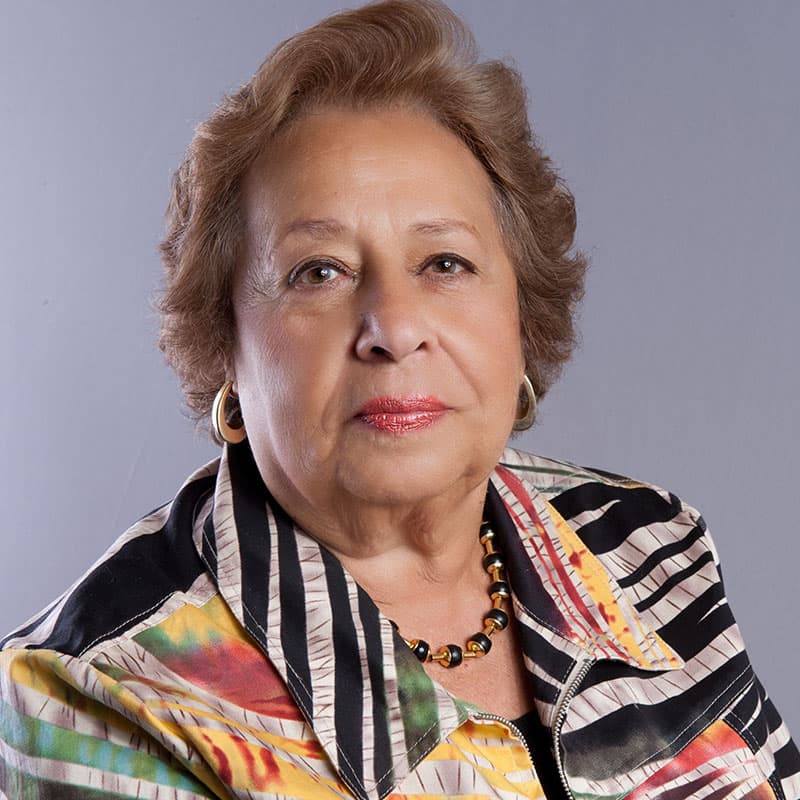 The Albertus Human Services Faculty
Human Services Affiliate Faculty
Where Will Your Human Services Degree take You?
Possible career paths with a Master of Science degree in Human Services include:
Human Services Administrator
Crisis Intervention Specialist
Grouphome Manager or Worker
Department of Social Services Worker
Department of Child and Family Services Worker
Department of Developmental Services Worker
Master of Science in Human Services graduates will demonstrate the ability:
To advocate for clients through knowledge of community resources in the human services network;
To analyze major social issues, social problems, and current socio-political and sociocultural events which affect human services;
To apply basic methods and techniques used to evaluate individuals with mental illness, developmental disabilities or cognitive impairments;
To implement common psychosocial treatment approaches based on key theories and related concepts;
To define achievable goals of counseling and contributions and limitations of various treatment modalities;
To understand and apply legal and ethical standards affecting the delivery of human services;
To assess behavioral, cognitive, affective, and environmental factors in order to identify and set long-term achievable client goals;
To understand psychological and socio-cultural aspects of normal and abnormal behavior, theories of causation and treatment approaches.
View Courses and Curriculum Master of Science in Human Services, M.S. and Certification in Addiction Counseling All Program Tracks
MS Human Services Enrollment Report (PDF)
Interested in learning more about the diverse courses offered at Albertus?
What We will Need from you
Human Services Admission Requirements
To be admitted to the Human Services program, applicants must submit the following:
A completed application and a $50 non-refundable application fee

Bachelor's degree from a regionally accredited college or university with a minimum cumulative G.P.A. of 2.8 on a 4.0 system*

Official transcripts reflecting conferral of prior degree (a minimum of a bachelor's degree for masters programs). All transcripts are to be submitted from the original institutions.

For non-native English speakers, minimum TOEFL score of 550 paper-based, 80 internet-based, or 213 computer-based

Proof of immunization in accordance with Connecticut State requirements

For applicants who intend to use Department of Veterans Affairs (VA) Educational Benefits

Military, university and college transcripts

Certification of Eligibility letter or, for reservists, Notice of Basic Eligibility

Veteran's Intent to Register form

A current resume

A 500-600 word essay, double-spaced, detailing why the candidate is applying for this program, any experience in this area, and his/her expectations for this program.

Two letters of recommendation from former professors or professional associates

An interview is required.
Students are required to have a minimum of 15 credits in psychology, human services, and/or social work as a prerequisite to beginning coursework in the M.S. in Human Services.
Students must also demonstrate graduate level writing ability or take Writing and Research in Social Sciences, HS 550, after the first mod as one of the two electives in the program.
Students may apply for admission to the program at the start of the fall in Mod 1 or in the spring in Mod 3. All new student applications must be complete and submitted to the Director of the Masters in Human Services at least six weeks prior to starting the program.
We have Faith in Your Future
Become Part of the Albertus Human Services Community
Have questions about Human Services? Ready for the next step?
Let us know how we can help plan your future.
Request Human Services Undergraduate Information
Request Human Services Graduate Information
Loading...
Purposeful Vision & Direction
The Albertus Human Services Degree Mission Statement
This major is designed to provide students with a career-oriented degree which is combined with a rigorous Liberal Arts education. The major prepares the student to work in the community in professional capacities such as community outreach worker, case manager, community support counselor, clinician, mental health worker, and job coach. This major requires six credits of supervised internship experience. It is an interdisciplinary major drawing upon courses from several disciplines, including: Psychology, Sociology, Management, and Philosophy, in addition to the core general education courses.