Welcome, Parents!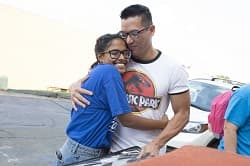 Parents play an important role in a student's transition into college. They provide support and guidance at a time when students are faced with major changes that require flexibility and adjustment. While most parents recognize that their sons and daughters must begin taking on new levels of responsibility, learn to advocate for themselves, and, yes, even make their own mistakes, parents also recognize that their sons and daughters still need their support and guidance. As students are just entering early adulthood, the stakes become much higher. College is a significant financial commitment, and the decision to attend must be made with careful consideration of all options. Encouraging students to explore their interests as early as possible to determine their path may limit the amount of expenses that arise later in their career.
Here at Albertus, we value the role that parents play in a student's success. You are an important part of a student's ability to grow both mentally and emotionally. On this page you will find information about several aspects of the student experience meant to help you support the student throughout their journey at Albertus.
Check out Parents Frequently Asked Questions (FAQs) for answers to everything from what your student should bring for life in the residence halls to ways you can pay for an Albertus Magnus College education. And rest assured that campus safety and security is a priority at Albertus Magnus College.
Why not take a look at Albertus Magnus College and see for yourself? Visit us in person, learn about our campus , discover more about New Haven and experience the many dimensions of our dynamic community.