Welcome, Parents!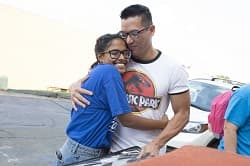 Parents play an important role in a student's transition into college. They provide support and guidance at a time when students are faced with major changes that require flexibility and adjustment. While most parents recognize that their sons and daughters must begin taking on new levels of responsibility, learn to advocate for themselves, and, yes, even make their own mistakes, parents also recognize that their sons and daughters still need their support and guidance. As students are just entering early adulthood, the stakes become much higher. College is a significant financial commitment, and the decision to attend must be made with careful consideration of all options. Encouraging students to explore their interests as early as possible to determine their path may limit the amount of expenses that arise later in their career.
Here at Albertus, we value the role that parents play in a student's success. You are an important part of a student's ability to grow both mentally and emotionally. On this page you will find information about several aspects of the student experience meant to help you support the student throughout their journey at Albertus.
Check out Parents Frequently Asked Questions (FAQs) for answers to everything from what your student should bring for life in the residence halls to ways you can pay for an Albertus Magnus College education. And rest assured that campus safety and security is a priority at Albertus Magnus College.
Why not take a look at Albertus Magnus College and see for yourself? Visit us in person, learn about our campus , discover more about New Haven and experience the many dimensions of our dynamic community.
Events
New Student Orientation - June 2023
New Student Orientation is also for our new incoming parents and family members! These programs will take place simultaneously with the student programs in June 2023.
Please note: When students new to Albertus Magnus College register for New Student Orientation, there is a section to register parent and family members within the student registration form.
Registration available (account required to register):
Parent and Family Orientation - Schedule
MAKE UP - NEW STUDENT - Schedule
Students should check their email for information on how to register for a Summer Orientation Session.
International Students
Virtual Orientation - July 12th and July 22nd, times to be announced
In person orientation - August 23rd - August 24th
Parents and family members of our incoming International Students are welcome to participate in the virtual orientation sessions!
Registration Information will be emailed to all international students as they submit their deposit.
Any questions? Please contact Miriam Randall at mrandall@albertus.edu.
Welcome Weekend!
Friday, August 25th, Saturday, August 26th and Sunday, August 27th
Friday, August 25th: Move in Day for new residential students
*Resident students will receive email communications in August about scheduled move in times. If you have any questions in the meantime, please contact reslife@albertus.edu.
Residents and Commuters will participate in a few days of educational workshops, class bonding activities and fun, interactive programs to start off their year!
All incoming students are required to attend the Welcome Weekend program (first year and transfers).
Helpful Videos