Student Alumni Association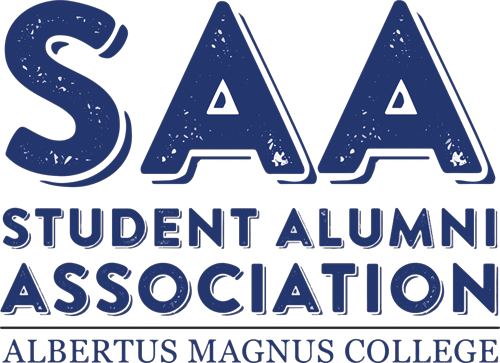 Students Today, Alumni Tomorrow.
Falcons Forever.
The Student Alumni Association (SAA) is a student-run and Alumni Office supported organization for undergraduate students at Albertus Magnus College. We are a closed membership of 25-30 students.
Connect
Request an appearance from Frankie The Falcon at your next event
Make Request
Follow Us:
SAA Mission and Goals:
Provide students with valuable opportunities for career development and personal growth.
Give both students and alumni the opportunity to contribute to the College and community.
Bring students and alumni together by sponsoring programs to enhance the relations between members of the College community.
Instilling a sense of tradition, loyalty and pride that will motivate current students to become future alumni association leaders and advocates.
Allow all to come in as individuals and exit as a whole.
Events & Activities
Founders' Day
Homecoming
Alumni Thank-a-thon
Leadership Workshops
St. Albert Week
Albertus Christmas Tree Lighting
Alumni Athletic Events
Student Engagement & Philanthropy Day: Change for Change Scholarships for Students
Frankie's Hatch Bash
Falcon Flights
Project Gratitude
Pons Party for the Senior Class
Reunion
Awards
As a member of the Council of Advancement and Support of Education (CASE) Affiliated Student Advancement Programs (ASAP), the Student Alumni Association has been recognized with regional and national awards including:
2018 National Outstanding Organization
2018 District 1 Outstanding Organization
2018 District 1 Outstanding Student Advancement Program: Falcon Flights
2017 District 1 Outstanding Student Leader: Stacie Hurley '17
2017 District 1 Outstanding Student Advancement Program: Change for Change
2016 National Outstanding Advisor: Stefanie Seslar
2016 District 1 Outstanding Emerging Organization
2016 District 1 Outstanding Advisor: Stefanie Seslar