Biology Majors at Albertus Magnus College
The Biology program at Albertus is a great place to begin a future career in the medical, veterinary, dental, or research fields. Through a broad-range and rigorous curriculum, combined with challenging lab and field work, students gain practical experience working with living organisms.
Faculty mentors are invested in strengthening the student's technical skills in classrooms that never exceed 25 students, enabling coursework concepts to be thoroughly understood and allowing critical thinking to grow.
What Makes Biology at Albertus Different?
Engaged
Students
Hands-on, experiential learning
Interdisciplinary perspectives
Emphasis on collaborative work
Great
Teaching
Personally invested professors
Small class sizes
Innovative, well-rounded programs
Resources and opportunities for research
Vibrant
Communities
Lively extracurricular activities
Campus-wide events
Service and community engagement
Successful
Outcomes
Active career counseling
Opportunity-building networks
Access to internships and professional experiences
My passion grew stronger for the sciences once I was able to make and conduct my own experiments… I was intrigued by the topic of epidemiology because researching disease discovery was very appealing to me; and finding a cure for a disease is a goal I have set.
Kimberly Keller, '21
The Albertus Biology Faculty
Where Will Your Biology Degree take You?
The Biology curriculum provides a foundation for pre-medical, pre-veterinary, and pre-dental training. In addition, students interested in teaching biology post-graduation can be approved by certification through our Education Programs Department. Whether you envision a career as a doctor, veterinarian, dentist, healthcare professional or research scientist, your biology degree from Albertus will provide the path to your future.
Possible career paths with a Bachelor of Science degree in Biology include:
Scientific History of Albertus
The sciences at Albertus go back to the early days of our history. In 1927, Marcella O'Grady Boveri arrived at this fledgling college to establish a department of science.
Marcella's background was amazing for a woman of her time.
She was, in 1885, the first woman to graduate from Massachusetts Institute of Technology with a concentration in biology; she studied comparative zoology and embryology at Bryn Mawr; and by 1893 she had become a full professor at Vassar.
Three years later, she was admitted to study science at the University of Wurzburg in Germany, the first woman ever granted acceptance to the science program there. At Wurzburg, she studied with Theodor Boveri, director of the Zoological–Zootomical Institute and one of the world's first cancer researchers. They married in 1897 and worked together on the chromosome theory of cancer until his death in 1915.
Marcella Boveri remained in Germany until 1926 when she returned to the United States for what was supposed to be just a brief visit: however, fortuitously for Albertus, she learned from a friend who was married to a former Yale University dean that the new liberal arts college in New Haven was looking for a woman of distinction to create and run its science department. When her contacts at Yale assured her that the resources of its Osborn Zoological Laboratory and Yale libraries would be available to her, she accepted the offer from Albertus. Marcella Boveri remained at Albertus until she retired in 1943; she died in October 1950.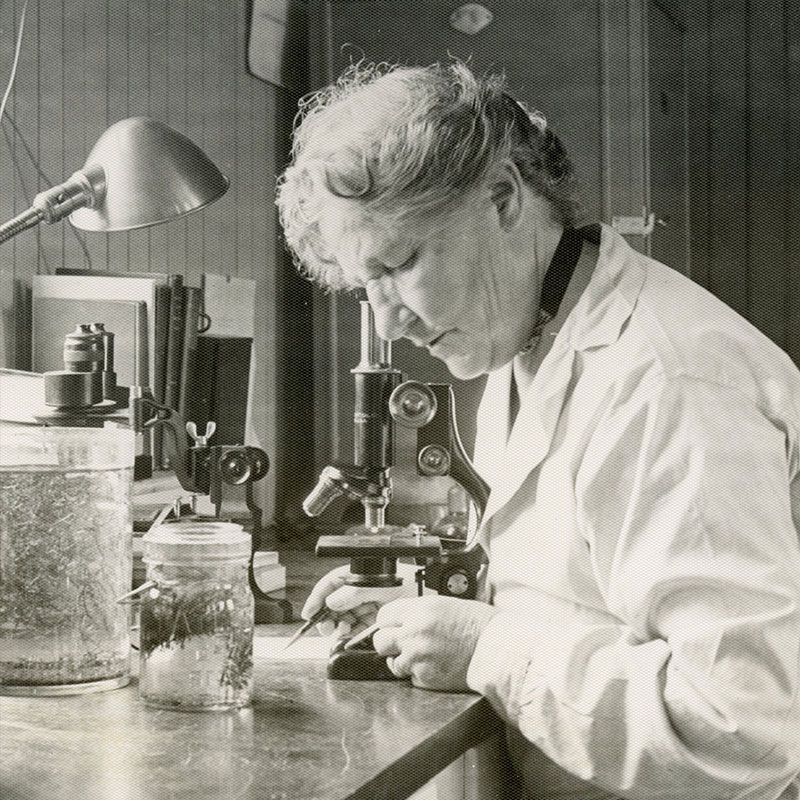 Upon completing the program of study in Biology, students will develop:
Proficient knowledge base and breadth (introductory courses supplemented by upper-level courses);
Proficient critical thinking skills (data interpretation/presentation especially in upper level courses e.g., SC 351);
Proficiency in written/oral communication skills (lab reports, research papers in introductory & advanced courses, oral presentations and in-class discussions);
Proficiency in experimental design (present both in introductory & advanced levels especially with laboratory report components; should include a degree of creativity especially in design of experiments, the choice of experimental tools and the proper choice of experimental "controls");
Proficiency in information literacy (all courses include a "library component" for research projects/papers; seminars by invited library staff to facilitate database access, navigation and usage);
Proficiency in quantitative analysis (data interpretation & presentation; covered in both introductory and upper-levels courses).
View Courses
and Curriculum
Biology
Minor
Pre-Pharmacy
Minor
Interested in learning more about the diverse courses offered at Albertus?
We have Faith in Your Future
Become Part of the Albertus Biology Community
Have questions about Biology? Ready for the next step?
Let us know how we can help plan your future.
Request Biology Undergraduate Information
Purposeful Vision & Direction
The Albertus Biology Degree Mission Statement
The mission of the Department of Biology, Chemistry and Mathematics is to build upon the College's Liberal Arts focus to prepare students with the knowledge, skills, and judgment necessary to be responsible, able practitioners in their chosen fields. The majors are designed to prepare students for careers in education, research, museums, libraries, industry, government service, and scientific writing and illustration. The faculty works closely with students interested in pursuing professional or graduate study, helping them to prepare for entrance into both professional and graduate programs. Majors are advised individually about their choice of courses according to their special interests and abilities.