Chemistry Degrees at Albertus
Chemistry is often referred to as the "central science," because it connects all other scientific fields, such as physics, geology, environmental science, and biology. Chemistry is all around you. In our bodies, in our clothes, food, other products and technology. Studying chemistry brings awareness to the world we live in. Why is the sky blue and the plants green? How is our food made and how does it affect our bodies?
Studying Chemistry at Albertus prepares students for careers and graduate studies in fields such as scientific research, medicine, dentistry, and veterinary medicine. Studying any scientific discipline enables students to be objective and solve problems. In both the classroom setting and in the laboratory, students will interact closely with our faculty, taking advantage of our small student to faculty ratio.
For students interested in earning a teaching certificate in Chemistry, the major guides you through the steps leading to initial teacher certification offered by our Education Programs Department.
What Makes Chemistry at Albertus Different?
Engaged
Students
Hands-on, experiential learning
Interdisciplinary perspectives
Emphasis on collaborative work
Great
Teaching
Personally invested professors
Small class sizes
Innovative, well-rounded programs
Resources and opportunities for research
Vibrant
Communities
Lively extracurricular activities
Campus-wide events
Service and community engagement
Successful
Outcomes
Active career counseling
Opportunity-building networks
Access to internships and professional experiences
Chemistry Student Perspective
Alex Chan '18, a Chemistry Major, was a transfer student when she first arrived at Albertus, and immediately she felt at home on Albertus' smaller campus and connected with its tight sense of community.
"Although the next step is really scary, the way Albertus has prepared me, I feel like I'm ready for it."
Alex went on to attend the University of Maryland to pursue a career as a pharmacist.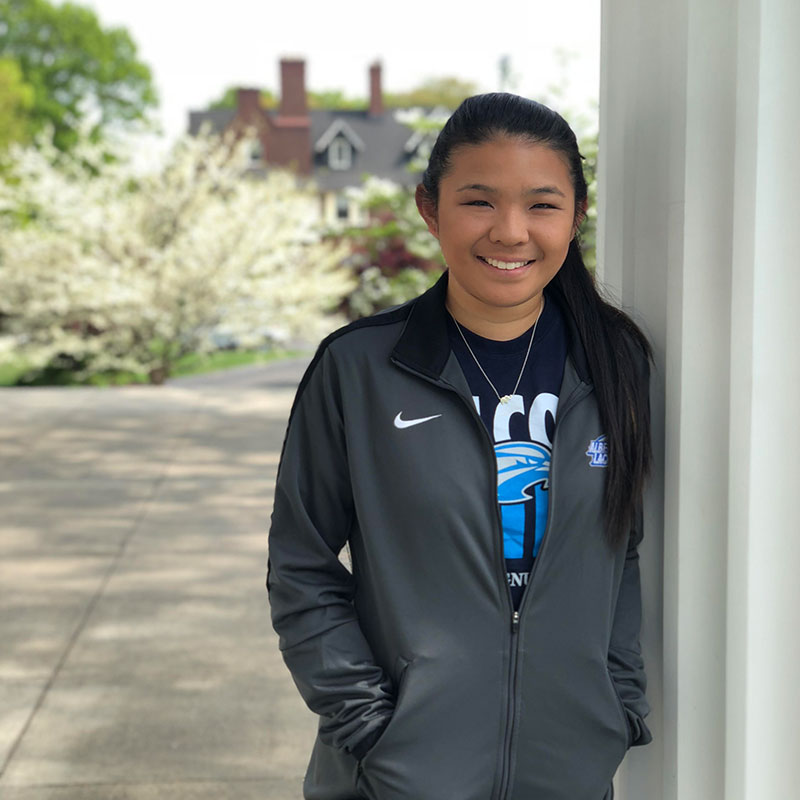 I hope to apply my interest in chemistry to helping people in the future. Whether I become a toxicologist, chemical engineer, or a pharmacist, I want to be able to make a difference in whatever career path I choose.
Daniel Halloran, '21
Dr. Mark Barreuther is a professor and Chair of the Biology, Chemistry, and Mathematics departments at Albertus Magnus College. Dr. Barreuther teaches courses in Cell Biology, Genetics, and Human Physiology.
"I find that small classrooms are priceless. It allows you to see the real strengths of students."
Dr. Barreuther has been teaching at Albertus since 1999, and was made the Biology/Chemistry/Mathematics department chair in 2003. He studied sciences at Southern Connecticut State University and Wesleyan University, and completed his post-doctoral studies at Yale University.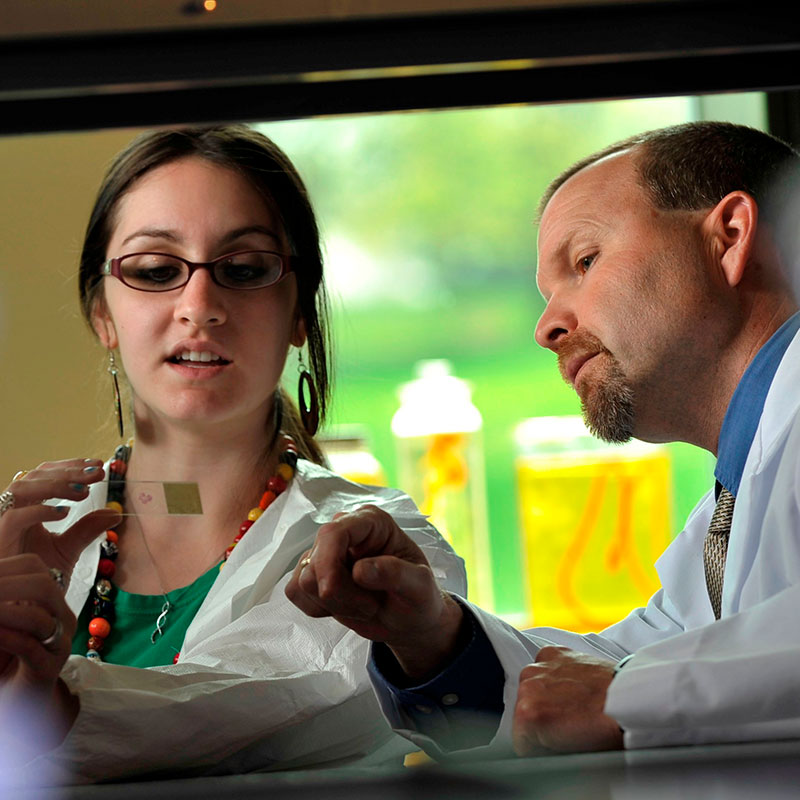 The Albertus Chemistry Faculty
Where Will Your Chemistry Degree take You?
Possible career paths with a Bachelor of Science degree in Chemistry include:
Scientific Laboratory Technician
Scientific History of Albertus
The sciences at Albertus go back to the early days of our history. In 1927, Marcella O'Grady Boveri arrived at this fledgling college to establish a department of science.
Marcella's background was amazing for a woman of her time.
She was, in 1885, the first woman to graduate from Massachusetts Institute of Technology with a concentration in biology; she studied comparative zoology and embryology at Bryn Mawr; and by 1893 she had become a full professor at Vassar.
Three years later, she was admitted to study science at the University of Wurzburg in Germany, the first woman ever granted acceptance to the science program there. At Wurzburg, she studied with Theodor Boveri, director of the Zoological–Zootomical Institute and one of the world's first cancer researchers. They married in 1897 and worked together on the chromosome theory of cancer until his death in 1915.
Marcella Boveri remained in Germany until 1926 when she returned to the United States for what was supposed to be just a brief visit: however, fortuitously for Albertus, she learned from a friend who was married to a former Yale University dean that the new liberal arts college in New Haven was looking for a woman of distinction to create and run its science department. When her contacts at Yale assured her that the resources of its Osborn Zoological Laboratory and Yale libraries would be available to her, she accepted the offer from Albertus. Marcella Boveri remained at Albertus until she retired in 1943; she died in October 1950.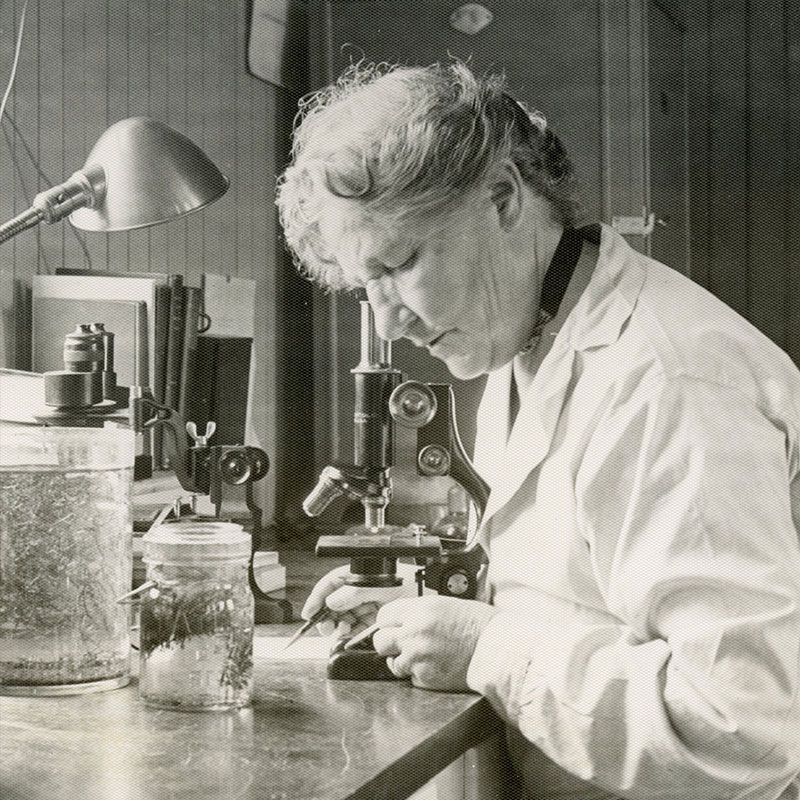 Through various STEM courses, students will be exposed to the many aspects of the chemistry major, including biochemistry, physical, inorganic, organic, and analytical studies. The small student to faculty ratio allows students more personalized attention during labs and classes, resulting in a deeper understanding of chemistry in all of it's dimensions.
Upon completing the program of study in Chemistry, students will develop:
Proficient knowledge base and breadth (introductory courses supplemented by upper-level courses);
Proficient critical thinking skills (data interpretation/presentation especially in upper level courses e.g., SC 351);
Proficiency in written/oral communication skills (lab reports, research papers in introductory & advanced courses, oral presentations and in-class discussions);
Proficiency in experimental design (present both in introductory & advanced levels especially with laboratory report components; should include a degree of creativity especially in design of experiments, the choice of experimental tools and the proper choice of experimental "controls");
Proficiency in information literacy (all courses include a "library component" for research projects/papers; seminars by invited library staff to facilitate database access, navigation and usage);
Proficiency in quantitative analysis (data interpretation & presentation; covered in both introductory and upper-levels courses).
View Courses and Curriculum
Chemistry Minor
Pre-Pharmacy Minor
Interested in learning more about the diverse courses offered at Albertus?
I didn't think I would be able to do all of this at once; school, working, and family life. All of the professors not only made that easy, but wanted to know what caused me to pick Albertus and what tools they could provide me with to excel in my studies.
Karla Aponte-Roque, '19
We have Faith in Your Future
Become Part of the Albertus Chemistry Community
Have questions about Chemistry? Ready for the next step?
Let us know how we can help plan your future.
Request Chemistry Undergraduate Information
Purposeful Vision & Direction
The Albertus Chemistry Degree Mission Statement
The mission of the Department of Biology, Chemistry and Mathematics is to build upon the College's Liberal Arts focus to prepare students with the knowledge, skills, and judgment necessary to be responsible, able practitioners in their chosen fields. The majors are designed to prepare students for careers in education, research, museums, libraries, industry, government service, and scientific writing and illustration. The faculty works closely with students interested in pursuing professional or graduate study, helping them to prepare for entrance into both professional and graduate programs. Majors are advised individually about their choice of courses according to their special interests and abilities.