Fast Facts
A 4-year, private, not-for-profit, liberal arts, coeducational, degree-granting College offering undergraduate and graduate programs.
49 full-time faculty members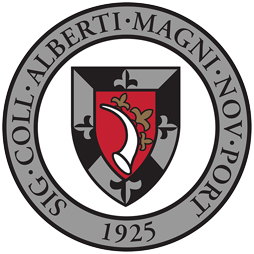 The seal of Albertus Magnus College is comprised of two shields. In the background (black and white) is the Dominican shield which recalls the College's foundation as a Dominican college. In the foreground is the family shield (House of Bollstadt) of the Dominican saint and scholar, Albert the Great, from which the College derives its name.
All classes and offices were first housed in Rosary Hall, a Palladian-style mansion that has since been converted for use as the campus's main library.
50+ acre campus
in the distinguished Prospect Hill neighborhood of New Haven, Connecticut
Students provide art therapy services at no cost to the Yale New Haven Hospital's Smilow Cancer Center and Pediatric Medical Unit
Profile of Albertus Magnus College
Accreditation
Albertus Magnus College is accredited as a private not-for-profit institution of higher education by the New England Commission of Higher Education (formerly the Commission on Institutions of Higher Education of the New England Association of Schools and Colleges, Inc.).
Accreditation of an institution of higher education by the Commission indicates that it meets or exceeds criteria for the assessment of institutional quality periodically applied though a peer review process. An accredited college or university is one which has available the necessary resources to achieve its stated purposes through appropriate educational programs, is substantially doing so, and gives reasonable evidence that it will continue to do so in the foreseeable future. Institutional integrity is also addressed through accreditation.
Accreditation by the New England Commission of Higher Education is not partial but applies to the institution as a whole. As such, it is not a guarantee of every course or program offered, or the competence of individual graduates. Rather, it provides reasonable assurance about the quality of opportunities available to students who attend the institution.
Inquiries regarding the accreditation status by the Commission should be directed to the administrative staff of the institution. Individuals may also contact:

New England Commission of Higher Education
301 Edgewater Place, Suite 210
Wakefield, MA 01880
781-425-7785
E-Mail: info@neche.org
Albertus Magnus College has received initial accreditation for its Master of Arts in Art Therapy program through the Commission of Allied Health Education Programs (CAAHEP). CAAHEP's accreditation standards are established by CAAHEP, the Accreditation Council for Art Therapy Education (ACATE) and the American Art Therapy Association (AATA).
Albertus Magnus College has received specialized accreditation for its business programs through the International Assembly for Collegiate Business Education (IACBE) located at 11374 Strang Line Road in Lenexa, Kansas, USA. The business programs in the following degrees are accredited by the IACBE:
Page last updated on 10/3/2023