Bachelor of Arts in History
By engaging students in dialogue about the nature of human activity, past and present, history programs develop competent, self-confident, and articulate individuals ready for productive careers. The programs of the History department at Albertus Magnus College provide excellent preparation both for further study and for work in a variety of fields, including teaching, business, civil service, law, journalism, library science, and archival work.
What Makes History at Albertus Different?
Engaged
Students
Hands-on, experiential learning
Interdisciplinary perspectives
Emphasis on collaborative work
Great
Teaching
Personally invested professors
Small class sizes
Innovative, well-rounded programs
Resources and opportunities for research
Vibrant
Communities
Lively extracurricular activities
Campus-wide events
Service and community engagement
Successful
Outcomes
Active career counseling
Opportunity-building networks
Access to internships and professional experiences
The Albertus History Degree Program
Students pursuing a BS in History at Albertus have amazing internship opportunities at institutions like the FBI, National Parks Services, State of Connecticut General Assembly, House of Representatives, U.S. Department of Defense, and even the White House!
History Student Perspective
Albertus Magnus College has a long and proud history serving diverse student populations. The Hamid family moved to the United States in 1989 and resided in New Haven for a number of years before moving to Hamden. Salman is the first member of his immediate family to earn a college degree.
"High on the list of the reasons why our parents brought us to America was to get a quality education."
Salman is a community activist/volunteer in the city of Hamden, and has been involved in the Connecticut school system for over 12 years. Salman talks about being a first generation student, breaking the mold, and being different.

Learn About the Hamid Family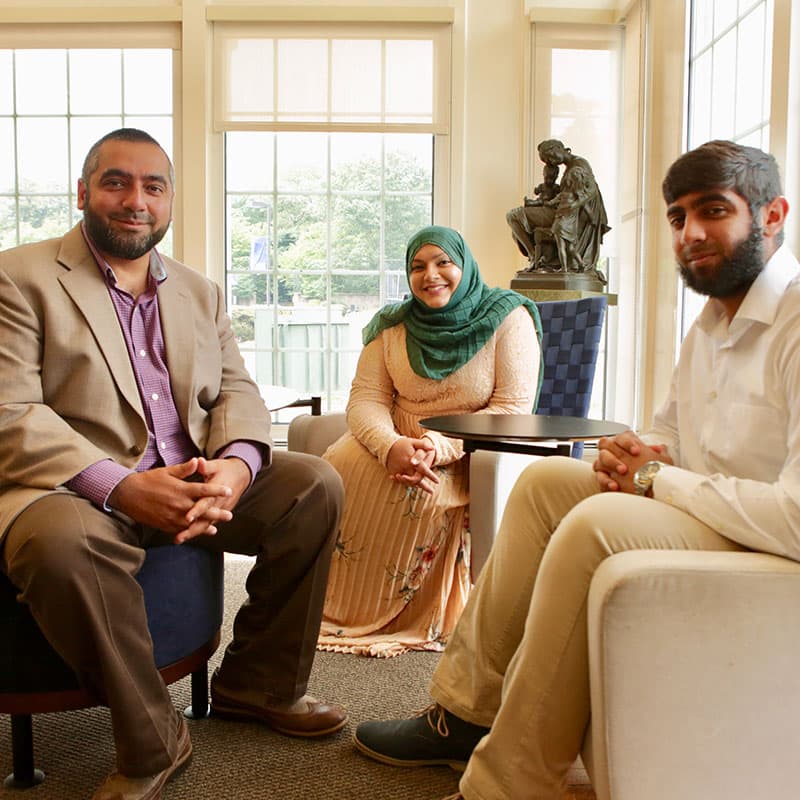 Where Will Your History Degree take You?
The National Center for Education Statistics reports the median annual salary of history majors with a bachelor's degree age 25 to 29 is $40,860, which is in the same range as graphic designers and physical science majors, and higher than psychology majors and elementary educators.
Possible career paths with a Bachelor of Arts degree in History include:
Interpreter or Translator
History programs at Albertus Magnus College aim to provide students the necessary perspective and critical thinking capacities so that they can contribute their skills to their communities and help enrich the lives of others.
The History Department seeks to produce students who will:
Demonstrate inquisitiveness and mastery of the principles of scholarly research;

Communicate effectively both orally and in writing;

Demonstrate knowledge and understanding of the values, beliefs, and ideas that

constitute the western political tradition;

Recognize the complex nature of the political community and the role of social,

economic, cultural, and environmental factors in political life;

Demonstrate knowledge and understanding of American political institutions and

processes and be able to compare them with those of other political systems;

Understand the patterns of interaction among members of the world community

and the sources of international cooperation and conflict;

Be able to evaluate conflicting political arguments, assemble empirical evidence,

and make reasoned conclusions from available evidence.
View Courses and Curriculum
History Minor
Interested in learning more about the diverse courses offered at Albertus?
We have Faith in Your Future
Become Part of the Albertus History Community
Have questions about History? Ready for the next step?
Let us know how we can help plan your future.
Request History Undergraduate Information
Purposeful Vision & Direction
The Albertus History Degree Mission Statement
The Department of History and Political Science seeks to engage students, both majors and non-majors, in exploring the complex nature of human beings as exhibited through time and as reflected in their civic lives. Through the History curriculum, the Department provides opportunities to develop the temporal perspective and habits of mind necessary to understand and appreciate the rich variety of human activity across the ages. Through the Political Science curriculum, the Department extends to each student the opportunity to craft orderly and just societies and to develop the practical wisdom essential for communal life in a global age. In all of its activities, the Department seeks to enhance each student's ability to communicate effectively and to engender a love of scholarly excellence.