Bachelor of Science in Criminal Justice at Albertus Magnus College
Thanks to television programs like CSI: Crime Scene Investigation, Criminal Justice is now one of the most popular majors at Albertus. Building on the College's strengths in Sociology and Psychology, the Criminal Justice major and Bachelor of Science degree in this field will prepare students for employment in those social services and criminal justice sectors which directly support police and government law enforcement efforts.
The focus of the major will be to ensure that students understand the criminal justice system in the United States as it is related to class structure, race, ethnicity, and gender so that they will develop a more person-centered understanding of crime and law enforcement. Counseling skills, coupled with an understanding of individuals' behavior within families and groups in society, will ensure that students, as leaders in the community and as professionals, are prepared for respectful and effective interaction with citizens.
This focus on a person-centered orientation, rooted in the discipline of Sociology, also provides a strong foundation from which "action-oriented" ethics teaching can be provided. Our students, through both core and major courses, as well as in their Criminal Justice field experiences, will be exposed to and practice ethical reasoning and will work to gain an understanding of the perspective of others.
What Makes Criminal Justice at Albertus Different?
Engaged
Students
Hands-on, experiential learning
Interdisciplinary perspectives
Emphasis on collaborative work
Great
Teaching
Personally invested professors
Small class sizes
Innovative, well-rounded programs
Resources and opportunities for research
Vibrant
Communities
Lively extracurricular activities
Campus-wide events
Service and community engagement
Successful
Outcomes
Active career counseling
Opportunity-building networks
Access to internships and professional experiences
The Albertus Criminal Justice Degree Program
Our students receive extensive field experience through participation in at least one guided internship. This experience provides a more broad set of career options, including graduate education in fields such as criminal justice, law, social work or public administration.
Create Your Flexible Criminal Justice Schedule
Offered in an accelerated format, most students can complete their Criminal Justice degree in a year and a half while only having to take two classes at a time.
Students choose between the following:
Online
Take 1 to 2 classes every 8 weeks
Work from the comfort of your own home
Have the ability to work on assignments on your own time, at your own pace
Blended
Take 1 to 2 classes every 8 weeks
Classes are a combination of in-class session and online assignments
Attend class on campus one night per week, while all other assignments are done from the comfort of home
Benefit from in-class discussions while completing projects and assignments from home
FLEX
Choose to take classes in either a blended or online format
Select the format that works best for you every time you register for a new course
Criminal Justice Student Perspective
Alana DeChello, Esq. '12 is our newest member on the Alumni Advisory Board for Albertus Magnus College. Graduating in 2012 with a Bachelor's Degree in Criminal Justice, Alana is an attorney who joined the DeChello Law Firm in North Haven in 2015.
"At Albertus I was able to learn fundamental principles that helped prepare me for law school, and to work in the legal profession that I'm in today."
Alana's primary focus is estate planning and probate law, where she assists clients in the areas of estate, gift, and succession planning, long-term care planning, elder law, trust and will preparation and estate administration.

Listen to Mrs. DeChello talk about her experience at Albertus, her love for the College, and the family connection to her alma mater.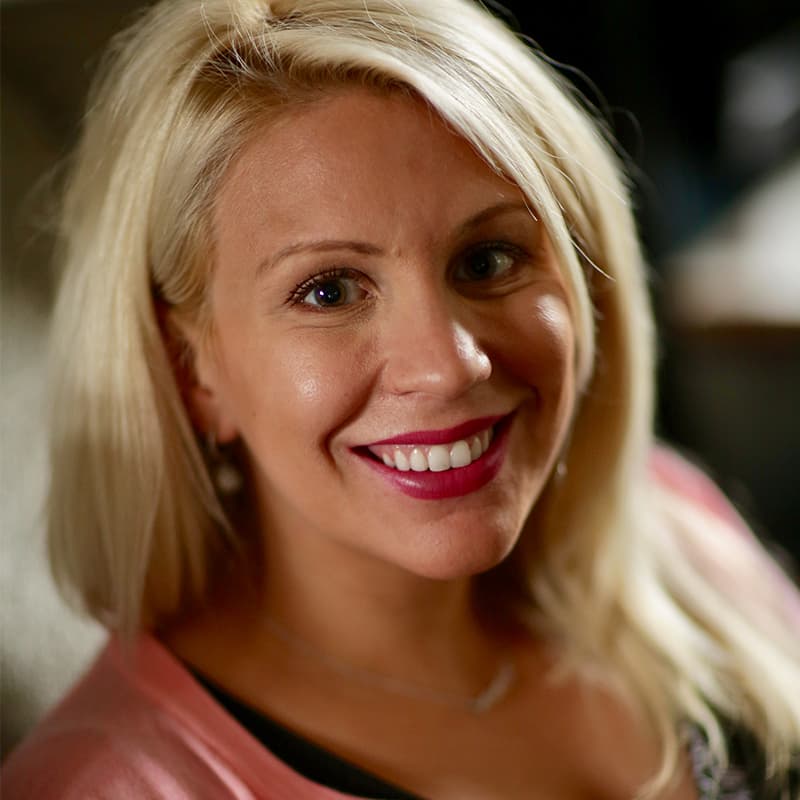 Meet Professor James Scott
The added value of real life experience is something that differentiates Albertus Magnus from other colleges. A standout example of this is James T. Scott, assistant professor and faculty advisor in the Department of Sociology and Criminal Justice.
"More than 85% of the required core criminal justice courses, are taught by faculty members who have worked full time in the criminal justice field."
He previously was a Sergeant with the Connecticut State Police and recently retired after 21 years of service. In addition, he is retired from the Army National Guard, specializing in Military Police Operations and is a combat Veteran. Scott has been a part of the Albertus family since 2006, when he earned his bachelor's in Criminal Justice before going on to receive his master's from Fairleigh Dickson University.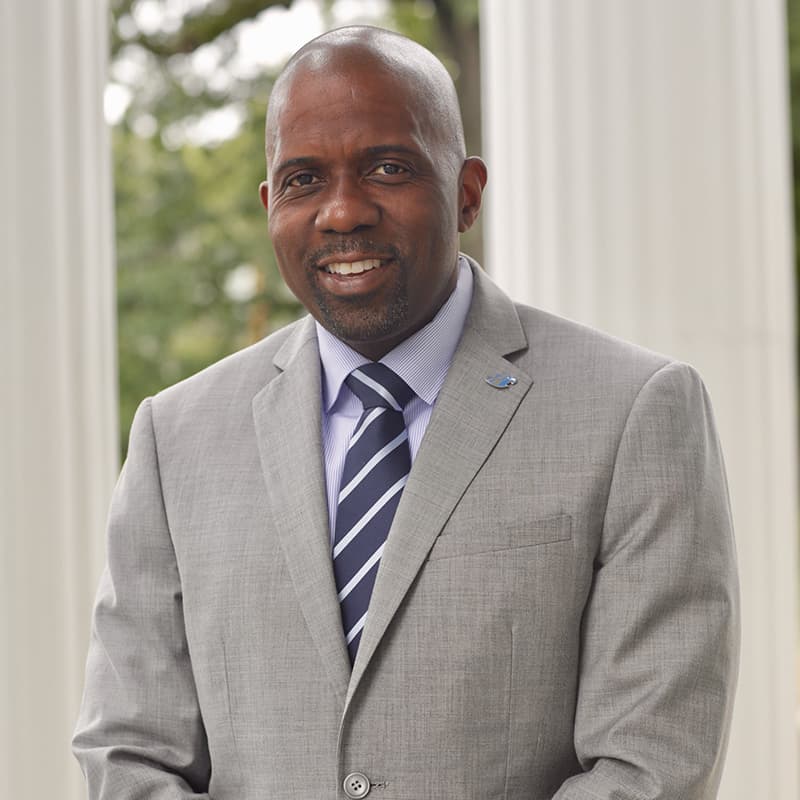 Criminal Justice Camp at Albertus Magnus College
Organized by the Office of Undergraduate Admissions and the Criminal Justice Program, Criminal Justice Camp allows students to be exposed to the variety of career paths within the criminal justice field.
Operating since 2009, Criminal Justice Camp is a free, one-day event for rising high school juniors and seniors interested in careers in criminal justice.
"Albertus Magnus is committed to this camp because it provides students with a unique learning opportunity that exposes them to a wide variety of criminal justice career paths. It is also a collaborative effort that fosters positive police-community interactions and relationships," said James T. Scott, assistant professor and faculty advisor who recently retired after 21 years of service with the Connecticut State Police.
Learn More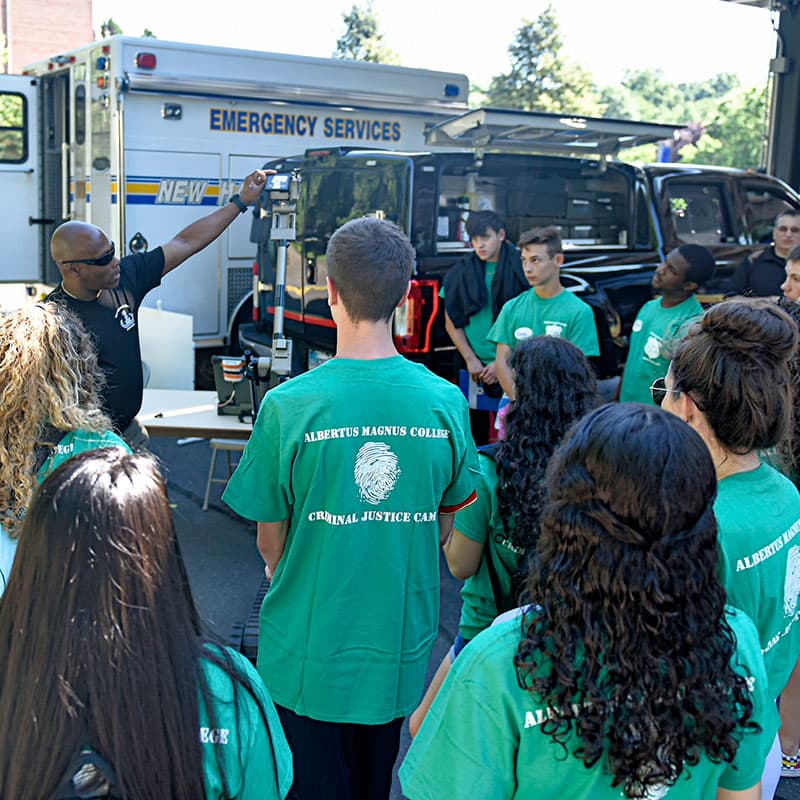 Criminal Justice Five-Year Master's Degree Program
Earn a Master of Science in Criminal Justice in Five Years
Albertus Magnus College offers undergraduate Criminal Justice students the opportunity to participate in a Five-Year Bachelor's to Master's Program. Ideally, in the fall semester of their freshman year, students would express an interest in the Five-Year Program, and course work would be scheduled so as to complete the Criminal Justice requirements by the end of their Fall semester, senior year. During the Spring semester of their senior year, students would take 2 MSCJ courses in order to be on track to complete the MSCJ Program the following year. It is imperative that students express their interest in this option as soon as possible so that courses can be planned and completed in a timely fashion. Students who enter their senior year with a cumulative grade point average of less than 3.0 will be ineligible to continue pursuing the Five-Year Option.
Where Will Your Criminal Justice Degree take You?
Possible career paths with a Bachelor of Science degree in Criminal Justice include:
Upon completing the program of study in Criminal Justice, students will:
Develop a basic understanding of policing, the judiciary, and corrections.
Develop a specialized criminal justice vocabulary.
Develop an understanding of the foundations of American criminal law.
Develop an understanding of constitutional law in America.
Develop an understanding of criminal theory.
Develop analytical reading and writing ability.
View Courses and Curriculum
Criminal Justice Minor
Criminal Justice Five-Year B.S./M.S.
Interested in learning more about the diverse courses offered at Albertus?
Criminal Justice Masters Programs
We have Faith in Your Future
Become Part of the Albertus Criminal Justice Community
Have questions about Criminal Justice? Ready for the next step?
Let us know how we can help plan your future.
Request Criminal Justice Undergraduate Information
Request Criminal Justice Adult Undergraduate Information
Loading...
Purposeful Vision & Direction
The Albertus Criminal Justice Degree Mission Statement
The curriculum in the Department of Sociology provides strong academic training in the field, as well as an exposure to varied pre-professional training. The three-fold mission of the department is: 1) to provide course offerings in the Liberal Arts curriculum of the College, in order to introduce students to the sociological perspective, thereby adding that dimension to their critical thinking processes; 2) to provide an academically strong major which affords an approach to the study of social systems and social change; and 3) to provide a major within the discipline of sociology which can reflect a student's vocational interest, for example, criminal justice, social gerontology, or social work and socialwelfare.
Students majoring in sociology or criminal justice may plan to continue their work in graduate and professional schools. Others study sociology in preparation for careers in social work, teaching, law, business, criminal justice, or governmental service. Graduates in sociology may look toward careers in teaching, administration, or research. Within the Department of Sociology, a student may choose the general sociology major, the criminal justice major, or a major in sociology with a concentration in criminal justice, social gerontology, urban studies, or social work and social welfare. Students finding an interest in sociology, but committed to majoring in other fields, may choose to minor in the department. The analytical skills and critical ability developed in this program are complementary to numerous other disciplines.
The possibility exists for the applied sociology-oriented student to design, in consultation with the department, an off-campus practicum/internship (CJ/SO 280, 380) for which college credit is given. Internships are required of students majoring in Criminal Justice, Social Gerontology, Urban Studies, and Social Work, and are optional for those choosing the General Sociology major. Many sociology courses may be used toward interdisciplinary majors as well as electives or General Education requirements.