Transfer of Credit Policies
Transferring credits to Albertus Magnus College is easy, and we boast a generous transfer credit policy. Whether you are considering applying to Albertus Magnus College as a day or evening student, we encourage you to make an appointment, so we can provide you with a personalized consultation on how your credits will transfer. Our goal is your success!


Undergraduate Students:
Here are some basic guidelines regarding our transfer-credit policy:
Generally, courses completed with a minimum of C (2.0 on a grade scale of 4.0) or better from a Regionally accredited institution are transferable for all collegiate level courses. (Albertus may accept courses with passing grades below a 2.0 as part of our community college dual admission programs*)
A maximum of 64 credits is transferable from accredited junior and community colleges.
A maximum of 90 credits is transferable from accredited four-year colleges.
A maximum of 45 "prior-learning" credits may be earned through CLEP and ACT-PEP examinations, challenge examinations, or a portfolio.
Your acceptance into our programs and transfer credit acceptance is contingent upon the receipt of all final official transcripts.


Articulation and Dual Admission Programs
Albertus Magnus College currently has articulation agreements with Capital Community College, Gateway Community College, Housatonic Community College, Norwalk Community College, Manchester Community College, and Middlesex Community College. These agreements apply to students seeking to advance from any Associate of Arts (A.A.) or Associate of Science (A.S.) degree program to any Albertus Magnus College Bachelor of Arts (B.A.) or Bachelor of Science (B.S.) degree program.


Terms and Conditions
Upon graduation, students who are in good academic standing at Capital Community College, Gateway Community College, Housatonic Community College, Norwalk Community College, Manchester Community College, or Middlesex Community College may enter Albertus Magnus College with third-year junior status provided they meet the following conditions:
Graduate from the said college with an A.A. or A.S degree;
Achieve a cumulative grade point average (CGPA) of 2.0 or higher
Apply to Albertus within one year of conferral of their A.A. or A.S. degree
Satisfy all Albertus Magnus College transfer admissions requirements


Transfer of Credits
Upon the student's matriculation in Albertus Magnus College, Albertus will accept up to sixty-four (64) credits for courses that were completed in satisfaction of the said college's A.A. or A.S. degree. Community college credits will be applied toward equivalent requirements of the pertinent Albertus Magnus College baccalaureate degree, with the following understanding:
Albertus ordinarily will accept credits in transfer for courses with grades 2.0 or higher;
For associate degree graduates with a minimum CGPA of 2.0, Albertus will accept transfer credits for courses with passing grades lower than 2.0; however, this provision does not apply to courses in English;
Albertus will conduct a formal transfer evaluation upon the student's application to the College
Transfer students will be governed by the Albertus Magnus College catalog that is in place at the time of their matriculation in Albertus Magnus College.


Connecticut Transfer Guarantee - Transfer Ticket Pathways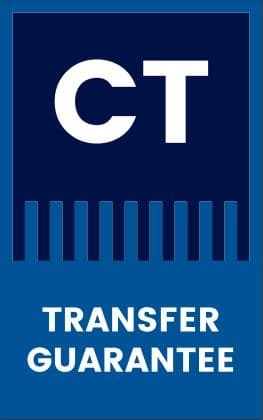 The CT Guarantee is a transfer partnership between CT community colleges and participating four-year colleges and universities. Eligible community college graduates are able to transfer seamlessly - admission guaranteed!

In accordance with the Connecticut Transfer Guarantee, Albertus Magnus College offers qualified transfer students from Connecticut community colleges streamlined admission to many of our academic programs. These include:
| | |
| --- | --- |
| CSCU Pathway Transfer Degree | Albertus Magnus College TransferTicket Pathway |
| Business Studies: Accounting A.A. | Accounting, General Concentration, B.S. |
| Business Studies: Management, A.A. | Business Management, B.S. |
| Criminal Studies, A.A. | Criminal Justice, General Concentration, B.S. |
| Business Studies: Finance, A.A. | Finance, General Concentration, B.S. |
| Psychology Studies, A.A. | Psychology, General Concentration, B.A. |
| Sociology Studies, A.A. | Sociology, General Concentration, B.A. |

Requirements
Complete an associate's degree program at a Connecticut community college and

apply to transfer

to a related course of study at Albertus Magnus College.

Have a minimum cumulative GPA of 2.0
General Education Foundation
Albertus Magnus College offers block waivers for general education requirements known as the Framework 30. Students entering on a Transfer Ticket will have 15 credits waived from Albertus general education requirements and up to 15 additional credits waived from their Pathway 30, or major requirements. All incoming Albertus students are required to complete HU 399, 6 "C-Level" elective credits, a Philosophy and Religion course with a 2.0 or higher GPA.

Additional Credits
Students will also have credits from their associate's degree transferred in as bulk credits. In total, students who enter under this agreement can transfer up to 60 credits, starting them in their junior year. Additional credits may be reviewed on an individual basis.
Costs and Financial Aid
Albertus offers two options for students to transfer into:
All students may apply for need-based financial aid using the Free Application for Federal Student Aid (FAFSA). Albertus Magnus College's FAFSA school code is 001374.


Financial Aid and Scholarships
For merit award purposes, transfer students are defined as having completed more than 15 credits at another institution. A transfer student into the traditional undergraduate program may be eligible for a transfer scholarship ranging from $5,000-$17,000.


Graduate Students:
Transfer Credits Albertus Magnus College will accept a limited number of graduate credits in transfer from regionally accredited colleges and universities. Students must request transfer credits prior to starting their Albertus graduate degree, and they must submit official transcripts to the registrar documenting that the transfer credits were completed with a minimum grade of 3.0 within five years prior to entrance into the Albertus graduate degree. Please refer to the official course catalogue for additional information on transfer credits for specific graduate programs.