Bachelor of Arts in Communications

Communications is a rapidly evolving field. Here at Albertus, we sustain this expansion by preparing our students in the areas of both social and mass communication. Those entering this major can expect individualized programs of study in order to showcase their passions and positive attributes through the blending of a traditional liberal arts education with specific career-oriented courses. Albertus helps connect students with internship opportunities in order for them to gain the required skills and ethical perspectives necessary to be successful in their careers. Different types of communication degrees are available in this modern industry. At Albertus, focuses in the Communications department include: Advertising and Electronic Media Production.
What Makes Communications at Albertus Different?
Engaged
Students
Hands-on, experiential learning
Interdisciplinary perspectives
Emphasis on collaborative work
Great
Teaching
Personally invested professors
Small class sizes
Innovative, well-rounded programs
Resources and opportunities for research
Vibrant
Communities
Lively extracurricular activities
Campus-wide events
Service and community engagement
Successful
Outcomes
Active career counseling
Opportunity-building networks
Access to internships and professional experiences
The Albertus Communications Degree Program
Albertus is committed to our communications students by making sure they are well prepared to enter their selected career paths. All students have to complete an internship; it provides hands-on experience in their field of interest and allows them to apply classroom-learned material in the industry. Additionally, Albertus Communication students are required to submit a final portfolio and final thesis before graduating. This enables students to present their experience and skills to potential employers and graduate programs.
Create Your Flexible Communications Schedule
Offered in an accelerated format, most students can complete their Communications degree in a year and a half while only having to take two classes at a time.
Students choose between the following:
Online
Take 1 to 2 classes every 8 weeks
Work from the comfort of your own home
Have the ability to work on assignments on your own time, at your own pace
Blended
Take 1 to 2 classes every 8 weeks
Classes are a combination of in-class session and online assignments
Attend class on campus one night per week, while all other assignments are done from the comfort of home
Benefit from in-class discussions while completing projects and assignments from home
FLEX
Choose to take classes in either a blended or online format
Select the format that works best for you every time you register for a new course
Communications Student Perspective
Paige Williams, '20 studies Promotional Communications at Albertus. Paige is originally from Orange, Virginia, and knew she always wanted to pursue a college education in the New England area. Albertus provided Paige with the perfect opportunity to excel. Paige has been a part of the women's tennis team, President of the Multicultural club, and a Resident Assistant.
"Being part of this program has really opened my eyes to the amount of opportunity that is offered within the field. I feel prepared for graduation."
In the Fall of 2019, Paige was part of a study abroad program in London, England. During that time she worked as an intern at a local London paper publication and continued her studies at Richmond University, the American International University in London.

Hear more about Paige's experience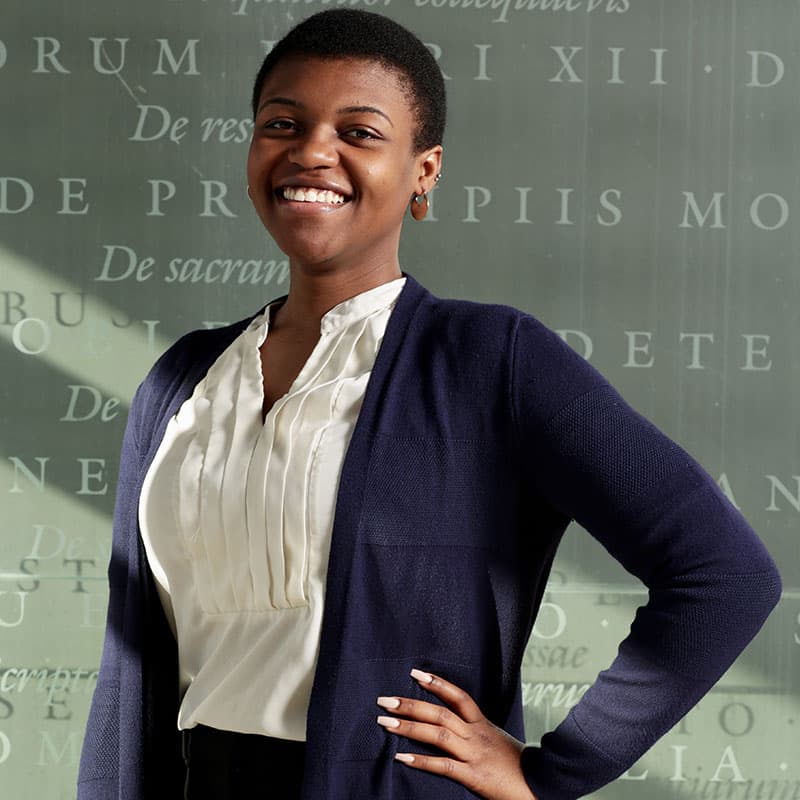 The Albertus Communications Faculty
Where Will Your Communications Degree take You?
Possible career paths with a Bachelor of Arts degree in Communications include:
Public Relations Specialist
Sports Media Practitioner
Marketing and Communications Director
Communications major classes include areas of advertising, public relations, media studies, film, writing, and more. The major is a total of 45 credits, including 36 credits in core courses, sequence courses, practical applications, a capstone seminar, and a portfolio or thesis. The final 9 credits are taken in required correlatives.
Upon completing the program of study in Communications, students will:
Demonstrate basic oral and written communications skills.
Demonstrate knowledge of mass media structures and a facility with respect to media literacy.
Demonstrate critical thinking capabilities through interpretation, analysis, evaluation and reaction.
Demonstrate specific media creative skills in one of more of the following areas: advertising, public relations, media writing, film and television production, sports promotion and performance.
Demonstrate an ability to apply skills and knowledge gained through coursework in a real media contexts.
Demonstrate a clear understanding of the significant roles within and impact upon society and culture.
Demonstrate recognition of and the formation of personal positions on the significant ethical issues associated with mass media in modern society.
View Courses and Curriculum
Advertising Concentration
Electronic Media Production Concentration
Communications Minor
Interested in learning more about the diverse courses offered at Albertus?
We have Faith in Your Future
Become Part of the Albertus Communications Community
Have questions about Communications? Ready for the next step?
Let us know how we can help plan your future.
Request Communications Undergraduate Information
Request Communications Adult Undergraduate Information
Loading...
Purposeful Vision & Direction
The Albertus Communications Degree Mission Statement
The program of study in Communications affords students the opportunity to prepare for careers in, what may be, the most rapidly expanding field in modern education and society-at-large. Blending traditional Liberal Arts with specific career-oriented coursework, students are given the foundations, skills, and ethical perspectives to be successful in their mass media careers, and to be productive members of society.
The combination of scholarly search for knowledge, development of essential skills, and the application of these in society guide the major in keeping with the Mission of the College.
Courses span broadcasting, film and video production, digital media, advertising, public relations, sports media, film studies, organizational communications, writing and photojournalism. All courses are offered as part of either a specific content sequence or as a general topics course. A unique feature of Albertus' Communications Program is the potential for students to "individualize" programs of study in order to best prepare each student to exercise his or her best mix of talents and passions.
One of our primary goals is to insure that Communications majors are well prepared to enter their selected career paths. Through required internships, students acquire important hands-on experience that builds on their coursework, and prepares them for success.
Internships are on-the-job placements where students earn college credit while acquiring applied professional skills. The breadth of the Internships completed through the Department of Communications is clearly a significant benefit of the program. In order to demonstrate a student's total accumulation of experience, skill, and integrative abilities in the major, each Communications student must submit a final portfolio of print and/or non-print materials; or research and write a final thesis. Thus, graduates of Albertus' Communications Program are in the position to present potential employers with an actual portfolio or thesis paper that demonstrates their experiential base of knowledge and skills that will set them apart.
The emphasis in Albertus' Program in Communications is upon preparing students for positions in mass media and their related fields that are "above the line." Above the line" positions are executive-oriented,gatekeeping positions. These decision-makers and gatekeepers are professionals, who actually create and influence media, who have both technical and broad integrative skills in the field, and who can work with and manage many different types of people.
Communications is a rapidly evolving field in society. Thus, the Department of Communications is constantly adapting to the changes that this exciting field presents. Students who complete the Communications Major enjoy many graduate school options that include broadcasting, media, journalism, digital and social media, business, and law.