From the Desk of President Dr. Marc M. Camille
A Thanksgiving Message from the Office of the President
A Veteran's Day Message from the Office of the President
---

A Message from President Marc M. Camille
Dear Albertus Magnus College Students, Faculty, and Staff,
Tomorrow, Wednesday, December 22 at noon, the College will officially close for the Christmas and New Year's holidays. As we prepare to take this winter pause, I write to share a couple updates in advance of when the College reconvenes for the spring 2022 semester.
My first topic concerns the location of my office. For nearly four decades, the President's Office has been located in Mohun Hall. More recently, Mohun also has been the home of the Traditional Undergraduate Admissions and Advancement/Alumni Relations offices. Over the course of the past five years, as the admissions and advancement teams have grown, we have run out of space in Mohun. Mohun has served as a warm, inviting entry point for prospective students and their families, but it has lacked sufficient reception/presentation space, leaving Albertus at a disadvantage versus competitors. In order to enable the admissions and advancement teams to accommodate increased staffing and office-utilization needs, Executive Assistant to the President, Lynne Hennessy, and I will relocate our offices to Walsh Hall. As you know, Walsh is the home to the College's St. Catherine of Siena Chapel, and until recently, the building's two office/meeting spaces served as the locations for Albertus Board of Trustees' meetings. With the recent renovation of the Hubert Campus Center, Trustee meetings now occur in the Behan Community Room, and the Walsh Hall rooms have been underutilized. While Lynne and I will miss the tradition of being in Mohun, we look forward to being in Walsh, within closer proximity to the daily activity of Albertus students, faculty, and staff. We will be in Walsh effective with the reopening of the College after the winter holiday break, on Monday, January 3.
My next topic is of a more serious nature. We all have seen in recent weeks, especially since the Thanksgiving holiday, that the COVID-19 Omicron variant has led to a significant surge in infections around the nation. In late June, we announced the College's decision to require the COVID-19 vaccination of all students and employees, acknowledging the science that clearly reveals vaccination as the single best measure we have to promote and protect the health and well-being of the Albertus community. Throughout the fall semester, because of our community's compliance with the COVID-19 vaccine requirement and its commitment to safety protocols, less than 35 of our community members were infected. More recently, the science again clearly reveals that those who are fully vaccinated, particularly those who have received the booster doses of the Moderna or Pfizer vaccines, are the least likely to be infected with the Coronavirus and also much less likely to suffer from serious symptoms if a breakthrough infection occurs. Thus, once again in alignment with CDC guidance and along with a growing number of colleges (currently 50) in our region and nation, effective with the start of the spring 2022 semester Albertus Magnus College will require all students and employees who are booster-eligible to receive the booster. Please be on the lookout within the next 24-hours for a more detailed communication from the College's COVID-19 Workgroup.
I am fully aware that we continue to live in unsettling, challenging times. On the one hand, our experiences at Albertus this fall were certainly more "normal" than a year ago, and I am unwavering in my belief that conditions will improve to a point where the personal interaction and engagement that defines us as members of the Albertus family will return. For now, however, we need to stay strong in our commitments to supporting and lifting each other. I am confident we can and will do so, and I am deeply grateful for your shared dedication. Please know that during the Christmas and winter holidays, you and those you love will be in my prayers of care, hope, and peace.
With appreciation,
Marc M. Camille, Ed.D.
---
A Message from President Marc M. Camille
Dear Albertus Magnus College Students, Faculty, and Staff,
I have written to you many times over the course of the past 16 months as we've all faced the challenges of the COVID-19 pandemic. Dating back to March 2020 when we faced so many unknowns, to the current moment where signs suggest we are emerging from the pandemic's most significant impact, as members of the Albertus Magnus College community we've persevered and adapted as necessary. We've monitored guidelines and guidance from the CDC, WHO, and State of Connecticut, always prioritizing in our decision-making the safety, health, and well-being of our community members. In the academic year that recently concluded, we conducted nearly 9,000 COVID-19 tests, with an on-campus positivity rate of less than 1%, a testament to your commitment and care. Time and again I've admired and been inspired by our dedicated faculty and staff who sacrificed and stepped up to assure we were able to deliver an Albertus education despite the pandemic's obstacles. Time and again I've observed our students in never giving up, adhering to new rules and regulations, and looking out for each other's needs. Today, with continued gratitude and admiration, I write to you with a next important update.
Colleges and universities around the country have been considering decisions regarding vaccination policies, with various policies communicated based on each institution's circumstances. As we continue preparing for the fall 2021 semester, I am pleased to share with you that at Albertus, based on input from the COVID-19 Workgroup and the latest federal and state guidance and science, we will require the COVID-19 vaccine of all students, faculty, and staff who will be on campus this fall. Acknowledging that some of you will have questions or concerns about receiving the vaccine, the College will make resources available and will work through those concerns with you. To help facilitate vaccine availability for those Albertus community members needing access, we also will host weekly vaccine clinics on campus throughout the summer. These clinics are free to you and will offer both the Pfizer two-shot vaccine and the Johnson & Johnson single-dose vaccine. Vaccination exemptions will be permitted in accordance with and following the protocols set by the State of Connecticut.
To be clear, the COVID-19 Workgroup, the Vice Presidents, and I took with seriousness and concern the question of a required vaccination. To date, the overwhelming scientific evidence supports the efficacy and benefits of the COVID-19 vaccines as the single best option to fight the spread of the virus. In addition, as a community with a shared commitment to our Dominican mission-centric values and to the care, concern, and respect for every human being, and in alignment with the shared sacrifices made by students, faculty, and staff throughout the pandemic, a required COVID-19 vaccination policy emerged as the right thing to do. Today, as we have for more than a year, we move forward together. Each of us has a role to play. Each of us makes a difference. Each of us matters.
We will continue to keep you informed throughout the summer as we prepare for the fall semester; the COVID-19 page on the website will provide the most current and detailed information. In the meantime, please know you remain in my thoughts and prayers, and I cannot wait to be with you, in person, in the new academic year.
With gratitude,
Marc M. Camille, Ed.D.
---
A Message from President Marc M. Camille
Dear Albertus Magnus College Students, Faculty, and Staff,
Yesterday, the jury in the George Floyd case in Minnesota communicated a verdict of guilty on all counts. In reflecting on the verdict, I turn to our Dominican mission and its values, rooted in Catholic Social Teaching. Yesterday's verdict raises up one of our most foundational and precious core values, that of respecting the dignity of every human being. When I wrote to you almost a year ago shortly after George Floyd's death, I offered this sentiment:
George Floyd's tragic death, and the too many before him who have suffered similarly, is another call where we must pursue the greater good, the good and the right in solidarity with all God's children, created equal and entitled to the same equality, the same dignity, and the same mercy. This must be true in education, in healthcare, and in the eyes of the law.
Today, I remind each of us our call to action, to justice, to goodness and love has not changed. Pope Francis often reminds us we have a responsibility to those who are marginalized, those who are vulnerable, those whose voices too often go unheard or are silenced. Today and in the days that follow, we must continue our commitment to being in solidarity with all our sisters and brothers, regardless of differences, seeking the greater good and a culture defined by love, peace, and equality.

As members of the Albertus Magnus College community, you continue to be a source of inspiration for me in fulfilling my responsibilities as President. At Albertus, among our greatest strengths and markers of academic excellence is the diversity of our 1,500 students and, increasingly, our faculty and staff. Our Dominican mission is our common bond and purpose, and our values acknowledge equally our imperfections and our gifts. We have opportunity and responsibility to strive for more, for better. I count you among my many graces, and I look forward to continuing our shared journey forward.

With gratitude and in peace,
Marc M. Camille, Ed.D.
---
A Commencement Message from President Marc M. Camille
Dear Members of the Albertus Magnus College Classes of 2020 and 2021,
I write with an update regarding the College's plans for this spring's Commencement Ceremony, during our historic 95th Anniversary Year, scheduled for Sunday, May 16, 2021. I am excited and pleased to share with you that we intend to conduct an in-person ceremony, outdoors on the steps of Rosary Hall, continuing the College's tradition that dates back nearly a century to its first graduations.

You are fully aware that the COVID-19 Pandemic has been disruptive to our traditional experiences at Albertus. You, along with all Albertus students, faculty, and staff, have persevered and adapted. We will do so once again in order to conduct the in-person commencement you desire and deserve. We are currently assessing all opportunities to determine how many guests you will be able to have at the ceremony, and we will communicate those details as soon as we are able to make informed decisions. Without doubt, any guests we are able to have join us will be required to RSVP in advance for planning and seating assignment purposes. There are many details for us to still assess.

For now, please mark your calendars for:
Saturday, May 15, Baccalaureate Mass, Steps of Rosary Hall, Time and Guest Info, TBD
Saturday, May 15, Laurel Awards, Steps of Rosary Hall, Time and Guest Info, TBD
Sunday, May 16, Classes of 2020 and 2021 Commencement Ceremony, Steps of Rosary Hall, 1:00 p.m. Start, Guest Info, TBD

The May 2021 Commencement Ceremony will be historic and momentous for many reasons. In addition to it occurring in our 95th Anniversary Year, we will celebrate the achievements of not one but two graduating classes. Throughout the past year, I have observed time and again the strength and care that defines the Albertus Magnus College family. To have the Classes of 2020 and 2021 together again will be particularly meaningful for this year's Commencement Ceremony.

I am certain we will still need to abide by COVID safety protocols and measures during our Commencement events, including mask-wearing and adhering to necessary physical distancing. I am sure, too, we all will need to continue to be flexible and patient as we balance our community's health and well-being with our collective desires to celebrate with great fanfare and accolades your earned Albertus degrees. Please be on the lookout in the weeks ahead for many more details, including a request for you to confirm your plans to be present for the ceremony -- it will be essential for our planning to have accurate counts of participating graduates and once limits are determined, for attending guests. You've heard me say before, but I will do so again: one of my great joys and privileges serving as Albertus President is being at Commencement, observing our graduates walk across the stage as I pass them their Albertus diploma. I simply cannot wait for May 16 to arrive and to do just that for you!

You will receive information in the coming weeks including details on how to reserve your spot for all commencement-related events and activities. For now, I urge you to stay focused and diligent in your studies and in your care for yourself and your Albertus community members.

With warm regards,


Marc M. Camille, Ed.D.
President
---
Campus Community, Capitol Violence
Dear Members of the Albertus Magnus College Community,
By now, I am sure you have become aware of the disruption and destruction that occurred today at our nation's Capitol building. Over the past year, our country has been scarred by too many incidents involving racism, hatred, and violence, with innocent lives lost, businesses vandalized, and the very tenets of human decency and dignity painfully absent. This afternoon, the images and videos surfacing from Washington reveal abhorrent behaviors. Our nation and every human being within its borders are supposed to be defined by freedoms, opportunity, and democracy. Our nation and every human being within its borders never should turn to anarchy or lawlessness when we have differences of opinions.
I ask you to join me in praying for peace. I ask you to join me in praying for the safety of all those charged with carrying out political responsibilities and upholding the law. I ask you to join me in pledging to uphold and to live out our Albertus Magnus College values. Each of us, whether a student, a faculty member, a staff member, an Albertus parent, or an Albertus alumna or alumnus, we own the Dominican mission that has defined Albertus Magnus College for 95 years. We pledge to search for truth in all its dimensions, with open minds and without prejudice. We seek to foster a diverse community of learners, mentors, and teachers, committed to an atmosphere of mutual respect and ethical behavior. We commit to respecting the dignity of every individual human being, without exception.
As members of the Albertus Magnus College community, each of us has the opportunity and responsibility to be an example, to be a source of light and love. Let us move forward together, striving for the better. For more than nine decades, members of the Albertus community have never shied away from challenges. Late 13th and early 14th century Dominican Friar, Meister Eckhart, offers us simple and profound guidance: "Run into peace." May each of us, and every human being in our nation, find the energy and commitment to run toward peace.
You and those you love are in my thoughts and prayers.
In peace,
Marc M. Camille, Ed.D.
---
Albertus Community Mourns the Tragic Loss of Star Basketball Player Jaqhawn Walters, '18
Dear Albertus Magnus College Students, Faculty, and Staff,
It is with an aching heart I write to you to share the tragic news of the passing of Albertus alumnus, Jaqhawn Walters '18, who died from gunshot wounds earlier today in Hartford. For those of us fortunate enough to know Jaqhawn, or "JQ" as he was affectionately known to so many, we remember his beaming smile and larger than life personality, bringing joy to everyone around him, whether it was on the basketball court, in the classroom, or in spaces across our campus. Having been around men's college basketball at the most competitive NCAA Division I levels, when I arrived at Albertus and watched Jaqhawn play during his senior season and my first year at the College, I just couldn't help but admire the way he gave 110% at both ends of the court, and he always played with a smile on his face. I am including with this message a picture, a wonderful memory from our Commencement Ceremony in 2018, when Jaqhawn received his Albertus degree and we embraced in a warm hug.
As we pray for Jaqhawn and his family, let us remember his warm heart and spirit. Jaqhawn's life was ended too early, and we feel loss and anger. But let us heed the prayers of Pope Francis, as he reminds us, "We ask the risen Jesus, who turns death into life, to change hatred into love, vengeance into forgiveness, war into peace. Yes, Christ is our peace, and through him to implore peace for all the world."
In the week ahead we will celebrate Founders Day, in honor of the Dominican Sisters who answered a call and need in 1925, beginning a legacy that now dates 95 years, a legacy that includes so many women and men who having attended Albertus Magnus College, changed their lives and the lives of those around them for the better. Our dear alumnus, Jaqhawn, was a young man who came to Albertus, earned his degree and in doing so, brought greater joy to all those around him. I anticipate that we will offer a prayer service in memory of Jaqhawn, likely on Tuesday. Monday is the International Day of Peace, which is a call to all of us to make efforts to live in peace and care for one another, one person at a time. Let us praise peace, promote peace, and let us bring comfort and care to each member of our Albertus Magnus College family, and our brothers and sisters near and far. I offer prayers to Jaqhawn, his family, his friends, and to all those who mourn within our Albertus community.
In peace,
Marc M. Camille, Ed.D.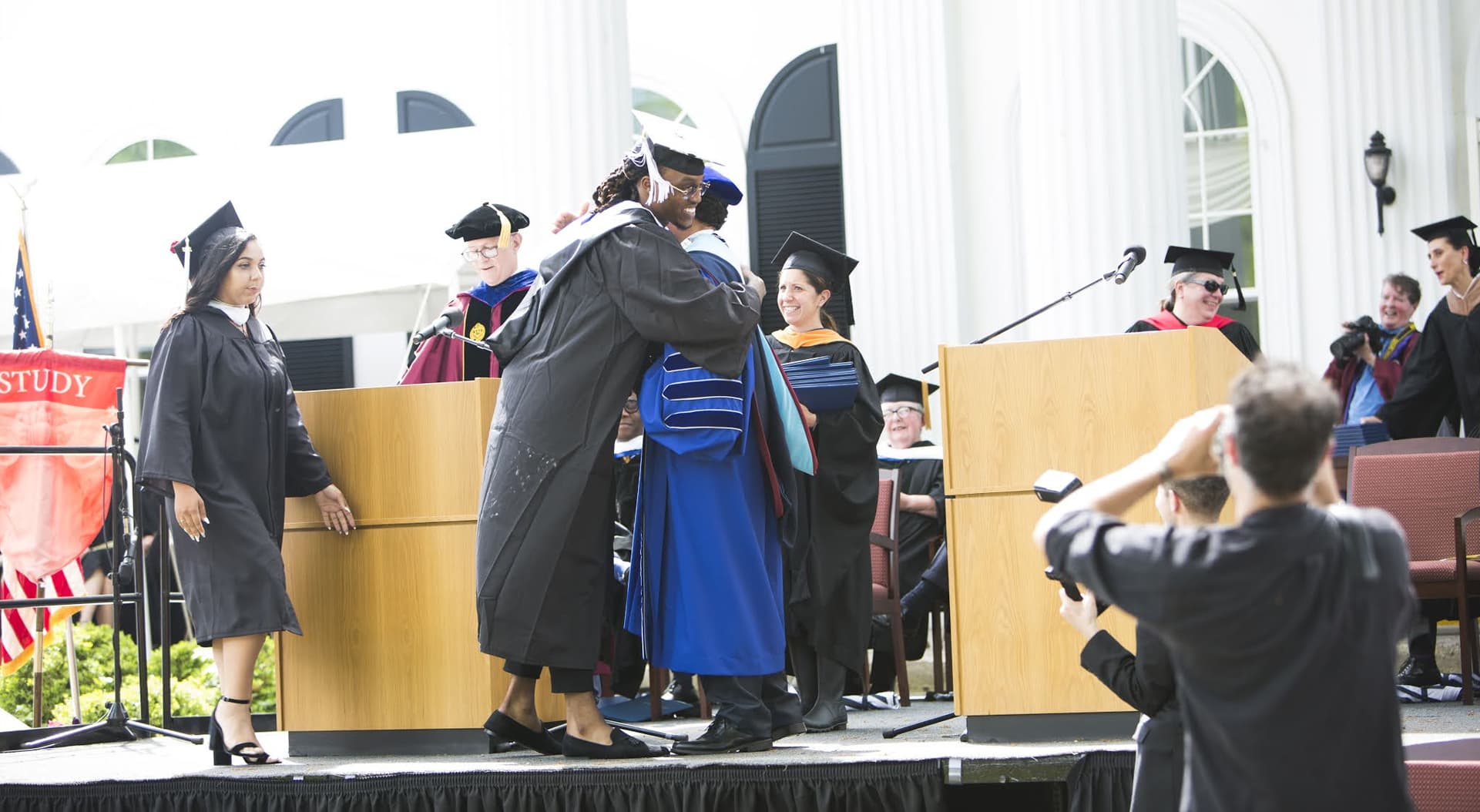 ---
Regarding 2020 Commencement
Dear Members of the Albertus Magnus College Community,
As our historic 95th Anniversary Year commences, I am writing with an update regarding our planned Class of 2020 Commencement Exercises, currently scheduled for Sunday, September 27. When I wrote regarding my decision to postpone the May 2020 commencement ceremony, I referenced the many communications I had received from our Class of 2020 members, respectfully and compellingly asking that rather than any type of virtual ceremony, they have the opportunity for an in-person ceremony so that they could share their achievements with classmates, family, and friends. My desire to honor their requests led to the selection of this September as a new date.
In postponing our May ceremony to September, our collective hope was that the pandemic conditions would ease to the point where our traditional ceremony would be advisable and feasible. Unfortunately, in looking out a month ahead to September, the evidence just does not suggest we will be able to host anything close to a normal Albertus Magnus College ceremony. With disappointment, I am again postponing the Class of 2020 Commencement Ceremony from the September 27 date, as well as the planned Baccalaureate Mass and Laurel Awards events scheduled the week before.
However, with a spirit of optimism and in honor of our milestone anniversary year, we now will plan to host a "dual" commencement ceremony for the Classes of 2020 and 2021 on our planned 2021 date, Sunday, May 16. There are many logistics that will need to be considered in the weeks and months leading up to that date, but my hopes and prayers will revolve around the members of the two graduating classes and our ability to give them the graduation ceremony they so richly deserve. Many more details regarding May's commencement-related events will be forthcoming as they are finalized, as will updates regarding other planned fall 2020 semester events.
While the ongoing pandemic has once again negatively affected our plans, I could not be more proud of or grateful for how you have never wavered in adapting and persevering. The new academic year has begun, as has our milestone anniversary year, and as a community we are taking things one day at a time, bringing forth our best effort and thinking, seeking to deliver on our essential Dominican mission. In glancing out to 2021 and beyond, I know this life-elevating college's future is bright.
In peace and gratitude,
Marc M. Camille, Ed.D.
---
Re-Opening Plans for Academic Year 20-21
Dear Members of the Albertus Magnus College Community,
I write today to announce initial plans and details for the College's upcoming 95th anniversary year, which begins with our fall 2020 semester. In 1925, Dominican Sisters journeyed west to New Haven to found Albertus Magnus College as the first Catholic, residential liberal arts institution for women in New England. The Sisters founded the College on a shoestring budget during a time of scarce resources, but did so with a spirit of innovation and purpose to provide opportunity to women who otherwise wouldn't have had it at that time. As Albertus enters its milestone anniversary year, the Coronavirus pandemic is requiring colleges around the country to adapt and to innovate. This type of challenge is not new to Albertus. The College exists today because of the vision of the Sisters and what now is a 95-year history marked by bravery and a steadfast, mission-centric commitment to bringing distinctive, values-based education opportunities to students, regardless of challenging times and achieved through maximizing limited resources.
Since the onset of the pandemic in March 2020, the Albertus community has faced its challenges with a fierce commitment to assuring the College's students are able to continue their education journeys toward degree completion. Today, with an unyielding spirit of purpose and innovation, our faculty and staff are in continuous planning and preparations for the fall 2020 semester, with a focus on delivering the values and liberal arts-based education in the safest possible environment for our 1,500 traditional aged and adult learners and our faculty and staff. That essential work is being informed by guidelines provided by the Centers for Disease Control (CDC), World Health Organization (WHO), the State of Connecticut, and local health departments.
In the included document, initial plans for the fall 2020 semester are detailed. Our plans focus around prioritizing the health, safety, and well-being of our students, faculty, and staff. Our plans emphasize and support our commitment to intimacy of size and experience. Our plans include delivering classes using a variety of strategies that promote student-preferred, faculty-student interaction, and they include our tradition of innovative teaching pedagogies, with face-to-face, online, and hybrid formats. Our plans also include a revised academic calendar, responsive to the circumstances and aforementioned guidance.
We all must remember that the year ahead will be marked by unique and, very likely, evolving, challenging conditions. In my now three years serving as President, time and again I have marveled at, been inspired by, and felt deep gratitude for your dedication to delivering on our Dominican mission. Three years ago, I shared in my inaugural remarks it was my conviction that there never had been a time in the College's history where the need was so great for a values- and liberal arts-based education such as that offered by Albertus. As the spring 2020 semester unfolded in the pandemic environment, compromising the education dreams of students of all ages, and with the recent, harsh reminders that our country remains plagued by racism and injustice, we may now indeed be at a point where an Albertus Magnus College education is most needed and relevant. Our shared call and purpose is to do all we can to deliver that education, and the plans emerging for the 2020-21 95th anniversary year focus on doing just that.
Further details will be provided by appropriate offices and personnel across campus. I, too, will continue to provide updates throughout the summer months as more information becomes available and as details are further fleshed out. Please know just how grateful I am for all you do. Each of you, and those you love and cherish, are in my constant thoughts and prayers. I look forward to working alongside you as we continue fulfilling the vision first laid out by the Dominican sisters in 1925.
In gratitude and faith,
Marc M. Camille, Ed.D.
---
A Message from President Marc M. Camille
Dear Members of the Albertus Magnus College Community,
As a Catholic College in the Dominican tradition, Albertus has a mission rooted in values, including those we deem important enough to be labeled as pillars: study, prayer, community, service. Through delivering an Albertus education, the pursuit of the truth, even when painful, is what we seek in order to share the knowledge and wisdom gained from study, inquiry, and exploration. In prayer, we seek reflection, a deepening of our spirituality, of mind and soul. As a community, we embrace, respect, and champion the dignity of every individual being, seeking to find the goodness in the individual and the bond that ties us together as a family. In service, we always are called to give back, to share, to serve others above self, to be loving toward our neighbors at the margins. Our Albertus community is united by these common values, gifted to us by the Dominican Sisters who founded this College with its distinct purpose in 1925.
Since the death of George Floyd on May 25 at the hands of Minneapolis police, our nation has again born witness to raw emotions and actions that emerge from the debilitating racism and injustice that continue to stain and scourge the fabric of our freedoms: anger, outrage, grief, and despair as well as protest, violence, and destruction.
In these past few months, our Albertus community has faced with grace and resilience the circumstances and challenges associated with the Coronavirus pandemic. Today, our community is actively planning for the fall semester, when we will welcome our students, faculty, and staff back to campus. In ordinary times, Albertus is a community where we actively work against the evils of racism and injustice. These are no ordinary times. Dominican Saint, Catherine of Siena, implored us to "Preach the Truth as if you had a million voices. It is silence that kills the world," and "We've had enough of exhortations to be silent! Cry out with a hundred thousand tongues. I see that the world is rotten because of silence." George Floyd's tragic death, and the too many before him who have suffered similarly, is another call where we must pursue the greater good, the good and the right in solidarity with all God's children, created equal and entitled to the same equality, the same dignity, and the same mercy. This must be true in education, in healthcare, and in the eyes of the law.
In the days, weeks, months, and years ahead, our Albertus Magnus College community must be an agent of change and discourse, action oriented toward eliminating racism and injustice, working toward a campus, a neighborhood, a city, a nation, a world where the future is marked by love and respect, by fairness and justice, and by peace versus violence. Our Dominican mission insists we do so, and it inspires us toward that future.
Let us pray, let us act, let us bring a more just world, let us promote peace. I stand with you.
In peace and justice,
Marc M. Camille, Ed.D.
---
Thanksgiving Message from President Camille
Dear Members of the Albertus Magnus College Community,
I just walked back to my office, after finishing a meeting in Walsh Hall. While walking, I could not help but notice how beautiful and warm a day it is, with the few remaining leaves on our trees dancing and dangling in the breeze. A warming day, particularly this time of year, is indeed a gift. And as we prepare to pause for the Thanksgiving Holiday break, I am reminded of the many gifts for which we all can be grateful. So I thought I'd take a moment to offer my gratitude to you.
Our shared purpose in fulfilling the College's Dominican mission, impacting and elevating students' lives for the better, is a grace for which I am deeply thankful. I hope that in this season of Thanksgiving, you are able to be with friends and family and to recognize and experience your own gifts. I remain personally grateful for all you do as members of the Albertus community, and I look forward to being with you after the break as we move toward the closure of the fall semester.
With warm wishes and appreciation,
Marc M. Camille, Ed.D.
President
---
Pray for Goodness
Yesterday the community at the University of North Carolina, Charlotte became the latest to suffer from a senseless, hate-filled shooting. The victims, two of whom have died and four others injured, were students at the university. Like Albertus Magnus College and nearly every other college in the nation, UNC Charlotte was preparing as a community for annual commencement exercises, acknowledging and celebrating the successes of graduating students. Instead of celebration, our brothers and sisters at UNC Charlotte now face loss, sorrow, and grief.
I ask you to join me in prayer for the members of the UNC Charlotte community and in embracing the Dominican values we hold so dearly, in defiance of the hate and terror that continue to haunt our nation. Every student, faculty and staff member, every parent, every alumna or alumnus, every friend… every member of the Albertus Magnus College family is precious, full of boundless potential, and capable of being positive influences in our communities and beyond. This potential also holds true beyond the Albertus Magnus College family.
Today is May 1, the day when high school students across the country respond to college admission offers. The day is, at its core, a day when young adults commit to take the next step toward realizing their potential. Every commitment to a college is an opportunity for goodness. This day, this month, should be filled with joy versus sorrow. As we move forward, I hope and pray for goodness to be the story that captures the headlines.
In peace,
Marc M. Camille, Ed.D.
President
---
Easter Message from President Camille
Dear Members of the Albertus Magnus College Family,
As our Albertus Magnus College community takes a pause from the spring semester in observance of Easter, I am reminded of the beauty inherent in Easter's occurrence in the spring season. Our campus has emerged from winter's hold, with flowers beginning to bloom, grasses now growing, and excitement building in anticipation of the approach of Commencement.
Easter offers us a calling and the time to pause and reflect. In our reflections, we may choose to contemplate the deeper meaning of Easter, of our own spirituality or faith, or perhaps of how the warming spring temperatures and plentiful rains signal a time for growth or renewal. I wish for you and yours a time of peace and love, and a spirit of renewal and faith. I will look forward to being with you next week.
Warmly,
Marc M. Camille, Ed.D.
President
---
President Marc M. Camille on Good Morning Connecticut
---
On Higher Education, Shift the Focus from Prestige to Performance
The latest college admissions scandal challenges our confidence in so many aspects of the current process, from the influence of extreme wealth and privilege to the integrity and oversight of athletics recruiting. Can we regain faith in the process?
I am convinced we can, but doing so calls us to address a culture-challenging question: Is it time to reconsider how our nation defines and promotes value among its colleges and universities?
Thirty years ago, fresh out of college, I started as an admissions counselor, beginning an admissions career that would span 28 years. During those years, I witnessed a lot and learned many truths regarding the college admissions landscape, such as: people are fascinated with ordinal rankings, so US News and other annual college sorting mechanisms aren't likely to cease, and institutions with abundant resources and/or high-profile athletics programs will always garner significant media and public attention.
Concerns regarding ethical failures in college admissions are not new. A few years ago I wrote a book chapter, titled "Ethics in Strategic Enrollment Management" for the Handbook of Strategic Enrollment Management. I introduced the chapter with a reference to an article from a 1936 issue of The School Review in which R.E. Blackwell declared, "College recruiting is one of the most significant problems in the education field today." More than eight decades later, the same accusation could easily be justified.
In the chapter, I suggested enrollment management and admissions professionals should use their moral compass to focus their work around right versus wrong practices or behaviors and their work's potential impact on human beings. For example, the use of merit-based financial aid may help in achieving student body composition goals, but might there be unintended negative consequences on certain students? Or does an early decision admissions program support mission centric goals of access and equity? In that chapter, however, I failed to address the latest admissions scandal's scope, including parents of extreme wealth and privilege manipulating the admissions process and athletics coaches and administrators compromising the integrity and competitiveness of their teams.
Clearly we need to further assess and improve our ethical (or lack thereof) practices in admissions. Nonetheless, I'm also aware of the limitations that even the most honorable admissions processes are likely to ever achieve. After all, one's college experience shouldn't be defined by the act of getting in; it should be about what occurs during and after college enrollment. Our nation seems to still be convinced that the day of college acceptance is the defining achievement, with the education journey to graduation a mere formality.
The time is now for us to reframe how we measure and celebrate the value of our colleges, from a focus on "prestige" brands to "performance" brands.
I am in my second year as president at Albertus Magnus College, in New Haven, and I am unabashedly proud and passionate in representing this Catholic, liberal arts-based college. Albertus Magnus is the smallest college in New Haven, and our campus can be found where Yale University's sprawling campus ends. We are blessed, however, to be uniquely situated at the intersection of two dramatically different neighborhoods: one high wealth, primarily white, the second economically challenged, primarily African American. Albertus Magnus enrolls 500 traditional-aged undergraduates and 1,000 adult learners at the undergraduate and graduate levels. More than half are students of color, more than half receive federal Pell grants, and many are the first in their family to pursue a college degree. We have NCAA Division III athletics, and I can declare with confidence we are not dealing with parents of extreme wealth attempting to game the admissions system to get their children admitted.
We don't compete for admissions with our Ivy League neighbor. Yale's reputation for excellence is centuries old. But be clear about this: we do educate our students to compete upon graduation.
Our focus is on delivering a values and liberal arts-based education and its outcomes. We're most interested in who our students become upon graduation, versus who they are upon enrolling. The Opportunity Insights Project (formerly, Equality of Opportunity Project) examined the earnings of college graduates from nearly all colleges in the country, through various filters such as admissions profile and socioeconomic status of the students when they entered the colleges as undergraduates. The research revealed that Albertus Magnus College is among the top 10 percent of institutions of its type (private, selective) for enrolling students from the lowest quintile of socioeconomic status, and when they graduate, those same students via their salary earnings achieve upward socioeconomic mobility into the highest quintile.
At Albertus Magnus College, more than 90 percent of our students complete at least one internship or practicum, and our alumni outcomes data show that more than 95 percent of students in the last three graduating classes were employed full-time or pursuing further education within six months of graduation.
Yet you aren't likely to find Albertus Magnus — or so many other similar colleges — featured in popular media articles or at the top of college rankings. It is, however, one example of the many colleges in this country that lift up toward their fullest potential diverse, first-generation students, even without billion-dollar endowments or high-profile athletics programs.
Yes, let's address the flaws in college admissions, but let's also acknowledge and promote the promise and potential of the nation's colleges that are flying under the prestige radar while transforming lives for the better. Prestige should be determined by performance.
Marc M. Camille, Ed.D.
President
This Op-Ed originally appeared in the New Haven Register
---
Choose Kindness
Once again our world has witnessed an act of senseless, hate-filled violence. It seems as though it was just yesterday I wrote to you regarding the horrific shootings in California, Kentucky, and Pennsylvania. Now our Muslim brothers and sisters in New Zealand are suffering. I ask you to keep them in your prayers, and I ask you again to commit to standing in solidarity with victims of violence around the world. We cannot give in or give up. Each of us can offer prayers and advocate.
Last evening during our Boston Alumni Reception, we had alumni join us representing decades from the 1950s to the 2000s. It was for me a grace to be with them. Among my messages to them was that in our current strategic visioning and planning initiative, we have committed ourselves, as a community, to promoting and embracing the Dominican values that have inspired an Albertus Magnus College education for more than nine decades. Emanating from the values espoused within our four Dominican pillars—Study; Prayer; Community; Service—is the recognition and care for the dignity of every person. No two human beings are exactly alike. It is our differences that fill this world with beauty. On many occasions I've shared with you my belief in the need for more love toward others in our society. Today, we thirst for love in the midst of suffering.
Earlier this month at the Ash Wednesday Services in our St. Catherine of Siena Chapel, we formally commenced with our Lenten Season and its theme of "Choose Kindness." I pray that our world will choose kindness, and that random acts of kindness will only be overtaken by intentional acts of kindness.
In peace,
Marc M. Camille, Ed.D.
President
---
Christmas Message to the Community
Dear Members of the Albertus Magnus College Family,
This afternoon we will gather as a community, as a family, to celebrate the Advent and Christmas seasons, shortly thereafter departing for the winter holiday break, reuniting in the New Year. As 2018 draws to a close, I cannot help but reflect on all of the great gifts and blessings that surround this community. Since our founding year in 1925, we have been nourished by the gifts and defining values that emanate from the College's Catholic and Dominican heritage.
Today, we benefit from gifts of the four Dominican pillars—study, service, prayer, and community—that distinguish the education offered to our students. Study—our dedicated faculty and staff strive for excellence in teaching and mentoring our students. Service—both on and off campus, the sense of placing others above self is a source of great pride. Prayer—Albertus Magnus College continues to shine brightly as a destination where students, staff, and faculty are embraced and supported through opportunities to explore and deepen their faith and spirituality, within and beyond the Catholic tradition. Community—the palpable sense of community held so dear among the Albertus Magnus family is beautiful and is why this College is poised to achieve even greater excellence in the future.
The New Year ahead, 2019, brings with it fullness of potential and excitement as we continue our shared work in fulfilling the College's essential mission. I will look forward to being with you again soon, and please know that deep within my heart I remain grateful for all you do on behalf of Albertus Magnus College. May you, your family, and friends experience the magical gifts of Christmas and some much deserved rest and relaxation. I offer you the prayer that follows, penned by Robert Louis Stevenson more than a century ago. His prose offers us great gifts and wisdom. Merry Christmas!
Marc M. Camille, Ed.D.
President
A Christmas Prayer

Loving Father,
help us remember the birth of Jesus,
that we may share in the song of the angels,
the gladness of the shepherds,
and worship of the wise men.

Close the door of hate
and open the door of love all over the world.
Let kindness come with every gift
and good desires with every greeting.
Deliver us from evil by the blessing
which Christ brings,
and teach us to be merry with clear hearts.

May the Christmas morning
make us happy to be thy children,
and Christmas evening bring us to our beds
with grateful thoughts,
forgiving and forgiven,
for Jesus' sake.

Amen.
---
Thanksgiving Message from President Camille
Dear Members of the Albertus Magnus College Family,
As we prepare to break for the Thanksgiving holiday and weekend, I am reminded of the so many things in my life for which I am thankful. Among those I cherish most are the members of the Albertus Magnus family. Our students, faculty, staff, alumni, parents, and friends share a common bond emanating from a connection to this special College. For ninety-three years, the College's Dominican heritage has inspired our mission of pursuing truth in all of its dimensions and applying that knowledge and wisdom in our daily lives. Of all the places in this country or this world where I could find myself working and supporting, I am at Albertus Magnus College, sharing a journey with you. And I could not be more thankful.
I wish for you and yours a restful and peaceful Thanksgiving, and I look forward to being with you next week when we reopen.
With gratitude,
Marc M. Camille, Ed.D.
President
---
Prayers Across the Country
With sadness in my heart, I am called again to write to you after another senseless act of violence has occurred. As you likely know by now, last night a gunman opened fire in a bar in Thousand Oaks, California. Among the occupants, and likely victims, in the bar were college students from area institutions, and at least twelve individuals have died.
Our hearts ache for those who lost their lives and all of those who now suffer in grief. These times challenge our faith and our resolve. But I am strengthened in the power of community, and in particular, the Albertus Magnus College community. Over the course of the last week, our Albertus community came together, with members from the greater New Haven community, to stand in solidarity with the victims of violence in Kentucky and Pennsylvania. Now, we rise again in unison to support our brothers and sisters thousands of miles to the west.
On May 25 of this year, the Dominican Sisters of Peace posted in their Weekly Peace and Justice Update, "A Prayer for Uplifting Human Dignity." The closing prayer from that post:
O God, true source of wholeness and peace, in a world bearing fresh wounds of suffering and grief, you call us to be a people of healing. Help us to reach out to neighbors in need, to bear one another's burdens, to weep with those who weep. Give us the grace to share the comfort of Christ with all those who long for his healing touch. Help us to hold in our hearts and show in our lives what we proclaim with our lips: Goodness is stronger than evil; love is stronger than hate; light is stronger than darkness; hope is stronger than despair.
Let us stay committed as human beings of compassion, healing, and solidarity. Let us remain as beacons of light and love. Let us be passionate in the pursuit of peace. Let us continue to hold up high the Dominican values that define our community. And let us pray for those who suffer.
With prayers and gratitude,
Marc M. Camille, Ed.D.
President
---
Message of Unity
As you know, I recently made a pilgrimage to France, walking in the footsteps of St. Dominic and learning more about the College's Dominican history and tradition. After returning from that trip, I traveled last week to Columbus, Ohio for the annual Dominican Sisters of Peace Education Sponsorship meeting, during which the presidents and board chairs of the secondary schools and colleges sponsored by the Dominican Sisters of Peace come together to engage with and affirm our distinctive mission. While in France and Ohio, I was reminded of the powerful and distinct set of values that have defined and inspired an Albertus Magnus College education since its founding in 1925.
In August 2017, following the violence that occurred in Charlottesville, Virginia, in my message to our community, I wrote:
As an educational community grounded in our Catholic heritage and Dominican traditions, incidents such as racial injustice and hatred call us to embrace and promote the values we hold dear. Hatred has no place in a peaceful society, and freedom of speech is not a free pass for racism or fascism. Our mission and values call upon us to support the values of civil discourse and human rights; diversity is at the core of our community and is tantamount to educational excellence. We cannot simply stand by and watch injustice. Each of us must ask ourselves, "What can I do?"
Today, in light of our nation's most recent acts of senseless violence and hatred, I am called again to write to you in affirmation of the same values that I upheld in that 2017 message. Sadly and tragically, we continue to face instances of hatred and intolerance. We stand united with our Jewish brothers and sisters, and we grieve and stand beside them in solidarity. The Dominican Sisters of Peace articulate among their commitments, to "Create environments of peace by promoting non-violence, unity in diversity, and reconciliation among ourselves, in the Church and throughout the world." As a community grounded in the Dominican tradition, committed to the cherished integrity of each individual, at Albertus Magnus College we have the responsibility and opportunity to promote peace and denounce injustice, hatred, and violence. On our campus this week and next, we will have numerous opportunities for us to take action, coming together to stand united, and to serve as a beacon of hope. I encourage you to consider being present for the following:
Thursday, November 1st – All Saints Liturgy, 11:15 a.m., St. Catherine of Siena Chapel
Thursday, November 1st – Candlelight Vigil, 5:30 p.m., Tagliatela Academic Center
Monday, November 5th – Feast of St. Martin de Porres, Prayer Service, 12:00 p.m., St. Catherine of Siena Chapel
Monday, November 5th – Teach-Ins, addressing systems that underpin the violence of our time: 11:00 a.m. and 6:00 p.m., location TBA
Each weekday, I look forward to receiving via email from Well for the Journey, a message of Daily Faith. This morning's message was:
In spite of everything, I still believe that people are really good at heart. I simply can't build up my hopes on a foundation consisting of confusion, misery, and death...
I can feel the suffering of millions, and yet, if I look up into the heavens I think that it will all come right, that this cruelty will end, and that peace and tranquility will return again. In the meantime, I must uphold my ideals, for perhaps the time will come when I shall be able to carry them out.
-Anne Frank, The Dairy of a Young Girl
A timely message, reminding me that Anne Frank, despite her personal suffering amidst the hatred and violence that consumed her world, remained optimistic in holding on to the inherent goodness contained within the human heart. My hope for our world, our nation, and our community is that the future will be defined by acts of kindness, peace, and inclusion rather than hatred, violence, and division. I am proud to be a member of the Albertus Magnus College community, and I am evermore inspired in embracing and promoting our Dominican values and heritage. I remain grateful for your presence as members of our community and for all you do in helping us fulfill our distinctive, relevant mission.
With gratitude and in prayer,
Marc M. Camille, Ed.D.
---
The Colors of Collioure
A week ago, we came together for the first time, meeting at the airport in Toulouse, France. Coming from different Dominican colleges, we shared a common foundation before the journey, our heritage rooted in the values first articulated by St. Dominic 800 years ago. Over the course of the past week, I am sure I speak for my fellow "pilgrims" when I suggest we now share a deepened appreciation and passion for those values that bring the Dominican charism to life on our respective campuses. I plan to write a concluding post in the next day or so, in which I'll attempt to summarize my experiences from this journey to France and to engage in the history of the Dominican order. For now, I'll focus on the wonderful final day we've just shared.
We traveled two hours southeast to the Mediterranean coastal town of Collioure. Collioure is, quite simply, beautiful. Today, the village is in many ways a testament to the brilliant colors portrayed in the Fauvism movement in art, notably canvas paintings; perhaps most famous among its artists have been Derain and Matisse. Admittedly, my appreciation for art and Fauvism is nowhere near expert level. What I will argue, however, is the setting in Collioure is without question inspiring of art and beauty, and I can understand why the artists felt a calling to portray the coastal village in bright and bold colors. The natural setting of the harbor along with the appealing architecture call for artistic appreciation.
The harbor is surrounded by the waning hills of the Pyrenees, complete with terraced vineyards and the traditional tile-roofed, hues of pink and peach, Spanish-Mediterranean architecture influenced buildings that flow down to water's edge, with "Chateau Royal de Collioure" castle dating back to the 7th century on one side and "Chapelle Saint-Vincent," "Phare de Collioure," and the "Eglise Notre Dame des Anges" church all sheltering the opposite side.
After arriving, we walked down to the harbor front and immediately noticed the French naval military training that was occurring; we were told the soldiers were the equivalent of U.S. Navy
Seals, and based on their in-water survival tactic practice we observed, I have no reason to doubt that comparison. We then boarded "Rouissillon II" boat for a harbor tour. Stemming from the aforementioned rain and accompanying breezes, the harbor was less than calm, as our time on the boat was more like a roller coaster ride than a harbor cruise. Nonetheless, the wave swells added to the sense of adventure, and for about an hour we toured in and out of the adjacent harbor villages, observing a famous pink granite light house that is reputed to be visible for up to 50 miles, and harbors where one contains the last remaining monument in France to the ill-fated Louis XVI and another with spectacular caves worn into the cliffs that come down to meet the sea. The cruise was a wild but wonderful treat.
The remainder of our time in Collioure was left for us to explore the seaside village. I began by enjoying a tasty lunch of the harbor's famous "Anchois de Collioure," or anchovies as we call them in the U.S. I attribute my less than mainstream enjoyment of anchovies to my father's Portuguese heritage and seafood love, both of which I inherited. After lunch, I joined the group in walking over to the Eglise and Chapelle I mentioned earlier, and while each was moving to see up close, what struck me as I walked around the harbor front were the numerous empty "picture frames" cast in iron and mounted in vantage points around the harbor; when one looks through the frames, they offer the views that famous Fauvism artists have painted. It is easy to understand why Collioure was and remains a source of inspiration for artists.
Late in the afternoon, we boarded the bus to make the two-hour trip back to Quillan. We've just arrived, and I have some time before our final group dinner, which is why I've written now versus later. In my final post, I'll offer reflections on the dinner and the overall pilgrimage experience.
President Marc M. Camille, Ed.D., will write regular reflections during his week-long pilgrimage to Fanjeaux, France, with other Dominican college presidents. Fanjeaux is the area where, eight centuries ago, the Dominican Order was founded by Dominic de Guzmán, or St. Dominic as he is known today. This pilgrimage is a unique opportunity to visit and experience a number of the historical sites where St. Dominic spent considerable time leading up to and after the founding of the Order.
---
More Rains Bring Time in a Medieval Village and Abbey
Today our journey returned to a more normal agenda, journeying to visit a village and abbey, both of which date back to the medieval ages. To reach the village of Lagrasse, we had to first drive north through the area of Carcassonne, which was one of the areas most impacted by the flash flooding. The scenes of devastation we observed were jarring and heartbreaking. While the waters have receded, what has been left in their place clearly has reshaped landscapes and damaged so many lives. We spent this day in and out of rain, at times heavy; we did not experience any flooding again, but the memories are so fresh one couldn't help but be concerned. We're hopeful for sunshine tomorrow.
Our bus driver, Bruno, whom everyone has enjoyed as a companion during our pilgrimage, put all of his driving skills and geographical knowledge to the test. To reach the village of Lagrasse, Bruno had to follow a number of detours due to road closures, and we received an additional gift of seeing the most rural and beautiful landscapes as he wound his way through hills and valleys on roads better fit for farm tractors than small buses. As he's done throughout, Bruno came through and we arrived in a downpour in Lagrasse. Lagrasse is a rural village of about 600 residents, and the village's origins date back to the 8th century, when "L'Abbaye de Lagrasse" was chartered in 789 by King Charlemagne. A regret for the day was due to the delayed arrival and rains, as we were not able to visit the abbey, which I suspect would have been wonderful. Perhaps another time.
As for the village of Lagrasse, its origins coincide with those of the abbey, and as we walked through its intimate streets, it was easy to let the imagination take over. In addition to its small homes, the village contains many markets. Unfortunately, on this rain soaked day in mid-October, which is the beginning of the "off-season" for tourists, most of the markets and artisans were not open. Nonetheless, we walked into the center of the village and stepped out of the rain under the shelter of the open-walled, "The Hall," dating to the early 1300s and today where the locals gather to sell their goods throughout the year. When the rain eased, we made our way to Lagrasse's famous "donkey" bridge, spanning the Orbieu river. Also dating to early 1300, the stone bridge offers wonderful views of the village and the abbey in the distance. Walking onto and across the bridge was a moving experience.
Our time in Lagrasse concluded with lunch at the Hostellerie des Corbieres. This was a special experience, as it is the place where each summer the faculty, staff, and students from our Dominican colleges gather for a shared meal at the Hostellerie. The food and atmosphere were simply a joy. Delicious. The warmth of the owners, chef and hostess, was palpable, and their young daughters' brought smiles to everyone.
From Lagrasse, we made the drive to "L'Abbaye de Fontfroide". The abbey was originally chartered in the late 11th century, initially for Benedictine and then soon thereafter Cistercian monks, with construction beginning in early 12th century. It is without question a most beautiful and spiritual place to visit. Sitting on nearly 5,000 acres, the abbey buildings are sprawling. Most of the original buildings, Romanesque in style and reflective of the austerity of the Cistercian monks, date to the 12th and 13th centuries, including the church, cloister, and the chapter house, with the cloister vault, dormitories, and most remaining buildings being of the Gothic architecture style. The Great Plague that struck much of Europe took its toll on the abbey and monks in the mid-late 14th century, and the number of monks at the abbey went from a reputed 200 plus at one time to less than 30 survivors after the plague. In the years that followed, throughout the 15th century through pre-French revolutionary war in the late 18th century, the monks at the abbey grew in number, but their way of life evolved, moving far from Cistercian austerity to include eating meat, chocolate, and supposedly, playing billiards. The French Revolution, which prohibited monastic life, in effect closed the abbey until 12 Senanque monks reoccupied the abbey in 1848, remaining there until the French separation of church and state in the early 20th century. The abbey was privately purchased thereafter, and it remains today within the family heirs as an historical site for visitors.
We walked through the grounds and buildings of the abbey, again as a group sharing the experience. While in the abbey's church, beautiful and dark, nearly seven stories high, we again were called to sing the Dominican blessing. The sound of our voices in that historic, spiritual place was yet another moment of a deep feeling of presence and awareness of our Catholic, Dominican heritage.
Tomorrow is our final full day together. We are going to drive south to the Mediterranean seaside village of Collioure. Like every moment of this journey, that experience too will be a first for me. I look forward to seeing a new town and sea, but I already am finding it hard to believe our journey is nearing completion.
President Marc M. Camille, Ed.D., will write regular reflections during his week-long pilgrimage to Fanjeaux, France, with other Dominican college presidents. Fanjeaux is the area where, eight centuries ago, the Dominican Order was founded by Dominic de Guzmán, or St. Dominic as he is known today. This pilgrimage is a unique opportunity to visit and experience a number of the historical sites where St. Dominic spent considerable time leading up to and after the founding of the Order.
---
Grateful for So Many Things
This will be a double entry, as I am sitting to write this blog on Monday evening, the 15th. Yesterday, the 14th, we had a wonderful Sunday, beginning with Mass and then a trip to walk through a cave with wall paintings dating back more than 13,000 years.
After the long bus trip back to the hotel, I decided I'd get up early this morning to write. Those plans were interrupted by the hotel's fire alarms going off, alerting us to impending flash flooding. Twelve hours later, we've checked in to a new hotel in the village of Quillan. So now I write, in reverse order.
This morning at approximately 6:15 a.m., we were shaken by the sound of the hotel's fire alarms. They had been sounded to wake us and alert us to impending flash flooding. Overnight, more than 10 inches of rain poured down, the equivalent of more than 4 months in the area, and where we were staying in Couiza, The Aude and The La Sals rivers meet. The Chateau des Ducs Joyeuse hotel sits on the banks of The Aude, and when we descended from our rooms to walk across the courtyard, there already was about a foot of water. We were rushed out and told to gather in the center of town at a Café Saint Anne where we'd be safe.
On our way there, we crossed La Sals river, and it was apparent even in the dark the waters were raging, preparing to flood. As daylight broke about an hour or so later, the flooding was in full force, as the pictures will show. Our pilgrimage group prayed together for our hosts back at The Chateau and for all those impacted by the floods. We've since learned at least 6 deaths have occurred and the flooding in the area is the worst since 1892. We found out the flood at the Chateau had reached nearly 4 feet in the courtyard and that we'd be able to return late afternoon to gather our belongings to check out and into another hotel. Thus, we now find ourselves in Quillan. Our day's planned agenda, a visit to Vals and Mirepoix, did not occur. We may still be able to fit those in as our days here wind down. Yet as I reflect on what we experienced today, we were indeed blessed by our safety and our time shared over lunch and now in a new village we would not otherwise have been able to experience. We took a short walk through Quillan this afternoon, and it has wonderfully small and intimate streets, with shops, cafes and restaurants mixed in among the village's homes. The ruins of Château de Quillan sit high above the village, and a walk to see them offered wonderful views of the town. Yes, many blessings considering how the morning began.
As for yesterday, our Sunday began with an intimate mass at the Chateau des Ducs Joyeuse, in a small chamber called the Cave, celebrated by Fr. Silly. A day later, the meaning of that mass in that space has become even more significant. After Mass and lunch, we left for the hour and a half trip to Grotte de Niaux. The Niaux Cave contains more than 8.5 miles of passages and chambers, some of which contain wall paintings scientifically confirmed through radiocarbon dating to be more than 14,000 years old, placing them in the Magdalenian period, 12,000 BC. Our group toured the cave together, each of us receiving a flash light but not being allowed to bring phones or cameras; the tours also are limited in size and duration, to limit the potential damage to the cave's drawings from human presence, breathing, etc. Our tour was limited to a fraction of the cave's total distance and chambers, culminating with our guide illuminating the prehistoric drawings on the walls in the Salon Noir, a huge chamber that in addition to containing the drawings, also is acoustically spectacular. While in the Salon, Fr. Silly sang a traditional French Christmas song in his beautiful voice, and our group along with the other 15 or so spelunkers, were treated to an amazing musical experience. As for the drawings, they were incredible. You can see some of the drawings at this web site and you will likely be as amazed as were we with their detail.
The drawings of bison, horses, deer, and ibex are very detailed. The researchers have concluded based on excavations that the Magdalenian people came to the cave to paint, not to live or make sacrifices, etc. In addition to the section of the Cave we explored, there are numerous other chambers, some of which contain even more compelling and confounding art, such as footsteps of children appearing to have been intentionally imprinted in likely a soft clay like surface at the time, and a painting of a weasel, which is extremely rare in comparison to the normal animal subjects. The Niaux Cave paintings were first deemed to be prehistoric in 1906, but scientists have confirmed the caves have been visited by modern man since at least 1602, based on graffiti left and dated to that period. The caves have an abundance of graffiti from the 1600s-1800s time period, a somewhat vexing connection to our modern world. The walk through the Niaux Cave's tight entrances and utter darkness was awe inspiring. The past nearly 48 hours have been full of emotions, awe, anxiety, gratitude… I am so grateful to be on this pilgrimage and cannot wait until tomorrow.
President Marc M. Camille, Ed.D., will write regular reflections during his week-long pilgrimage to Fanjeaux, France, with other Dominican college presidents. Fanjeaux is the area where, eight centuries ago, the Dominican Order was founded by Dominic de Guzmán, or St. Dominic as he is known today. This pilgrimage is a unique opportunity to visit and experience a number of the historical sites where St. Dominic spent considerable time leading up to and after the founding of the Order.
---
A Day Spent in "La Ville Rose"
Today, our pilgrimage took us to the city of Toulouse, which dates back to the 2nd century and today is France's 4th largest. In France, the city is referred to as "La Ville Ros
e," as most of its buildings were constructed from pink hued bricks built from the clay that is found in the river that flows through the region and city, the Garonne.
We began by visiting "La Basilique Saint-Sernin," the largest Romanesque pilgrimage church in Europe and built in the late 11th / early 12th centuries. The church is named for Saint Sernin, the first Bishop of Toulouse from mid 3rd century. We learned about Saint Sernin's martyrdom in a narrative provided by Dr. Mary Haymann. I'll take the opportunity here to praise Mary and her husband, Dr. Francois Haymann, both of whom have served as our hosts and France experts while on the pilgrimage. The Haymanns also serve as hosts for the summer program, along with Trudi Goggin from Dominican University in IL. Trudi, along with her former Dominican University campus ministry colleague Sue Kaszynski oversee the programming and agenda for the summer program and coupled with the Haymanns have been amazing in their knowledge and helping bring our pilgrimage into the context of our Dominican heritage and the work we do on our respective campuses.
Certainly La Basilique Saint-Sernin is beautiful and massive. Also very powerful to experience was its Crypt, outside of Rome, the largest collection of holy relics in Europe, including those of Saint Sernin. Also in the ambulatory of the Crypt are numerous marble bas-reliefs, including "Christ in Majesty," which is one of the earliest depictions of Christ, in which he is portrayed as a young man, no beard, heavier set, hair parted in the middle, with more Roman or Greek features than we typically see. As we walked through the Crypt, again I experienced a sense of presence and awareness.
We then visited Les Jacobins, the Church of the Domi
nicans, and were blessed to have Fr. Silly join us to offer great insights and perspectives about the historical church; the Dominican Order when it was first formed and recognized was referred to as Jacobins, which comes from the location of their first convent in Paris in rue Saint Jacques. Dating back to 1230, the church was initially half its current height and size, built to reflect St. Dominic's desires regarding a life and vow of poverty and simplicity. The church went through expansion to its current size in the 1300s, and that structure still remains, baring elements of its original beauty in limestone and brick that appears to have been painted in soft pastel hues of pink, green, yellow and tan. Its stained glass windows capture the sun's rays and illuminate the walls inside with brilliant rainbow colors. After the French revolution and the Dominican order being banned, Napoleon took over the church and turned it into military barracks, adding floors to create two stories with the upper for dormitories and the lower level for armory and stables. Today, the lower level walls remain scarred from the armory and horses' impact.
At the center of the church lie the relic remains of Dominican Saint Thomas Aquinas. We sat in the simple pews around Aquinas' relics, listening to Fr. Silly offer reflections, including sharing with us that it was in this church on that alter that he presided over his first mass as a Dominican Friar, nearly twenty years ago. I couldn't help but observe the symmetry of listening to a wonderful, intelligent Friar from today at the footsteps where rests one of the most revered Dominican saints.
Fr. Silly then took us on a tour of the Church's Cloister, including time in The Chamber and in The Mortuary Chapel. Within the Monastery, the Friars would gather together in The Chamber, and the Mortuary Chapel was for the Friars who passed away. I couldn't help but notice the stained glass windows in the Mortuary Chapel, depicting the Fleur-de-Lis in brilliant blue and white… not surprisingly, I thought of our Albertus Magnus College blue and white colors!
After leaving the Church of the Jacobins, walking through the streets of Toulouse and grabbing some lunch, we finished our day with a visit to Maison Pierre Seilhan, the home in Toulouse where it has been confirmed St. Dominic and his other early Friar brothers resided. We gathered with Fr. Silly in a small room, now transformed into a chapel, to hear stories of the house's Dominican history. I continue to find myself with a deep sense of awe, admiration, and amazement that I have been blessed to visit these historic sites where our Dominican founders slept, walked, talked, and preached eight centuries ago. A great gift for which I am grateful beyond words.
Tomorrow we will begin with mass, celebrated by Fr. Silly, and then journey to see the Niaux Cave, with wall paintings dating back 35,000 years. My brain isn't yet ready to comprehend that experience. I am hopeful sleep and prayer will assist.
President Marc M. Camille, Ed.D., will write regular reflections during his week-long pilgrimage to Fanjeaux, France, with other Dominican college presidents. Fanjeaux is the area where, eight centuries ago, the Dominican Order was founded by Dominic de Guzmán, or St. Dominic as he is known today. This pilgrimage is a unique opportunity to visit and experience a number of the historical sites where St. Dominic spent considerable time leading up to and after the founding of the Order.
---
Walking Across the Gate to the Middle Ages
We've just returned from our day in Carcassonne, the last remaining fortified city in France. Perhaps intuitively, a fortified city is just as it sounds, meaning it's a city completely surrounded or enclosed by walls, accessible only from a main gate and typically protected not just by walls, but by one or more moats. In Europe's history, there were many fortified cities, and Carcassonne offers one the opportunity to walk back in time, hundreds of years. Today, Carcassonne's moats are dry and there is no danger of surprise attacks from boulders tossed over the walls by catapults. Within the walls of Carcassonne is a bustling village, full of tourists from around the world as well as inhabitants and the thousands of workers for the myriad shops, restaurants, and hotels. Carcassonne offered us a more traditional tourist experience versus that of a pilgrim, but the primary reasons we visited Carcassonne were twofold: The Basilique des Saints Nazaire et Celse and The Notre Dame De L'Abbaye, which lies just outside of the walls of the fortified city.
When first approaching the walled city of Carcassonne, the imposing structure of the walls and towers was impossible not to admire. It was as if I was approaching the Middle Ages. Literally walking across the gate that stretches over the once fearsome moat, I wasn't sure what to expect. Carcassonne actually is surrounded by a double-walled fortress, so after
crossing the gate one first enters a type of alley that circles the city, in between the walls, before continuing through the second entrance and into the city. Almost immediately after entering, we encountered people after people, walking tightly through the ancient streets, in and out of the shops and restaurants. The congestion of the inside city is in great juxtaposition to what one experiences before entering. We made our way through the masses to the Basilique des Saints Nazaire. The Basilique, which actually stands on the grounds of a Visigoth place of worship from the 5th century as well as the original, Romance style Catholic church built in the 11th century but mostly destroyed when the current structure was
re-built in the 13th century in the Gothic style. The basilica has elements of Romance and Gothic architecture and is a wonder to the eye. Of particular significance to our Dominican tradition is that St. Dominic served as pastor for the church during his years in the Fanjeaux area, and historians believe he celebrated Easter mass in the church in 1213. The massive size of the Basilique and its beautiful stained glass windows were inspiring, but it was once again the awareness that St. Dominic had been present that was so impactful. The physical surroundings of the fortified city, I suspect, enabled me to even more fully immerse myself into the moment.
After we left the city, we walked down one of the border roads to visit The Notre Dame De L'Abbaye, which is the location where, each summer, the faculty, staff, and students from Dominican colleges who participate in the Fanjeaux program are housed. Visiting the Abbaye was helpful for me to have an image of where summer program participants are housed. In addition, the Abbaye also was another of the churches where St. Dominic preached. Our group participated in a short prayer service in the chapel, singing together the Dominican Blessing. Since first witnessing the Dominican Blessing at Albertus, I've developed a huge appreciation for its deep meaning and the power of its words and accompanying musical harmony when sung. I am grateful to have had the opportunity to share in offering that blessing in such historic space with colleagues and friends from our extended Dominican family.
Tomorrow we will drive an hour and a half northwest to spend the day in the city of Toulouse. I'm already looking forward to that experience.
President Marc M. Camille, Ed.D., will write regular reflections during his week-long pilgrimage to Fanjeaux, France, with other Dominican college presidents. Fanjeaux is the area where, eight centuries ago, the Dominican Order was founded by Dominic de Guzmán, or St. Dominic as he is known today. This pilgrimage is a unique opportunity to visit and experience a number of the historical sites where St. Dominic spent considerable time leading up to and after the founding of the Order.