The Office of the President of Albertus Magnus College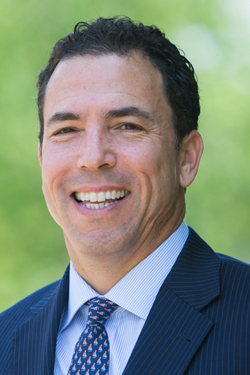 Biography of Marc M. Camille, Ed.D.
President, Albertus Magnus College
Dr. Marc M. Camille took office as the 14th President of Albertus Magnus College in June 2017. His thirty-three year career includes more than two decades of senior administrative experience at Catholic colleges, and his leadership is inspired by Albertus Magnus' distinctive, values-based, student-centered Dominican mission and tradition. Prior to joining Albertus Magnus College, Dr. Camille earned a national reputation for strategic enrollment management and marketing expertise and thought-leadership.
Dr. Camille's presidency has seen Albertus Magnus launch an ambitious growth plan, deepen and develop engagement within the greater New Haven area, and adopt a bold new strategic plan, Albertus 2025: Lighting the Way to a Second Century, setting the stage for the College's Centennial Celebration in 2025. Since Dr. Camille's arrival, applications for the first-year class have increased by more than 75-percent to a new record total, and the fall 2019, 2020, and 2021 incoming classes were the three largest in the College's history — more than double the size of the incoming class in 2017. Annual giving donors and contributions have increased significantly, including more than $625,000 raised for the Silver Horn Scholarship, launched with Dr. Camille's inauguration, to assist enrolled students who fall into financial hardship with completing their Albertus degrees. A comprehensive fundraising campaign is underway to coincide with the 2025 Centennial Celebration.
New undergraduate programs in Cyber Security, Game and Computer Arts, General Health Sciences, Supply Chain Management, and Urban Studies, and a master's program in Public Administration have been developed under Dr. Camille's leadership, and seven new full-time faculty positions were funded. Since Dr. Camille's arrival, Albertus has received four Federal Grants totaling more the $2.6 million to support commitments to the success and well-being of every student. Numerous campus enhancements have occurred, including a campus-wide solar panel installation, the purchase of apartment buildings to accommodate increased enrollments, and a comprehensive $14 million renovation of the Hubert Campus Center. The College's intercollegiate athletics program also has grown under Dr. Camille's leadership, with numerous facilities enhancements, full-time head coaching positions funded, and new varsity field hockey, swimming and diving, and ice hockey programs launched.
Prior to his election as President at Albertus, Dr. Camille served for more than a decade as Vice President for Enrollment Management and Communications at Loyola University Maryland, leading the offices of undergraduate and graduate admission, financial aid, institutional research, and university marketing and communications. Previously, he served as Dean of Admission and Financial Aid at Xavier University (OH) and worked at the University of Miami and Mount Ida College.
The author of "Ethics and Strategic Enrollment Management" in Jossey-Bass' Handbook of Strategic Enrollment Management, Dr. Camille is a frequent and sought-after speaker at national enrollment management, leadership, marketing, and mission-focused conferences. His recent speaking engagements include the 2022 Council of Independent Colleges (CIC) Presidents Institute (panel presentation, Planning for Changing Demographics), the 2020 Association of Catholic Colleges and Universities' (ACCU) Annual Meeting (Co-Chair for Institute for New Presidents) and 2020 CIC Presidents Institute (panel presentation, Best Practices for Presidents Working With Their Enrollment Management Leaders).
His role as a leader and influencer in the greater New Haven area has not gone unnoticed, being named to the prestigious 2019 Power 50 list by New Haven Biz. Included among Dr. Camille's service commitments are Board memberships for the National Association of Independent Colleges and Universities (NAICU) and Connecticut Conference of Independent Colleges (CCIC), and serving as a member of the National Collegiate Athletic Association (NCAA) Division III Chancellors/Presidents Advisory Group.
Dr. Camille earned his Bachelor's degree in English at Rollins College, his Master's degree at the University of Miami, and his Doctorate in Higher Education Management at the University of Pennsylvania.