Welcome Transfer Students!
Why transfer to Albertus?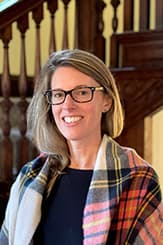 Looking to change your nest? Perhaps something closer to home while still maintaining your independence? At Albertus Magnus College, we make it easy for you to spread your wings yet still soar. Talk to Tracy. She'll help you put your fear aside and suit-up with Falcon Pride.
Tracy will answer your questions and get you in contact with the right people. She'll support you through the transfer process and help you transform your future. Often decisions come down to the three C's: Cost, Credit, and time of Completion. Here's some facts to help you find your fit at Albertus.
To review your personal cost to attend including federal and institutional Financial Aid, merit scholarship, grants and/or outside scholarships, please contact our financial aid office, financial_aid@albertus.edu or (203) 773-8508.
Transfer Merit Scholarships
Transfer Merit Scholarships ranging from $5,000 to $17,000 are available to students who have attempted more than 15 college credits at another institution.
First Year Merit Scholarships
First Year Merit Scholarships are available to students who have attempted 15 or less college credits. First-Year Scholarships range from $8,000 to $24,000.
Select Scholarships
Select Scholarships $1,000-$3,000 are also available.
Select Awards
St. Catherine of Siena Award $3,000
Awarded to graduates of Catholic high schools, Catholic college preparatory schools, or Catholic colleges or universities.
Residential Award $3,000
Awarded to new First Year and Transfer students who reside on campus.
Legacy Award $1,000
Awarded to the children, step-children, and grandchildren of Albertus Magnus alumni.
The Catherine DeRicci Honors Program Award $2,000
To be awarded to students who have been invited to join and agree to participate in the Albertus Magnus Honors Program.
The Pillar Award $1,000
Awarded to accepted transfer students that provide documentation of Phi Theta Kappa membership.
Falcon Flight Reward Program up to $2,000
A one-time award provided to incoming 2023-2024 traditional undergraduate students who meet specific application deadline criteria.
St. Dominic Award $1,000 - $3,000
For the St. Dominic Award, accepted students may be awarded $1,000 per extracurricular activity listed below (with a maximum of $3,000 awarded). For the scholarship to be awarded, students must provide documentation and/or interview to verify involvement in each activity and agree to participate in a similar activity at Albertus Magnus College. Once a student applies, please submit the St. Dominic form to be considered for this award.
Community Service (100+ documented hours)
E-Sports (organized club or organization)
Future Law Enforcement (participation in Mock-Trial, Police Explorers, or similar programs)
Music (band, chorus, etc.)
Student Leadership (leadership role in any organization - non-athletic)
*This scholarship may or may not increase your net Financial Aid award. For questions, speak to your financial aid counselor at (203) 773-8508.
Check the TES Equivalency Database for an unofficial evaluation of transfer credit. Upon acceptance, an official transfer credit evaluation will be completed by the Registrar's office.
A maximum of 64 credits is transferable from accredited junior and community colleges. A maximum of 90 credits is transferable from accredited four-year colleges. For a bachelor's degree, students must complete 30 credits at Albertus - including the final 24 - with four of those classes (12 300+ level credits) within your major. For an associate degree, students must complete their final 15 credits at Albertus, with three of those classes (nine credits) within your major.
If you have any questions about your transfer credits, please contact:
Justin Cirisoli
Transfer Credit and Articulation Analyst
jcirisoli@albertus.edu
Please review our Transfer of Credit Policies for additional questions regarding how Albertus Magnus College accepts and awards transfer credit.
How long will it take me to complete my degree?
Our goal is to help you finish what you started. Once you submit a completed application, we will expedite your admissions decision and put you in contact with an academic advisor that will collaborate with you and lay out a personalized academic plan to help you every step of the way.
Albertus offers a values-based, personalized education, tailored to meet your individual goals. But we know that finishing your degree is just the beginning of your journey. 98% of our graduates are employed or pursuing an advanced degree within 6 months of graduation.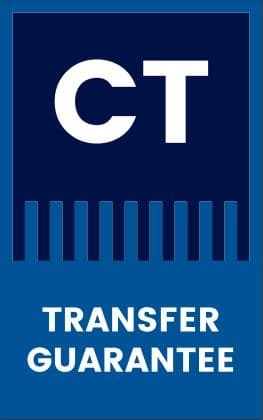 Albertus Magnus College is part of the Connecticut Transfer Guarantee Transfer Ticket Pathway program. We offer qualified transfer students from Connecticut community colleges who earned a CSCU Pathway Transfer Degree streamlined admission to select undergraduate bachelor degrees. Learn more about our commitment to transfer students under the CT Guarantee by viewing our Transfer of Credit Policies webpage.
---
Talk with a Transfer Admissions Counselor
Let's talk! We're here to support you and make your transfer easy.
---
Virtual Tour
Discover the beautiful and spacious grounds and facilities at Albertus Magnus by "following" Hillary, our tour guide, around campus. Navigate your way around our buildings at your own pace.
"I'm a transfer student, so when I came to Albertus, it was immediately different. It was much smaller and I found that very tight sense of community."

Alexandria Chan '18
Biology, Chemistry
Watch Video