Albertus Magnus College Welcomes Centennial Class at Accepted Student Day
First Official In-person Event on Campus in a Year
New Haven, Conn., April 5, 2021 – A special welcome to the Centennial Class at Albertus Magnus College! First year students this fall will graduate in 2025, the year of Albertus' 100th Anniversary. So, Accepted Student Day 2021 will be just as unique. First, it will be held twice: Saturday, April 10 and Saturday April 24 starting at 10am. Reservations are required. Second, it will be experienced in-person, but in a drive-through fashion complete with QR codes and culminating in an exciting outdoor gathering - all while maintaining proper physical distancing. (see attached map). Last year's Accepted Student Day was done virtually due to COVID-19 restrictions.
Each accepted student will have a reserved time to drive through the beautiful 50-acre tree-lined campus located in the Prospect Hill neighborhood of New Haven, Conn. Starting at the majestic Rosary Hall at 700 Prospect Street, stops are arranged along the way with special inside access to information on the values- and liberal-arts based education offered by Albertus. From the Hubert Campus Center, the "Living Room" of the campus; to Dominican Hall, where new students live; to the Cosgrove, Marcus, Messer Athletic Center, where many of the College's Division III sports are played, students and their families will safely enjoy the Albertus experience. There will be plenty of Albertus Swag to collect along the way. The end of the tour is the Tiers Parking Lot, where food trucks and musical entertainment will be stationed.
"We welcome our Centennial Class to Albertus – and what makes this welcome even sweeter is that this is our first 'real' event on campus since last March," said Vice President for Enrollment Management and Marketing Andrea Kovacs. "There is so much to look forward to and this occasion that is a blend of in-person and high-tech is only fitting for the times."
Not only is this event a celebration of the many accomplishments of the accepted students, but of the College itself.
"Enrollment deposits at Albertus are up more than 120-percent compared to 2020 – a sign of confidence in attaining a well-rounded education that will prepare our newest members of the Falcon Family for the future," said Director of Admissions Ben Amarone, Jr.
For the fifth consecutive year, Albertus graduates outperform the national average when it comes to finding employment or continuing their education within six months after graduation. The graduating Class of 2020 bachelor's degree recipients achieved a 95-percent success rate versus the 86-percent national comparison rate, according to the National Association of Colleges and Employers (NACE). For the Classes of 2019, 2018, 2017, and 2016, Albertus scored 96, 96, 97, and 96-percent, respectively.
Visit the Accepted Students page for more information and registration >

Download a map of the tour (PDF) >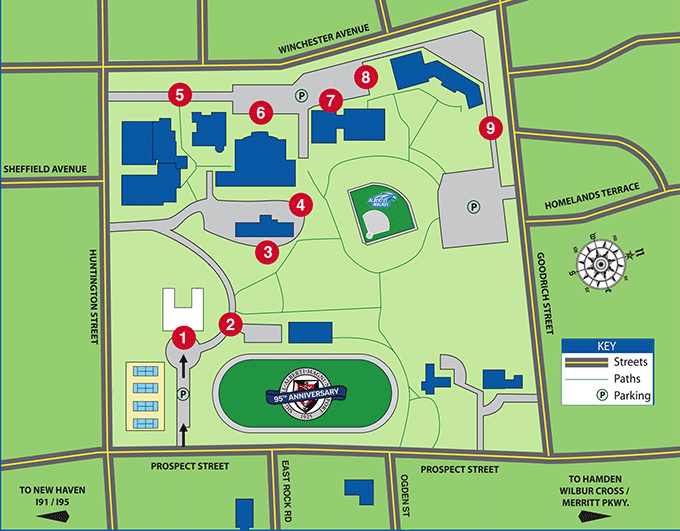 About Albertus Magnus College
About Albertus Magnus College: Albertus Magnus College, founded in 1925, is a Catholic College in the Dominican tradition. It is recognized by external rankings such as US News & World Report Best Colleges, Money Magazine, and the Wall Street Journal/Times Higher Education. The College has an enrollment of 1,500 students in its traditional undergraduate program, accelerated adult degree programs, and 12 graduate programs, including a new Master of Public Administration and the only Master of Arts in Art Therapy and Counseling program in Connecticut. In the last year, the College received two significant Federal grants in support of student success and well-being: a $300,000 grant from the Department of Justice and a $1.9 million Title III grant from the Department of Education.