Albertus Magnus College Alumna Named Acting Connecticut State Education Commissioner
Charlene Russell-Tucker '99, Also Recent Appointee to Albertus Alumni Board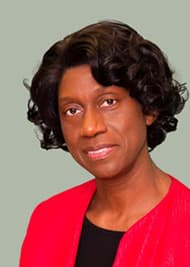 New Haven, Conn., March 3, 2021 – Albertus Magnus College is pleased to announce that Charlene Russell-Tucker '99 M.S. has been appointed by Governor Ned Lamont to serve as Acting Commissioner of the Connecticut State Department of Education. The announcement was made just a day after former Education Commissioner, Dr. Miguel Cardona, was sworn-in as the new U.S. Secretary of Education.

Russell-Tucker has been serving as the Deputy Commissioner of the State Education Department since November 2019. Albertus recently announced her appointment to the Alumni Association Advisory Board, a group of dedicated alumni volunteers who act as ambassadors to support the mission of the College and the goals of the Office of Advancement.

"This is a moment of great pride for the Albertus Magnus College family," said Albertus President Dr. Marc M. Camille. "Charlene is a deeply experienced educator, and no doubt she has the strategic vision and thoughtful leadership that is needed to move our State's education system forward at this critical juncture. Governor Lamont has chosen wisely in selecting Charlene Russell Tucker to continue the essential work championed by Dr. Cardona."

Prior to her most current roles, Russell-Tucker served as Chief Operating Officer and Division Chief for the department's Office of Student Supports and Organizational Effectiveness. She also served as Associate Commissioner of Education and Bureau Chief within the department, overseeing a portfolio of programs and services that included student health, nutrition and safety, family engagement, afterschool efforts, adult education, special education, as well as Magnet and charter schools. She passionately supports family and community engagement in education and leads school attendance and discipline initiatives with an intensive focus on equity and diversity. After receiving her Master of Science in Management in 1999, Russell-Tucker served more than 17 years as an adjunct faculty member at Albertus' Division of Professional and Graduate Studies. She gives generously of her time on local boards including the Child Health and Development Institute, The Children's Fund of Connecticut, United Way of Connecticut, and the University of Saint Joseph Women Leadership Center Steering Committee. In 2015, Russell-Tucker was named to the Inaugural Class of 100 Women of Color in Connecticut.
About Albertus Magnus College
About Albertus Magnus College: Albertus Magnus College, founded in 1925, is a Catholic College in the Dominican tradition. It is recognized by external rankings such as US News & World Report Best Colleges, Money Magazine, and the Wall Street Journal/Times Higher Education. The College has an enrollment of 1,500 students in its traditional undergraduate program, accelerated adult degree programs, and 12 graduate programs, including a new Master of Public Administration and the only Master of Arts in Art Therapy and Counseling program in Connecticut. In the last year, the College received two significant Federal grants in support of student success and well-being: a $300,000 grant from the Department of Justice and a $1.9 million Title III grant from the Department of Education.