Alumni Board
Alumni Association Advisory Board for the 2020-2022 Term
The Alumni Association Advisory Board is a group of dedicated alumni volunteers that act in an advisory capacity to support the mission of the College and goals of the Office of Advancement through the Alumni Association. Board members are called to translate into action the strong mission, beliefs, and legacy of the College by building bridges and inspiring involvement within the alumni community. Board members act as ambassadors by attending events both on campus and in their own geographic area, reaching out to fellow alumni to encourage involvement with Albertus throughout their lives, and promoting philanthropy to the College.
If you are interested in becoming involved as a potential board member or volunteer, please contact (203)773-8502 or email alumniboard@albertus.edu.
Vice President for Advancement
Mary Young '91
Assistant Director of Alumni and Parent Engagement
Steven Rignoli '16, '19 M.S.
Meet Your Alumni Association Advisory Board

Melonie K. Bland '05, President
Profession: Psychologist
"Due to the lessons I learned and friendships I made at Albertus, I am the woman I am today. Albertus allowed me to come out of my shell and taught me how to be a great leader. By being a traditional day resident student I had the opportunity to build many great relationships that have tremendously impacted my life in the midst of a supportive community. I'm very excited with the direction Albertus is going in and I'm proud to be a part of Albertus' continued tradition of excellence!"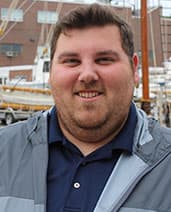 Matt Brancaccio '14
Profession: Assistant Director for Graduate Student Services at The University of New Haven
Committee: Engagement and Outreach
"I loved the small community and lifelong friendships I made during my time at Albertus. From going to almost every sporting event, touring prospective students and hosting events I was able to make connections with people in ways I never had before. I love my Albertus family and I'm excited to give back by serving on the Alumni Advisory Board."
Alberta Conte '71
Profession: Retired Chair of the Department of Foreign Languages for a local public high school
Committee: Alumni Awards
"I owe a great part of my successful 38 year teaching career to Albertus Magnus College. The strong liberal arts curriculum and a teaching certificate gave me a great foundation to continue my academic endeavors. I was able to explore my potential and develop leadership skills which I used in my role as teacher and administrator. Now that I am retired, I can devote my time to giving back to the college that gave me my start."
Anne Demchak '04
Profession: Retired Store Manager
Committee: Philanthropy
"For me, attending Albertus Magnus filled an empty spot in my life. I always expected to work, and college was a way to achieve more in my career, but Albertus became more personal to me. The people of Albertus, its faculty and leaders, fellow students and colleagues are a network more akin to family than simply acquaintances. The small campus has grown and advanced but the atmosphere of caring, knowing and validating each person in their own right has never changed and no one is ever forgotten."

Alana DeChello '12
Profession: Attorney, Probate Law and Estate Planning
Committee: Philanthropy
"I am honored to be a new member of the Alumni Advisory Board and it's great to be back on campus. I remember touring the campus and instantly gravitating toward the history and long standing traditions, the favorable student to teacher ratio and religious focus. Albertus is a close knit community; it gave me the foundation to succeed in law school and in my career."

Mary Lou Apuzzo DiPaola '72, Secretary
Profession: English Learners Teacher
Committee: Career and Professional Development (Chair)
"My experiences at Albertus Magnus College have afforded me many lasting friendships and a commitment to education with a strong liberal arts background. The Albertus Community has always been a home away from home. Being at Albertus, allowed me to study and travel abroad as an undergraduate student. My AMC education assisted me to become a federal employee, a teacher, a mentor teacher, a teacher leader, and a business owner."
Rhonda Geddis '83
Profession: Executive and Business Coach
Committee: Engagement and Outreach (Chair) & Career and Professional Development
"Albertus was and remains a very important part of my life. My undergraduate experience at the college allowed me to learn, grow, spread my wings and start the adult chapter of my life fully capable to take on great challenges and be successful. I am who I am today because of my family as well as my college years. I look back at my time at Albertus and I am so pleased on so many levels. Some of my strongest and most lasting friendships are with the women I met while an undergraduate student. Many life lessons were learned during that period in time and those memories are cherished."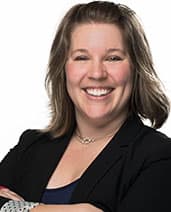 Katie Rowe Glynn '09
Profession: Higher Education Communication and Administration
Committee: Philanthropy (Chair)
"My undergraduate experience at Albertus Magnus College gave me some of my most valuable memories and opportunities. I'll always cherish the warm and personable faculty members, the quintessential New England campus, and the many friendships that I made. My time there gave me a great foundation on which to build my professional career and for that I'll always be grateful. I'm heartened to see the many ways that the Albertus community continues to grow, and I'm thrilled to be a part of these efforts through the board."

Deborah Kavanaugh'16 M.S.A.
Profession: Certified Public Accountant
Committee: Philanthropy
"Albertus gave me the opportunity to pursue my Master's Degree while working full-time. The learning experience was both positive and enjoyable especially because of the unique connections and life-long memories I have made. Albertus Magnus College, with its solid traditions in the Catholic heritage, will forever have a special place in my heart."

Nicole Kras'01,'07 Ph.D., Vice President
Profession: Academic Program Coordinator and Assistant Professor of Human Services
Committee: Career and Professional Development
"Albertus is a special place that fosters a community of support and encouragement. I am grateful for the many opportunities that my Albertus education has provided me and for the wonderful professors I was fortunate enough to learn from. My service on the Alumni Advisory Board provides me the opportunity to give back to a place that has given me so much."

Claudia Lucia Miller '76
Profession: Co-Chair of the History and English Department for a local high school
Committee: Alumni Awards
"I always loved the comradery, the "sisterhood" that we built. I loved the caring and love that the faculty showed us, particularly the Dominican Sisters."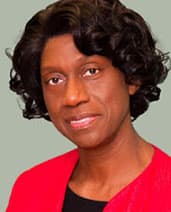 Charlene Russell-Tucker '99 M.S.
Profession: Education Leader
Committee: Career and Professional Development
"I am honored and delighted to join the Alumni Association Advisory Board with fellow dedicated members. I look forward to reconnecting with campus activities and Board initiatives having also served as adjunct faculty for over a decade."

Aesha Wali-Langley'16, '18 M.F.A.
Profession: Healthcare Professional
Committee: Engagement & Outreach
"Albertus Magnus College has given me the platform to really stretch my wings as a professional. We have such a great community of wonderful, talented and supportive individuals that contribute towards the greatness of the college. It is a pleasure working with the faculty, students, families and surrounding communities towards a shared goal of service to others. I've met so many people along my journey at Albertus who I share so many fond memories with that I hold dear to my heart. I am deeply honored to be a part of the Albertus community."

Sheila Flaherty Wycinowski '72
Profession: Retired educator
Committee: Alumni Awards (Chair)
"Albertus Magnus College allowed me to grow and develop into the person I am today. I gained many lasting friendships and the faculty provided me with leadership opportunities, skills and knowledge. I received a strong liberal arts education coupled with a teaching certificate." These opportunities led to a successful forty year career in education and educational leadership."

Sherrie Zembrzuski'76
Profession: Mathematics Department Chair and teacher for a catholic high school
Committee: Engagement & Outreach
"I ended up choosing Albertus because of the friendliness and the size of the classes. At Albertus there was a concern about you as a person and you were always able to talk to your professors to get help or advice."