New Vice President for Finance and Administration at Albertus Magnus College
Lauri Strimkovsky Joins College's Leadership Team as Albertus' 100th Anniversary Approaches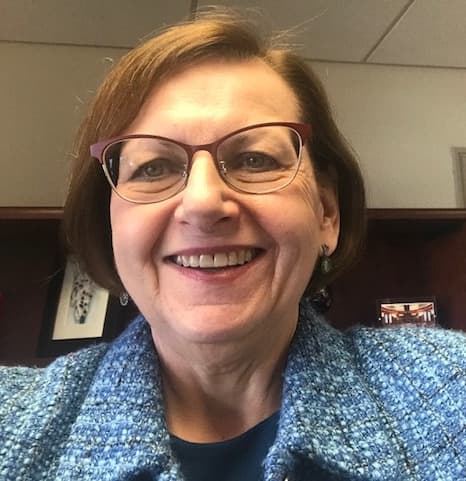 Lauri Strimkovsky
New Haven, Conn., December 7, 2021
–
Albertus Magnus College
is pleased to announce that Ms. Lauri Strimkovsky has been named Vice President for Finance and Administration (VPFA) beginning January 31, 2022, and in the role she will supervise and lead the College's business and finance areas, bookstore/campus store, dining/food services, facilities operations, human resources, and purchasing areas.
Ms. Strimkovsky brings to Albertus more than three decades of finance and administration experience in higher education, and most recently served as VPFA at sister Catholic institution, John Carroll University in Ohio. Lauri's deep higher education leadership experience includes vice president roles at Ohio Wesleyan University, Chestnut Hill College in Philadelphia, Moore College of Art and Design in Philadelphia, and Clarkson College in Nebraska.
"I am thrilled to have Lauri Strimkovsky joining the College's senior leadership team," said Albertus President, Marc M. Camille, Ed.D. "Lauri's breadth of senior finance and administration experience, including nearly two decades at sister Catholic institutions, uniquely positions her to provide key leadership to the Albertus community as we seek to fulfill the promise of the College's Albertus 2025 strategic plan and maintain the positive momentum in our "growth agenda," moving boldly toward the Albertus Centennial in 2025."
"What an exciting time to arrive at Albertus Magnus College," said Strimkovsky, a native of Bergen County, New Jersey. "I'm drawn to its Catholic identity and Dominican mission, which for nearly a century has focused on making a positive impact on the lives of students and the community. I'm honored to join the Albertus community and to help strengthen and manage the College's financial health and well-being as it approaches its 100th anniversary in 2025."
About Albertus Magnus College
About Albertus Magnus College: Albertus Magnus College, founded in 1925, is a Catholic College in the Dominican tradition. It is recognized by external rankings such as US News & World Report Best Colleges, Money Magazine, and the Wall Street Journal/Times Higher Education. The College has an enrollment of 1,500 students in its traditional undergraduate program, accelerated adult degree programs, and 12 graduate programs, including a new Master of Public Administration and the only Master of Arts in Art Therapy and Counseling program in Connecticut. In the last year, the College received two significant Federal grants in support of student success and well-being: a $300,000 grant from the Department of Justice and a $1.9 million Title III grant from the Department of Education.