Disability and the End of Life: How Secularized Medicine Supports a Throwaway Culture
Albertus Magnus College's Newest Free Lecture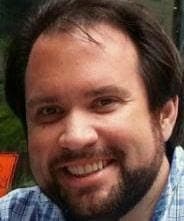 Dr. Charles Camosy

New Haven, Conn., January 25, 2022 – "Thomas Talks" continue at Albertus Magnus College. Here is the next free lecture as part of the 10th Annual Aquinas Lecture series:
Who: In-person Guest Presenter: Dr. Charles Camosy, Fordham University.
What: The St. Thomas Aquinas Lecture:
Disability and the End of Life: How Secularized Medicine Supports a Throwaway Culture.
When: Wednesday, January 26, 2022 at 5:30 pm. (Snow date: Thursday, January 27 at the same time).
Where: *Behan Community Room at the Hubert Campus Center, 305 Huntington Street, New Haven, CT.

* Seating is limited to the Albertus Community; proof of COVID vaccination or negative test for members of the media, face mask, and social distancing required. The event will also be live-streamed at https://primetime.bluejeans.com/a2m/live-event/zfuyafzp.
As a champion of impactful dialog, Albertus Magnus College continues its annual St. Thomas Aquinas Lecture Series (Thomas Talks), named after the Dominican scholar who challenged individuals to seek truth and knowledge. Since its founding in 1925 by the Dominican Sisters of St. Mary of the Springs (today known as the Sisters of Peace), the College has cherished the pursuit of truth in all its dimensions. The College uses this lecture series as a lens through which it "responds to the academic needs and ethical challenges of its students and society."
Dr. Charles Camosy of Fordham University will discuss the dignity of human life as he examines how our healthcare system is managing one of our most vulnerable populations – the elderly with advanced dementia. The number of people living with this condition is expected to double in the next decade. Dr. Camosy argues that we currently don't have the resources for needed care, adding that this is a full-blown crisis, especially as families get smaller and people live longer. Camosy states that unless we reverse course, loved ones will be left with tremendously difficult choices. He believes what's needed is a return to theological roots about what makes us all equal – sharing a common human nature made in the image of God.
Dr. Camosy is an Associate Professor of Theology at Fordham University, where he has taught since finishing his Ph.D. in Theology at Notre Dame in 2008. His published articles have appeared in the American Journal of Bioethics; Journal of Medicine and Philosophy; Journal of the Catholic Health Association; New York Times; Washington Post; Los Angeles Times; New York Daily News; and America magazine, to name a few. He has a monthly "Purple Catholicism" column with Religion News Service and is the author of five books. Too Expensive to Treat? (Eerdmans) was a 2011 award-winner with the Catholic Media Association; Peter Singer and Christian Ethics (Cambridge) was named a 2012 "Best Book" with ABC Religion and Ethics; and For Love of Animals (Franciscan) was featured in the New York Times. Beyond the Abortion Wars (Eerdmans), was a 2015 award-winner, also with the Catholic Media Association. Resisting Throwaway Culture (New City) was published in May 2019 and won first place from the Catholic Publishers Association as "Resource of the Year." His newest book, published in July 2021 (New City) is titled: Losing Our Dignity: How Secularized Medicine is Undermining Fundamental Human Equality. Camosy received the Robert Bryne Award from the Fordham Respect Life Club and the 2018 St. Jerome Award for scholarly excellence from the Catholic Library Association.
The next presentation in the Thomas Talks series is the St. Catherine of Siena Lecture (April 11). The title of the lecture is "Truth in All Its Dimensions" by Dr. Ann Garrido of Aquinas Institute. The series is made possible through the generosity of the Marie Louise Bianchi '31 Fund.
About Albertus Magnus College
About Albertus Magnus College: Albertus Magnus College, founded in 1925, is a Catholic College in the Dominican tradition. It is recognized by external rankings such as US News & World Report Best Colleges, Money Magazine, and the Wall Street Journal/Times Higher Education. The College has an enrollment of 1,500 students in its traditional undergraduate program, accelerated adult degree programs, and 12 graduate programs, including a new Master of Public Administration and the only Master of Arts in Art Therapy and Counseling program in Connecticut. In the last year, the College received two significant Federal grants in support of student success and well-being: a $300,000 grant from the Department of Justice and a $1.9 million Title III grant from the Department of Education.