Albertus Magnus College Saddened by Loss of Sr. Janice McLaughlin, M.M.
Missionary and Advocate Received Honorary Degree from Albertus in 2014
New Haven, Conn., March 25, 2021 – The Albertus Magnus College Family is saddened by the loss of Sr. Janice McLaughlin, M.M., who served as a Missionary and advocate in southern Africa for nearly 40 years before becoming President of the Maryknoll Sisters. In 2014, the Board of Trustees of Albertus Magnus College conferred on her the Honorary Degree of Doctor of Humane Letters for her work in Kenya and Zimbabwe to promote peace and reconciliation and to advocate for the poor and for the rights of young girls to attend school. Sr. Janice died on March 8 at the age of 79.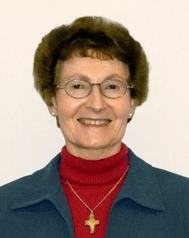 Born in Pittsburgh, Pennsylvania, Sr. Janice attended St. Mary of the Springs College from 1960-1961 and then entered the Maryknoll Sisters Congregation and made her Final Profession in 1972 in Kitale, Kenya. After organizing the War Against Poverty Program in Ossining, NY, she continued her studies, earning a Bachelor of Arts Degree in Theology, Anthropology, and Sociology from Marquette University, and then her Master of Arts Degree and Ph.D. in Religious Studies from the University of Zimbabwe.
Sr. Janice donated her body to science. A Funeral Mass was offered March 12 at the Maryknoll Sisters Center. Her cremains will be interred at Maryknoll Sisters Cemetery at a later date.
About Albertus Magnus College
About Albertus Magnus College: Albertus Magnus College, founded in 1925, is a Catholic College in the Dominican tradition. It is recognized by external rankings such as US News & World Report Best Colleges, Money Magazine, and the Wall Street Journal/Times Higher Education. The College has an enrollment of 1,500 students in its traditional undergraduate program, accelerated adult degree programs, and 12 graduate programs, including a new Master of Public Administration and the only Master of Arts in Art Therapy and Counseling program in Connecticut. In the last year, the College received two significant Federal grants in support of student success and well-being: a $300,000 grant from the Department of Justice and a $1.9 million Title III grant from the Department of Education.