Albertus Magnus College Makes Donation to Homes For The Brave
Recently Named Top Military Friendly School Supports Local Veterans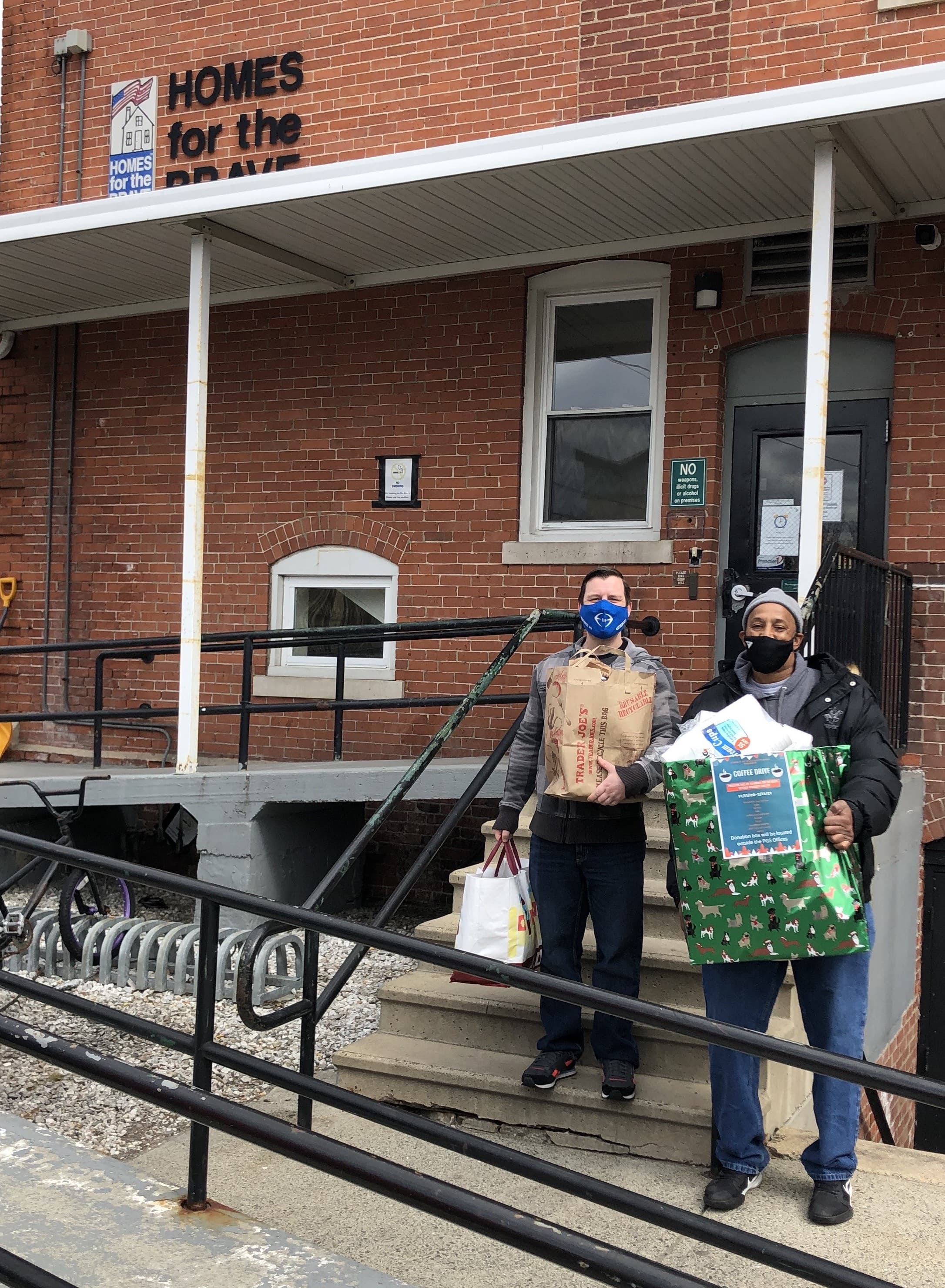 Albertus' Veteran Liaison Tom Noonan (left) poses for a photo with Romano Dickey of Homes for the Brave.

New Haven, Conn., March 18, 2021 – Albertus Magnus College conducted a coffee drive for the last three months, with all proceeds going to Homes for the Brave in Bridgeport, Conn. About $200 of items including coffee, socks, and toiletries were shared after Albertus' Veteran Liaison Tom Noonan toured the facility with the organization's daytime monitor Romano Dickey. Read the Albertus blog, here.

"When I asked what the best donations would be, they quickly responded, 'coffee.' Our reason for this outreach is simply to give back to our Connecticut Veterans as it reflects the College's Four Dominican Pillars of Study, Prayer, Community, and Service," Noonan said.

Recently, it was announced that Albertus has been named a Top 10 Military Friendly School for 2021-2022 by the Military Friendly Schools Survey, a testament to the programs the College has created for the military community. The survey is the longest-running and most comprehensive review of college and university investments in serving military and veteran students. The designation is a result of extensive research in which the College met or exceeded benchmarks and access to federal programs for veterans. This is the third time Albertus has achieved Top 10 status and sixth time to make the overall list.
About Albertus Magnus College
About Albertus Magnus College: Albertus Magnus College, founded in 1925, is a Catholic College in the Dominican tradition. It is recognized by external rankings such as US News & World Report Best Colleges, Money Magazine, and the Wall Street Journal/Times Higher Education. The College has an enrollment of 1,500 students in its traditional undergraduate program, accelerated adult degree programs, and 12 graduate programs, including a new Master of Public Administration and the only Master of Arts in Art Therapy and Counseling program in Connecticut. In the last year, the College received two significant Federal grants in support of student success and well-being: a $300,000 grant from the Department of Justice and a $1.9 million Title III grant from the Department of Education.