Albertus Magnus College Accepts $1 Million Gift; Renames Academic Success Center
Lillian Adley Germain '57 Center for Academic Success to be Dedicated This October
New Haven, Conn., June 10, 2021 – Albertus Magnus College is the humble recipient of a gracious $1,000,000 gift from Albertus Board of Trustee member Joseph P. Germain, Jr., in memory of his wife, Lillian, who passed away last fall at the age of 85. Lillian Adley Germain '57 was a constant at Albertus events and her love for her alma mater and fond memories of her college experience served as inspiration for her husband to join the College's Board. In her honor, the College's current academic success center located in Rosary Hall, will be renamed the Lillian Adley Germain '57 Center for Academic Success.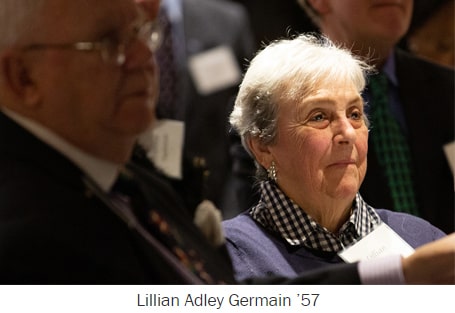 "Lil, as her family and friends called her, was a devoted teacher and a firm believer in the power of education. Her professors at Albertus had a deep impact on her and she wrote about how they contributed to her character and knowledge in different ways. We may have lost a passionate alumna and member of the Albertus family, but her enthusiasm for the College and her thirst for knowledge will live on through the Germain Center," said Albertus President Marc M. Camille.
This is the second $1,000,000 gift to be bestowed upon the College this year. Back in March, Albertus announced this same amount of generosity from the College's sponsoring Congregation, the Dominican Sisters of Peace, in support of the new Meister Eckhart Center for Catholic and Dominican Life. The mission of the Eckhart Center will be to engage the community in dialogue by integrating the Dominican values of contemplation and action with the call to promote a more just and peaceful world. It too is slated to open this fall.
"Lil would have been thrilled by the tribute made by this designation which has the effect of extending her love of education itself and her commitment to excellence in teaching," stated Germain.
"We are grateful to Joe and the entire Germain family for fulfilling Lil's final wishes with this kind and generous gift. We are honored to dedicate the Germain Center in her name as it is a place that provides quality academic support to all students, especially in the areas of math and science, languages, and reading," said Vice President for Advancement Mary Young '91.
In addition to this being a space for tutoring, the Germain Center offers an abundance of reference materials, print and online resources, as well as the aid of Writing Assistants, who provide peer consultations on writing and research for students across all disciplines. The Center also affords a warm and welcoming environment in which students simply compose, edit, and revise their assignments. That warmth is another reflection of Lillian Adley Germain.
"Lillian and I attended both Laurelton Hall High School and Albertus Magnus College together. She was a bright and gifted student who emerged as a leader in her own unique and unassuming manner. It was a privilege to share my high school and college years with her," said classmate Joan Aurilio Caliendo '57.
Lillian Marguerite Adley Germain was born in Bridgeport, Conn., the daughter of the late James and Lillian Adley. After graduating from Albertus with high honors, she matriculated at UCONN Law School before starting her teaching career. She earned a Master's in Education from Fairfield University and her Sixth Year from Southern Connecticut State University. For more than 40 years, she influenced generations of students and young educators, was named Teacher of Year, and held many administrative positions while serving the State of Connecticut. Germain was on the President's Circle at Fairfield University and was active in alumni groups – including at Albertus.
The Albertus family looks forward to welcoming the community to the upcoming ribbon cutting event this October to celebrate the opening of the newly named Lillian Adley Germain '57 Center for Academic Success.
About Albertus Magnus College
About Albertus Magnus College: Albertus Magnus College, founded in 1925, is a Catholic College in the Dominican tradition. It is recognized by external rankings such as US News & World Report Best Colleges, Money Magazine, and the Wall Street Journal/Times Higher Education. The College has an enrollment of 1,500 students in its traditional undergraduate program, accelerated adult degree programs, and 12 graduate programs, including a new Master of Public Administration and the only Master of Arts in Art Therapy and Counseling program in Connecticut. In the last year, the College received two significant Federal grants in support of student success and well-being: a $300,000 grant from the Department of Justice and a $1.9 million Title III grant from the Department of Education.