Albertus Magnus College Names New Vice President of Academic Affairs
Rosa E. Rivera-Hainaj, Ph.D. Will Succeed Retiring Vice President, Sean P. O'Connell, Ph.D.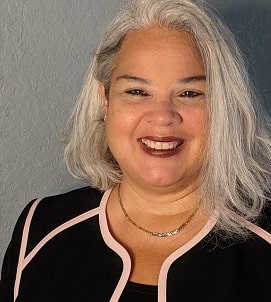 Rosa E. Rivera-Hainaj, Ph.D.
New Haven, Conn., March 20, 2023 – Albertus Magnus College is excited to announce the appointment of Rosa E. Rivera-Hainaj, Ph.D. as its next Vice President of Academic Affairs and Dean of the Faculty, following the completion of a national search. With more than two decades of student-centered higher education experience, Dr. Rivera-Hainaj joins Albertus after most recently serving as Provost at McDaniel College in Westminster, MD and previous administrative and faculty appointments at Our Lady of the Lake University (TX), Lorain County Community College (OH), Purdue University North Central (IN), James Madison University (VA), and John Carroll University (OH). Starting July 1, Dr. Rivera-Hainaj will succeed Sean O'Connell, Ph.D., who is retiring after serving Albertus since 1987.
"In a deep and diverse pool of excellent candidates, Dr. Rivera-Hainaj rose to the top as the ideal individual to lead the College's academic programs, faculty, and staff in the years ahead," said Albertus President, Dr. Marc M. Camille. "Rosa describes herself as an 'appreciative, innovative, servant leader,' and all of her interactions throughout the interview process affirmed those traits. Her breadth of academic experience at institutions that, like Albertus, proudly educate a diverse and talented student body with a focus on student success, has prepared her well to help us in fulfilling our essential Dominican education mission and in achieving the bold vision our community has articulated as we approach the College's 100th Anniversary celebration in 2025-26. I am grateful to Dr. O'Connell for his more than three decades of faithful service to Albertus, and I'm thrilled to welcome Dr. Rivera-Hainaj to build on his legacy while sharing her own unique leadership gifts and insights in continued support of the holistic success of the College's students."
"I am thankful, honored, and overjoyed to join the Albertus Magnus College community," said Rivera-Hainaj. "Albertus Magnus is a student-centered institution, educating students holistically in the Dominican and Catholic liberal arts tradition, leveraging knowledge across disciplines while developing them into steadfast citizens. The College is in tune with the realities and needs of higher education today, preparing graduates for current and life-long learning within a student-centered environment. I look forward to partnering with President Camille, faculty, and staff to build on Albertus' history of success in providing a transformational, engaging, and affordable student experience as it approaches its 100th anniversary in 2025."
Dr. Rivera-Hainaj holds a Bachelor of Science in Chemistry, Magna Cum Laude, from the University of Puerto Rico – Mayagüez, and a Ph.D. in Biochemistry from Case Western Reserve University in Cleveland, OH. As faculty, she has taught chemistry and its subdisciplines and mentored students in undergraduate research; she has published her research in various journals; provided professional development to K-12 teachers; and presented her accomplishments at numerous conferences and forums around the world. She has a successful record in fundraising via grants or donations, received various leadership honors, and mentored others both professionally and personally. As a native of Puerto Rico, she is bilingual (English and Spanish). Dr. Rivera-Hainaj is committed to serving her community, and looks forward to becoming involved locally as quickly as possible.
About Albertus Magnus College
About Albertus Magnus College: Albertus Magnus College, founded in 1925, is a coeducational Catholic College in the Dominican tradition. Its values- and liberal arts-based education is recognized by external rankings such as US News & World Report, Money Magazine, and The Wall Street Journal/Times Higher Education, and has been named a Top 10 Military Friendly School. For six consecutive years, graduating classes at Albertus have achieved post-graduate employment and graduate school success at a rate of at least 95%. The College has an enrollment of approximately 1,300 students across its traditional undergraduate program, accelerated adult degree program, and 11 graduate programs. Proud to enroll a student body where more than half of its students come from minority backgrounds and nearly the same percentage of undergraduates receiving Federal Pell Grants and being first generation college goers, Albertus is known for its innovative curricular offerings, recently launching new Bachelor's degree programs in Game and Computer Arts, General Health Sciences, Interdisciplinary Studies, Project Management, Public Health, Social Media, and Supply Chain Management; among its graduate programs is the State of Connecticut's only Master of Arts in Art Therapy and Counseling program. Just three years from its historic 100th Anniversary Year, the College is implementing its new strategic plan, Albertus 2025: Lighting the Way to a Second Century, which articulates an inspiring, bold vision, in which Albertus Magnus College "will be a destination liberal arts-based college, distinguished in its interdisciplinary and experiential approach to education, rooted in Dominican values, that prepares students for lifelong civic engagement and success." To learn more, please visit albertus.edu.