Albertus Magnus College VP Named to Chamber Executive Committee
Andrea Kovacs Added to GNHCC's Leadership Group; Focused on Career-Ready Employees
New Haven, Conn., August 16, 2022 – Albertus Magnus College congratulates Vice President for Enrollment Management and Marketing Andrea Kovacs for being named to the Executive Committee of the Greater New Haven Chamber of Commerce (GNHCC). Serving the organization as a board member since 2010, Kovacs will now take on the additional responsibility of overseeing the general operations of the Chamber. Her term runs until 2025.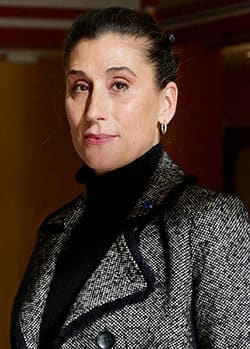 The GNHCC has been influential for more than two centuries in shaping public policy and fostering business growth. Founded in 1794, the Chamber's original goal was to represent the concerns of 26 New Haven businessmen who united to persuade the federal government to keep the City's maritime shipping out of the hands of the French and British privateers. Their success marked the beginning of a more than 200-year tradition of representing the needs of the Elm City's business community. "I am humbled to serve on the Chamber's Executive Committee," said Kovacs. "I value the relationships and synergy between the business community and the College. Employers' needs are ever-evolving and throughout its almost 100-year history, Albertus has consistently demonstrated the flexibility to meet those demands with innovative academic programs. The College is committed to providing employers with well-rounded graduates who are career-ready."

"Andrea is an excellent addition to our team," stated Garrett Sheehan, President & CEO of GNHCC. "As a representative of Albertus Magnus College, she brings the perspective of one of our region's critical industries, higher education. Her expertise in marketing and communications will bring real value to our Chamber team. We are grateful for Andrea's continued involvement in the Chamber and the overwhelming support of Albertus Magnus College."

As a member of the President's Cabinet at Albertus, Kovacs provides senior leadership for the College's Traditional Undergraduate and Professional and Graduate Studies (PGS) admissions, enrollment operations, financial aid, inter-collegiate athletics, communications and marketing, community engagement, and legislative affairs. She's charged with developing and implementing a comprehensive strategy that enhances the College's public image, strengthens the Albertus brand, and supports strategic initiatives. Prior to joining Albertus in 2010 she directed the Annual Fund at Fairfield University, and was Senior Vice President for Marketing and Community Relations for United Way of Eastern Fairfield County, where she was also responsible for individual gift fundraising.

Kovacs earned her Bachelor's Degree in Marketing from the Fashion Institute of Technology (SUNY) and her Master's in Leadership from Albertus Magnus.
About Albertus Magnus College
About Albertus Magnus College: Albertus Magnus College, founded in 1925, is a Catholic College in the Dominican tradition. It is recognized by external rankings such as US News & World Report Best Colleges, Money Magazine, and the Wall Street Journal/Times Higher Education. The College has an enrollment of 1,500 students in its traditional undergraduate program, accelerated adult degree programs, and 12 graduate programs, including a new Master of Public Administration and the only Master of Arts in Art Therapy and Counseling program in Connecticut. In the last year, the College received two significant Federal grants in support of student success and well-being: a $300,000 grant from the Department of Justice and a $1.9 million Title III grant from the Department of Education.