Albertus Magnus College Receives $3.1M Grant from State of Connecticut Community Investment Fund
Award is Largest in College's History and Will Be Used for Community Impact Projects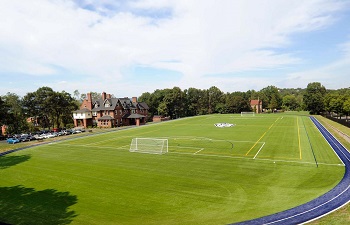 Celentano Field
New Haven, Conn., September 27, 2023 – Albertus Magnus College is pleased to announce that it has been awarded from the State of Connecticut's Community Investment Fund 2030 (CIF), a grant totaling $3,111,324, the largest single grant in the College's 98-year history. Pending final approval from the State Bond Commission, the funding will enable renovations and improvements to the Albertus Celentano Field athletic complex and the City of New Haven's Ralph Walker Skating Rink, home to Albertus Falcons Men's and Women's NCAA DIII Ice Hockey teams.
Founded by the Dominican Sisters of Peace in 1925, Albertus is guided by four Dominican Pillar Values, including Community and Service. With its campus uniquely situated at the intersection of the City of New Haven and the Town of Hamden, and likewise between the historic communities of Newhallville and Ronan Edgehill, Albertus seeks to be a source of inclusive community building through fulfilling its educational mission. The College will use the CIF funds to rehabilitate and enhance two facilities that will have a positive and lasting impact on its neighboring communities, as well as on the College's student-athletes and partner organizations who utilize Albertus resources.
"On behalf of Albertus Magnus College, I offer profound gratitude to the Community Investment Fund Board and our State Legislative Delegation for awarding Albertus this grant, which will provide necessary funding to renovate our Celentano Field complex and expand facilities at the City of New Haven's Ralph Walker Skating Rink, two vital public resources for residents of New Haven and Hamden," said Albertus President, Marc M. Camille, Ed.D. "At Albertus, our mission calls us to be community builders, and as New England's most diverse Catholic college with more than 85% of our students being Connecticut residents, we will now be in a stronger position to be a source of positive impact within our neighboring communities."
"I'm so pleased that the state Community Investment Fund saw fit to invest several million dollars in Albertus Magnus College and Celentano Field for soccer, lacrosse and field hockey. I fully anticipate that the State Bond Commission will grant final approval to these and other CIF-recommended projects in the next 60 days," State Senate President Martin Looney of New Haven said. "But also of great significance are the upgrades to the Ralph Walker Rink, which will allow Albertus Magnus to work with the City of New Haven on expanding youth programs there."
Since its original construction in 2011, the turf track and playing field on the Albertus campus, known as Celentano Field, has served as a competition and practice area for the College's student-athletes, as well as an indispensable public resource for neighbors in the surrounding communities. The improvements slated for Celentano Field include replacing the existing turf surface and adding ADA-compliant pathways, public restrooms, welcome signage, water-filling stations, bike racks, and bleachers.
The grant will also fund new construction of support facilities at the City of New Haven's Ralph Walker Skating Rink, specifically a 1,500 square-foot expansion that will feature enhanced training space and locker rooms. Albertus is the facility's flagship tenant and played a key role in its renovation in 2019, helping bring this New Haven gem back online for use by the community. The CIF funds will be used to complete the comprehensive renovation and will jumpstart the City of New Haven and Albertus women's and men's hockey working together to enhance learn-to-skate and youth hockey programming for the City's youth.
Albertus Magnus College's project was one of 21 from 16 municipalities​ that received awards in the third round of CIF grants totaling $101,347,638. The requests are reviewed by a 21-member board of legislators and other state officials. Like other state borrowing, that group's recommendations, including those issued at Tuesday's meeting in Hartford, have to be approved by the governor-chaired state bond commission.
About Albertus Magnus College
Albertus Magnus College, founded in 1925, is a coeducational Catholic College in the Dominican tradition. As New England's most diverse Catholic College, Albertus' values and liberal arts-based education is recognized by external rankings such as US News & World Report, Money Magazine, and The Wall Street Journal/Times Higher Education, and has been named a Top 10 Military Friendly School. For seven consecutive years, graduating classes at Albertus have achieved post-graduate employment and graduate school success at a rate of at least 95%. The College has an enrollment of approximately 1,300 students across its traditional undergraduate, accelerated adult undergraduate, and 11 graduate programs. Proud to enroll a student body where more than half of its students come from minority backgrounds with nearly the same percentage of undergraduates receiving Federal Pell Grants and being first generation college goers, Albertus is known for its innovative curricular offerings, recently launching new Bachelor's degree programs in Game and Computer Arts, General Health Sciences, Interdisciplinary Studies, Project Management, Public Health, Social Media, and Supply Chain Management; among its graduate programs is the State of Connecticut's only Master of Arts in Art Therapy and Counseling program. Just two years from its historic 100th Anniversary Year, the College is implementing its Albertus 2025: Lighting the Way to a Second Century strategic plan, which articulates an inspiring, bold vision to "be a destination liberal arts-based college, distinguished in its interdisciplinary and experiential approach to education, rooted in Dominican values, that prepares students for lifelong civic engagement and success." To learn more, please visit albertus.edu.