Albertus Magnus College Names Community Garden After Recently Retired Professor
Announcement Made at 11th Annual Experiential Learning Day
New Haven, Conn., April 7, 2021 – Albertus Magnus College announced today that its Community Garden is now named after Dr. Hilda Speicher who dedicated much energy and time in developing Experiential learning Day (ELD) as a vital component of an Albertus education. She led the tradition since 2011 before retiring last year -- and the Community Garden continues to be at the core of College's values and liberal arts-based education, with its Dominican Tradition of the Four Pillars: Study, Prayer, Community, and Service.
The garden has been in operation since 2018. A committee of staff, faculty, and student interns manage the planting, maintenance, and harvesting. All the food grown is donated to local food pantries and soup kitchens. Since its inception, 684 pounds of fresh produce have been shared to provide nutrition to both body and soul. Academically, the garden is a site of experiential learning for a number of majors including Psychology and Urban Development to enhance the classroom experience. The photo below is from a recent Community Garden clean-up.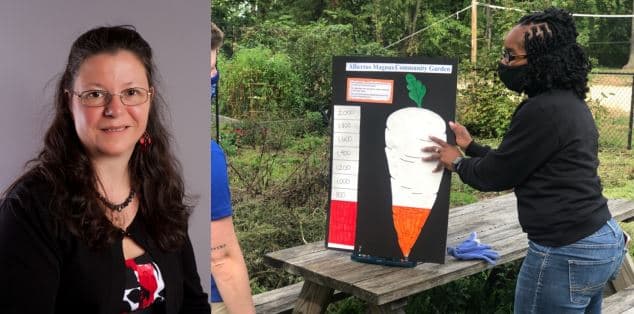 About Albertus Magnus College
About Albertus Magnus College: Albertus Magnus College, founded in 1925, is a Catholic College in the Dominican tradition. It is recognized by external rankings such as US News & World Report Best Colleges, Money Magazine, and the Wall Street Journal/Times Higher Education. The College has an enrollment of 1,500 students in its traditional undergraduate program, accelerated adult degree programs, and 12 graduate programs, including a new Master of Public Administration and the only Master of Arts in Art Therapy and Counseling program in Connecticut. In the last year, the College received two significant Federal grants in support of student success and well-being: a $300,000 grant from the Department of Justice and a $1.9 million Title III grant from the Department of Education.