Albertus Magnus College Joins International Response to Climate Crisis
President Camille Signs Laudato Si' Action Platform, Sponsored by the Vatican
New Haven, Conn., October 27, 2021 – With a stroke of a pen, Albertus Magnus College President Marc M. Camille, Ed.D. added the Catholic College to the Laudato Si' Action Platform, an international initiative sponsored by the Vatican to guide Catholic institutions in organizing seven-year plans centered on sustainability. It is inspired by Pope Francis' 2015 encyclical Laudato Si' (Praise Be To You), calling for a robust Christian response to the climate crisis, oriented around seven goals: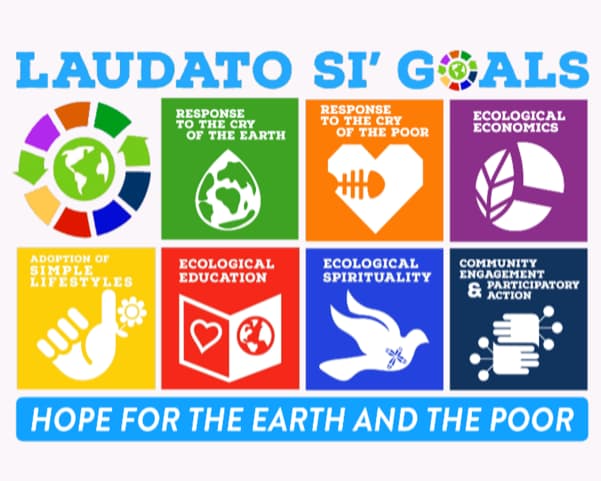 For the 2022-2023 academic year, the College's newly opened Meister Eckhart Center for Catholic and Dominican Life has chosen the theme Integral Ecology in the City. Along with this theme, the Center hopes to launch a Laudato Si' Action Plan group for the Albertus Magnus Community.
Supported by the Eckhart Center and external grants, this group will:
Collaborate with each academic department to offer programs related to the seven goals;

Organize projects to make Albertus a more sustainable campus;

Partner with community organizations in Greater New Haven concerned with environmental justice.
With President Camille's signature, Albertus joins the first cohort of Laudato Si' colleges recognized by the Vatican, including DePaul University, Gonzaga University, Loras College, and Quincy University.

About Albertus Magnus College
About Albertus Magnus College: Albertus Magnus College, founded in 1925, is a Catholic College in the Dominican tradition. It is recognized by external rankings such as US News & World Report Best Colleges, Money Magazine, and the Wall Street Journal/Times Higher Education. The College has an enrollment of 1,500 students in its traditional undergraduate program, accelerated adult degree programs, and 12 graduate programs, including a new Master of Public Administration and the only Master of Arts in Art Therapy and Counseling program in Connecticut. In the last year, the College received two significant Federal grants in support of student success and well-being: a $300,000 grant from the Department of Justice and a $1.9 million Title III grant from the Department of Education.