Albertus Magnus College & Quinnipiac University Announce New Social Work Partnership
New Haven, Conn., September 8, 2022 – Albertus Magnus College and Quinnipiac University today announced an innovative new agreement that will allow graduates of Albertus to complete their Master of Social Work (MSW) degree at Quinnipiac.
To be eligible for the combined degree program, which aims to help remedy the massive social worker shortages the United States is facing, students from Albertus Magnus must complete their bachelor's degrees with a minimum grade point average of 3.0 and 20 semester credits in liberal arts courses. They also will be required to complete nine credits of prerequisite courses in Quinnipiac's MSW program while enrolled in their undergraduate major at Albertus Magnus.
"We are very enthusiastic about entering into this partnership with Quinnipiac University. We firmly believe that through collaboration, institutions of higher learning can offer more educational opportunities for students, which in turn will lead to even more fruitful careers in our state. Commitment and partnership are what this agreement with Quinnipiac is all about," said Albertus Vice President of Academic Affairs and Dean of Faculty Sean O'Connell, Ph.D.
The combined degree allows students to complete both their undergraduate degree and MSW in 5 ½ years. Students also will save the tuition for the nine credits of the MSW courses which is counted towards their undergraduate courses at Albertus Magnus and the MSW at Quinnipiac.
"We are delighted to have this combined degree partnership between Albertus Magnus and Quinnipiac University's master of social work program," said Carol Awasu, director of the MSW program at Quinnipiac. "This new pathway contributes to the increase of professional social workers in mental healthcare in Connecticut and beyond."
Students within this program will receive a significant per credit percent scholarship off Quinnipiac's published tuition rate for the MSW program. The scholarship amount will be determined by a student's academic achievement while in the undergraduate degree portion of this program, as follows:
Students with an incoming GPA of ≥ 3.50 receive scholarship equal to 30% reduction in tuition

Students with an incoming GPA ≥ 3.00 receive scholarship equal to 25% reduction in tuition
"We are excited to launch this partnership with Albertus Magnus," said Debra Liebowitz, provost at Quinnipiac University. "It provides a terrific, accelerated pathway for students to make a difference in a field where the workforce needs are significant."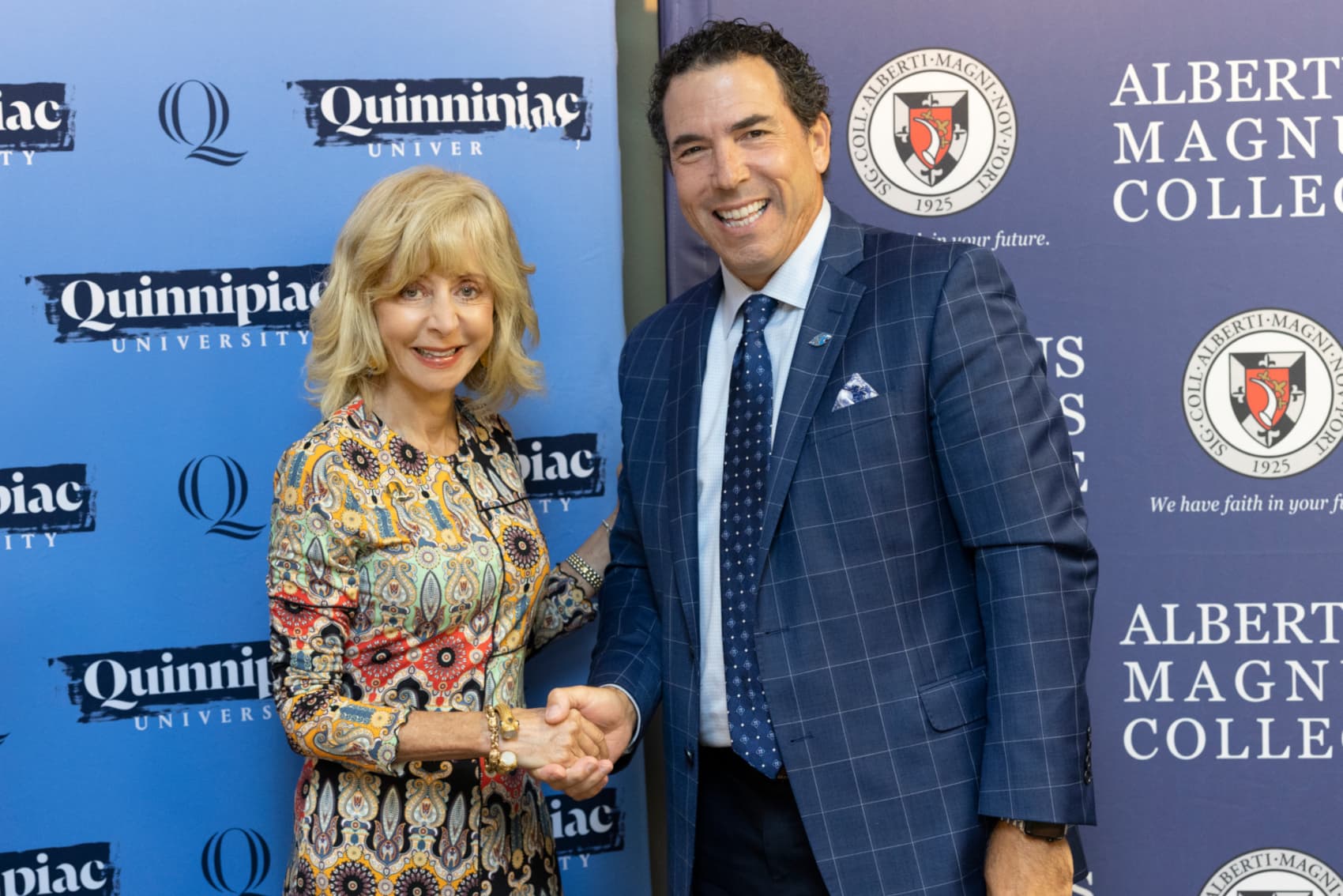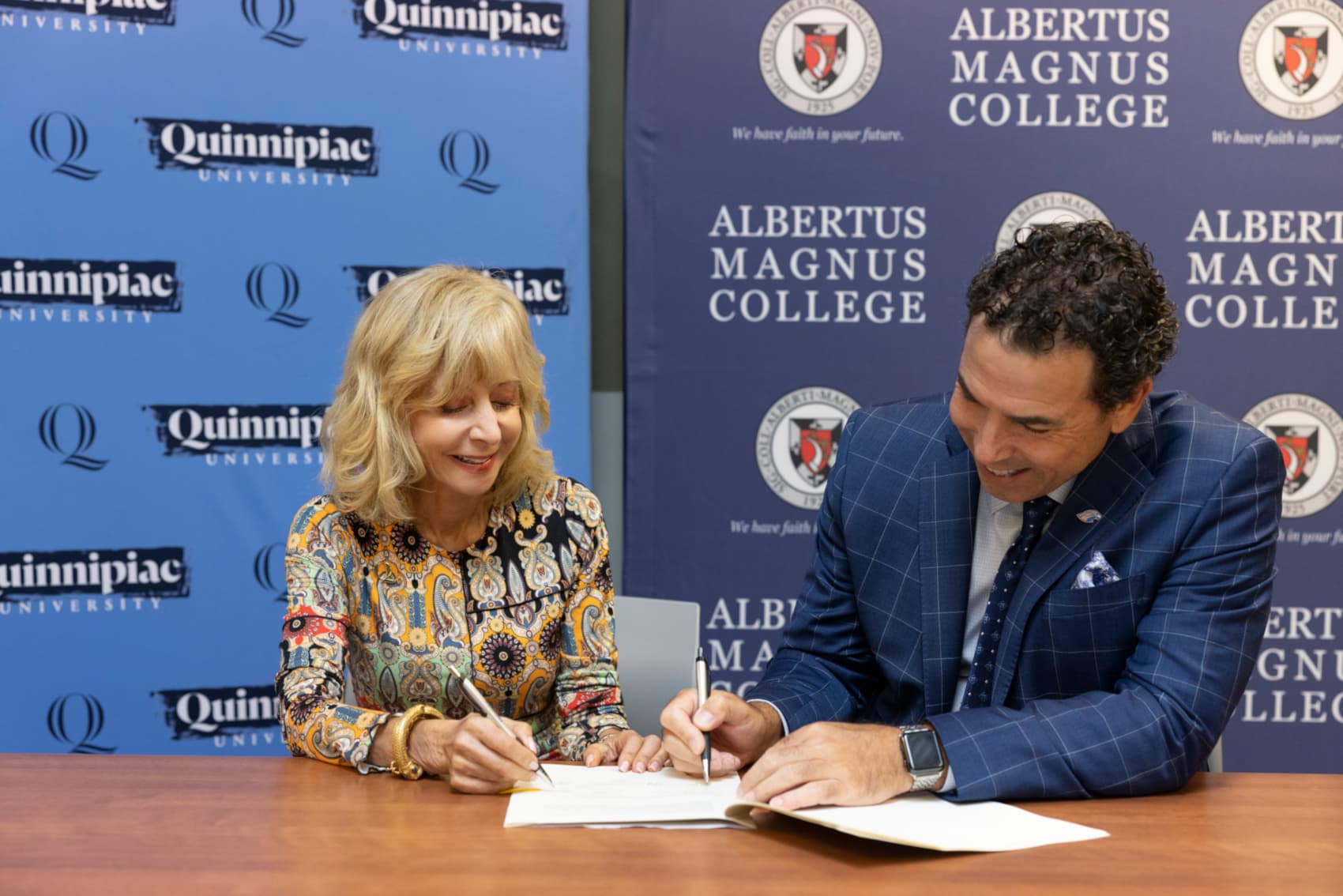 About Albertus Magnus College
About Albertus Magnus College: Albertus Magnus College, founded in 1925, is a Catholic College in the Dominican tradition. It is recognized by external rankings such as US News & World Report Best Colleges, Money Magazine, and the Wall Street Journal/Times Higher Education. The College has an enrollment of 1,500 students in its traditional undergraduate program, accelerated adult degree programs, and 12 graduate programs, including a new Master of Public Administration and the only Master of Arts in Art Therapy and Counseling program in Connecticut. In the last year, the College received two significant Federal grants in support of student success and well-being: a $300,000 grant from the Department of Justice and a $1.9 million Title III grant from the Department of Education.