Albertus Magnus College Admissions Director Named Admission Professional of the Year
Ben Amarone Recognized by New England Association for College Admission Counseling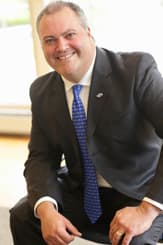 New Haven, Conn., May 26, 2021 – Albertus Magnus College is pleased to announce that Director of Admissions Ben Amarone recently received the Admission Professional of the Year Award from the New England Association for College Admission Counseling (NEACAC). The mission of this 3800 member organization is to develop and provide services, programs, and opportunities to members so that they can serve and assist students in their transition from secondary to post-secondary education.

A resident of North Haven, Conn., Amarone is praised for his commitment and creativity during the COVID crisis, spearheading Virtual Open Houses as well as hybrid in-person Accepted Student Days with a drive-through campus tour experience complete with interactive videos at various tour stops. Because of these extra efforts, Albertus is anticipating another record-breaking first-year and transfer class this fall.

"Ben would be the first to humbly insist that the honor is shared with his colleagues and teammates who collaborate to provide innovative programming, creative engagement, and support for every Albertus student," said Interim Vice President for Enrollment Management and Marketing Andrea Kovacs.

It has become popular in college admission circles to refer to the students who will enroll in colleges this fall as "the pandemic generation." They finished their last two years of high school under challenging and uncertain conditions but their dreams and expectations for their academic futures did not diminish.

"We empathize with the difficult situations this incoming class has had to endure and are committed to making their college experience rewarding. We've gotten to know each of our Future Falcons on a personal level and are excited about the talents and enthusiasm they'll bring to our community," said Amarone, who prior to coming to Albertus in 2017, was the Senior Associate Director of Admissions for Online Programs at Quinnipiac University.

Members of the incoming Centennial Class (2025) at Albertus will attend Falcon Days on June 12 and June 15 to register for classes, meet with faculty, staff, and students, and begin their orientation at the College.
About Albertus Magnus College
About Albertus Magnus College: Albertus Magnus College, founded in 1925, is a Catholic College in the Dominican tradition. It is recognized by external rankings such as US News & World Report Best Colleges, Money Magazine, and the Wall Street Journal/Times Higher Education. The College has an enrollment of 1,500 students in its traditional undergraduate program, accelerated adult degree programs, and 12 graduate programs, including a new Master of Public Administration and the only Master of Arts in Art Therapy and Counseling program in Connecticut. In the last year, the College received two significant Federal grants in support of student success and well-being: a $300,000 grant from the Department of Justice and a $1.9 million Title III grant from the Department of Education.