2023 Alumni Awards Recipients
Dr. Mary Schaefer Badger '75
Mary Schaefer Badger '75, a resident of Spokane, Washington, is the 2023 recipient of the Alumni of the Year Award, presented to a living member of the Association who has attained preeminence in their life through outstanding professional, scholarly, and artistic achievement; who is devoted to serving others through volunteer and community service; or who has manifested extraordinary loyalty and dedication to Albertus. Mary retired after 31 years as an Internal Medicine Specialist in Spokane, Washington. She was named one of Spokane's Best Physicians in 2018, 2019, and 2020. Mary has been a Fellow of the American College of Osteopathic Internists since 1993. In 2013, Mary joined less than 400 other medical professionals in the world by becoming a Fellow of the Academy of Wilderness Medicine.
While a student at Albertus, Mary was selected for inclusion in Who's Who in American
Colleges and Universities. She has received numerous awards throughout her career, including
Outstanding Clinical Performance Award, Intern of the Year Award, Van Clyburne Award
(orthopedics), U.S. Public Health Service Distinguished Service Award, and Who's Who in
Medicine. Mary also has published many works.
Mary came out of retirement to help the Medical Reserve Corps of Eastern Washington State in
their immunization program during the COVID pandemic and still volunteers with that group for
Spokane County emergencies. As Chair of the American College of Osteopathic Medicine
Committee on Climate and Health, Dr. Badger has continued to lecture on this topic at local and
national medical meetings.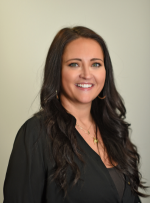 Stacie Hurley '17
Stacie Hurley '17, a resident of East Haven, is the 2023 recipient of the Premier Achievement Award, presented to a living member of the Association who has graduated from Albertus within the last ten years and who has excelled either professionally, within the community, or has shown extraordinary loyalty and dedication to the College. While a student at Albertus, Stacie was in the Honors Program and served as Honors Program President during her senior
year. She was an Orientation Leader and Peer Mentor. As a member of the Student Alumni
Association, Stacie served as President for two terms and was integral in helping the
organization develop and grow to its highest membership. She represented Albertus and
presented at regional and national Student Alumni Association conferences. Stacie also
received numerous awards including the Albertus 2017 President's Award, and the 2017 District
I Outstanding Student Leader through the Council of Advancement and Support of Education
Affiliated Student Advancement Programs, the national organization of student advancement
programs.
Stacie was recently named one of The Top 50 Women Leaders of Connecticut for 2023. Stacie
currently is the Vice President of Compliance and Quality Management of Aware Recovery
Care, a pioneer in the mental health and substance use disorder treatment industry. Stacie
joined Aware Recovery Care in 2017, and advanced quickly into senior positions to manage
compliance and quality for this rapidly growing healthcare enterprise. She took multiple
responsibilities, including serving as director of compliance and legal, where she stood up the
department for the organization, and director of strategic project management to support the
organization's impressive growth, opening 8 of their 10 states.

Stacie is a former member of the Alumni Association Advisory Board. She participated in Career
Services' first-ever "Table Talks" this past March. This event brought successful graduates of the
last decade back to campus to share the wisdom and advice they've acquired along their career
path with current Albertus students. Stacie continues to return to campus for the annual
Christmas Tree Lighting, a tradition created by the Student Alumni Association in 2012.