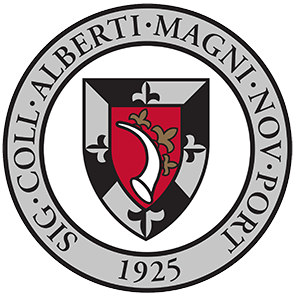 FOUNDERS' DAY 2022
Thursday, September 22 - Friday, September 23, 2022
Albertus Magnus College opened its doors for the first time on September 24, 1925. As a community, it is our honor to celebrate the pioneering women of the Dominican Sisters of Peace and their continuing sponsorship of the mission of Albertus Magnus College. To make a gift in the support of Founders' Day and the Dominican Pillars of Study, Prayer, Community, and Service, go online to albertus.edu/support-albertus.
---
Founders' Day 2022 Schedule
---
Thursday September 22, 2022
Pre-Founders' Day Art Show
Walsh Hall and Basketball Court (Mural Viewing)
4:30 – 6:00 pm
---
Virtual Art Gallery
The theme of this show in celebration of Founder's Day 2022, "The Care of Our Common Home, Earth," focuses our attention on the environment.
---
Friday, September 23, 2022 - Founders' Day
Schedule of Events
Presentation: "Laudato Si' and Beyond"
Behan Community Room in Hubert Campus Center
Sr. Jane Belanger, O.P., Director, Heartland Farm
10:30 am – 12:00 pm
All Campus Picnic and Sustainability Fair
Aquinas Lawn
12:15 – 1:30 pm

Laudato Si' Breakout Sessions
Tagliatela Center Classrooms
1:45 - 3:15 pm
View the breakout sessions information, including rooms and presenters

Presentation of the VERITAS Awards
Dr. Sean O'Connell
The Springs Learning Center
3:30 – 4:30 pm
Behan Community Room
Dessert Reception – Fireside Lounge, Hubert Campus Center
---
View Founders' Day 2021 Archives >