Tally Bookkeeper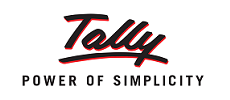 Preparing to start a new career in bookkeeping, or want to learn how to manage your own account books,this program will teach you in-demand skills and latest accounting tools to excel. Bookkeepers are in high demand across many industries and focus on various areas of accounting, finance, or taxation.
Designed by Tally, India's leading business management software solution company, this program will introduce you to the concepts of corporate finance, accounting, taxation, and statutory compliances, equipping you to handle accounting transactions in the work environment with ease.
You'll learn how to use Tally software, used by 80% of companies in India for financial reporting, in a wide variety of real-business situations.
Upon completion, you will earn a Professional Certificate from Tally, validating your competency in finance and accounting fundamentals, proficiency with Tally business management software, and signal your job readiness to potential employers.
In this program, you'll learn:
How to close Financial Year Books of Accounts and begin the next Financial Year

How to work on Accounts Payable and Receivable Management

The fundamentals of Banking Solutions (BRS), Budgets and Control Management, the workings of Goods and Services Tax (GST), and the calculations of Tax Deducted at Sources (TDS)

To create MIS Reports

Purchase and sales order processing

Stock keeping unit maintenance (SKU)