Marc M. Camille, Ed.D.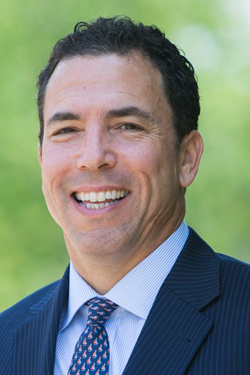 Marc M. Camille, Ed.D., became Albertus Magnus College's 14th president on June 30, 2017.
A nationally-recognized expert on enrollment management in higher education, Dr.Camille served as the vice president for enrollment management and communications at Loyola University Maryland. There he supervised the offices of undergraduate and graduate admission, financial aid, institutional research, and university marketing and communications. Under his leadership at Loyola, first-year class applications increased more than 75%, the acceptance rate decreased, the yield rate increased, and first-year class size increased by more than 20%; first-generation, Pell Grant recipient, and student of color enrollments more than doubled; and Loyola's financial aid discount rate remained below national and competitor benchmarks. Prior to joining Loyola, he served as dean of admission and financial aid at Xavier University in Ohio
In addition to his enrollment management and marketing expertise, Dr. Camille's twenty-eight year career includes leadership experience chairing institution-wide strategic planning, leading annual and long-term enrollment and revenue forecast planning, conducting market research for new academic program development, chairing executive level searches in academic affairs and intercollegiate athletics, capital campaign cabinet membership, and serving as an institutional reaccreditation peer evaluator for the Middle States Commission on Higher Education. The author of "Ethics and Strategic Enrollment Management" in Jossey-Bass' Handbook of Strategic Enrollment Management, Dr. Camille is a frequent and sought-after speaker at national enrollment management, marketing, and business officer conferences. Dr. Camille earned his bachelor's degree in English from Rollins College (FL), his master's degree in Liberal Studies at University of Miami (FL), and his doctorate in higher education management from University of Pennsylvania.
Introduction: President Camille