Biography of Marc M. Camille, Ed.D.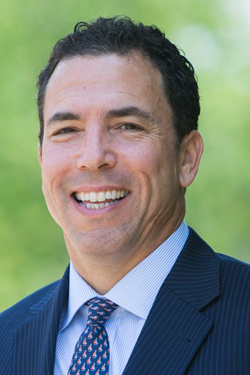 Dr. Marc M. Camille is the 14th President of Albertus Magnus College in New Haven, Connecticut. He began his tenure on June 30, 2017. With nearly two decades of senior administrative experience at Catholic, mission-centric colleges, his leadership for Albertus Magnus is inspired by the distinct, values-based Catholic mission and Dominican tradition.
Prior to his election as President at Albertus, Dr. Camille served as Vice President for Enrollment Management and Communications at Loyola University Maryland and supervised the offices of undergraduate and graduate admission, financial aid, institutional research, and university marketing and communications. He came to Loyola in 2006 after serving as Dean of Admission and Financial Aid at Xavier University in Ohio. Under his leadership at Loyola, first-year class applications increased more than 75%, the acceptance rate decreased, the yield rate increased, and first-year class size increased by more than 20%; first-generation, Pell Grant recipient, and student of color enrollments more than doubled; and Loyola's financial aid discount rate remained below national and competitor benchmarks.
In addition to his enrollment management and marketing expertise, Dr. Camille's twenty-nine year career includes leadership experience chairing institution-wide strategic planning, leading annual and long-term enrollment and revenue forecast planning, conducting market research for new academic program development, chairing executive level searches in academic affairs and intercollegiate athletics, capital campaign cabinet membership, and serving as an institutional reaccreditation peer evaluator for the Middle States Commission on Higher Education. The author of "Ethics and Strategic Enrollment Management" in Jossey-Bass' Handbook of Strategic Enrollment Management, Dr. Camille is a frequent and sought-after speaker at national enrollment management, marketing, and business officer conferences.
Dr. Camille's first year as president has been marked by an ambitious agenda of engaged listening, meeting with members of the Albertus trustees, faculty, staff, students, parents, alumni, and friends, as well as numerous corporate, civic, religious, and education leaders throughout the Greater New Haven area. Reflecting his commitment to meaningful engagement with Albertus neighboring communities of Newhallville, Ronan Edgehill, East Rock, Hamden, and the City of New Haven, Dr. Camille traveled to Changsha, China and Hong Kong at the invitation of New Haven Mayor Toni Harp, joining her delegation to establish a new Sister City relationship for New Haven.
In this first year of Dr. Camille's presidency, Albertus Magnus College has taken initial steps toward realizing its bright future. Applications to the first-year class have increased by nearly 40% to a new record total. Annual giving donors and contributions have increased, and through the presidential Inauguration Silver Horn Scholarship Gala, a new fund will become available to assist currently enrolled students who fall into financial hardship with completing their Albertus degrees. Improvements to campus facilities are underway, including: refreshing Dominican Hall, the first-year student residence; opening a new East Hartford campus for Albertus adult student programs; a new campus coffee shop, featuring Starbucks; launching an intramural sports and wellness program; and opening the new Shea Softball Complex. New campus construction projects will begin summer 2018, with solar panel installations across campus, including covered parking, and a much anticipated comprehensive renovation of the Hubert Campus Center, designed to foster engagement between and among students, faculty, and staff. In fall 2018, an undergraduate major in urban studies and a Master's degree in Public Administration will be launched, and four full-time faculty members will be hired. Also in fall 2018, a new women's varsity field hockey program will launch, followed by swimming and men's ice hockey in 2019.
Dr. Camille earned his Bachelor's degree in English from Rollins College, his master's degree at the University of Miami, and his doctorate in higher education management from the University of Pennsylvania. He has two children, Katie, a junior at Loyola University Maryland, and Ryan, a first-year student at the College of the Holy Cross.