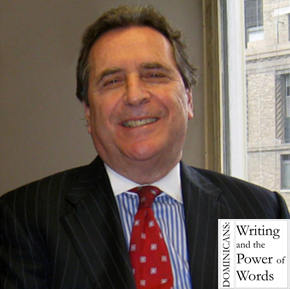 Constitution Day commemorates the formation and signing of the U.S. Constitution on September 17, 1787. Albertus Magnus College holds an educational speaking program to celebrate and honor Constitution Day annually.
The Power of Words
Each year, the College honors Our Founders, Our Heritage, Our College at the annual Founders' Day celebration with a unique theme. This fall we will expand upon the theme Dominicans: Writing and the Power of Words to include additional events.
September 14: Constitution Day
11:15 a.m. to 12:30 p.m.
Hubert Center
"Freedom of the Press: More Important Than Ever " - presented by Norman Siegel, J.D., a civil rights and civil liberties attorney, former Director of the New York Civil Liberties Union. This is a free event, reservations are not required.
6:30 to 7:00 p.m.
Hubert Campus Center
Exhibit and Community Reception in the Margaret L. MacDonough Gallery – preview of the Founders' Day exhibit – Writing and the Power of Words
Congresswoman Rosa DeLauro's talk and book signing event scheduled as part of the College's celebration of Constitution Day, Thursday, September 14, 2017, is postponed due to the passing of her mother, Luisa DeLauro.
The event will be rescheduled for a future date, and updates can be found at albertus.edu/delauro. Books can still be purchased at the Falcon Campus Store, or online at albertus.edu/theleastamongus.
Thoughts and prayers go out to the DeLauro Family.
GPS Directions:
Please use 303 Huntington St. New Haven, CT 06511 for GPS directions to the campus.
Campus Map:
Click here for a map of the campus.
Alternatively, click here to get directions to campus from your current location.
Previous Constitution Day Events