Master of Science in Human Services (M.S.H.S.)
The Master of Science in Human Services is prepares psychosocial health professionals for responsible positions in a variety of public and private agencies. Graduates apply advanced knowledge and skills towards assisting clients within the context of their communities and environments.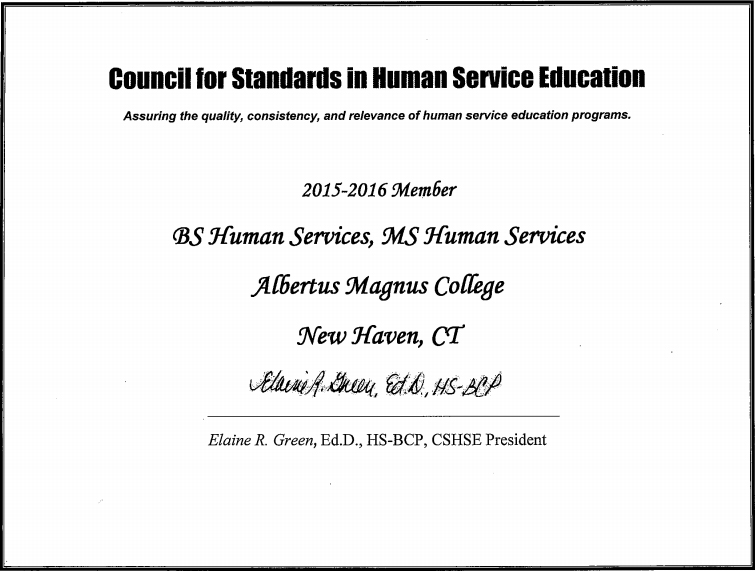 The M.S. in Human Services promotes educational access to students from a wide range of backgrounds, provides a transformative educational process in which students gain advanced professional knowledge and skills, and builds students' capacity as informed, effective and ethical citizens.
Master of Science in Human Services is offered in the following format:
Blended - Take one to two classes every eight weeks through a combination of in-class sessions and online assignments. (Classes are held at our beautiful New Haven campus.) Our blended classes are arranged so you go to school one night per week; all other assignments are done from the comfort of home. Students who choose this option often enjoy the best of "both worlds" as they benefit from in-class discussion with their classmates and professors while maintaining the convenience of working on projects and assignments from home.
Objectives
M.S.H.S. graduates demonstrate the ability:
To advocate for clients through knowledge of community resources in the human services network
To analyze major social issues, social problems, and current socio-political and sociocultural events which affect human services
To apply basic methods and techniques used to evaluate individuals with mental illness, developmental disabilities or cognitive impairments
To implement common psychosocial treatment approaches based on key theories and related concepts
To define achievable goals of counseling and contributions and limitations of various treatment modalities
To understand and apply legal and ethical standards affecting the delivery of human services
To assess behavioral, cognitive, affective, and environmental factors in order to identify and set long-term achievable client goals
To evaluate psychological and socio-cultural aspects of normal and abnormal behavior, theories of causation and treatment approaches.
Admission Requirements
A completed application and a $50 non-refundable application fee
Bachelor's degree from a regionally accredited college or university with a minimum cumulative G.P.A. of 2.8 on a 4.0 system*
Official transcripts from all universities or colleges attended
For non-native English speakers, minimum TOEFL score of 550 paper-based, 80 internet-based, or 213 computer-based
Proof of immunization in accordance with Connecticut State requirements
For online degrees, a Connecticut Driver's License or DMV Photo ID
For applicants who intend to use Department of Veterans Affairs (VA) Educational Benefits

Military, university and college transcripts
Certification of Eligibility letter or, for reservists, Notice of Basic Eligibility
Veteran's Intent to Register form

Two letters of recommendation from former professors or professional associates
In some cases, an interview (either in person or by phone) may be required.
Students are required to have a minimum of 15 credits in psychology, human services, and/or social work as a prerequisite to beginning course work in the M.S. in Human Services. Students must also demonstrate graduate level writing ability or take GCC 500 Advanced Academic Writing. GCC 500 can be taken prior to or concurrent with beginning coursework in the M.S. in Human Services.
Students may apply for admission to the program at the start of the fall in Mod 1 or in spring in Mod 3. All new student applications must be complete and submitted to the Director no later than two weeks prior to the start of a session. If an application is received after this time- frame, the new student will be considered for the next scheduled session
All application materials should be sent to:
Professional & Graduate Studies
Albertus Magnus College
700 Prospect Street
New Haven, CT 06511
203-773-8505
Transfer Credits
Albertus Magnus College will accept a maximum of 6 graduate hours from a regionally accredited college or university toward satisfying the M.S. in Human Services. Such credits must have been completed prior to entrance into the program and must satisfy degree requirements. Transfer credits must have been completed with a minimum grade of 3.0 within the last five years. Transfer credits will be considered on an individual basis. Students must submit an official transcript showing proof of completion of the course(s) to be transferred. All requests to transfer credits must be completed prior to starting the program.
Internal transfer students from other Albertus graduate programs must complete at least 50% of their requirements (20 credits) in the M.S. in Human Services.
Graduation Requirements
Complete all required coursework
Minimum cumulative G.P.A. of 3.0 on a scale of 4.0. Students receiving a final grade of C– or lower in any course will be required to repeat that course
Complete all requirements within seven years of matriculation
Payment of all tuition and fees
Graduation with Honors
M.S. in Human Services students may qualify to graduate with honors who:
Has a minimum cumulative grade point average of 3.90
Have received a grade of A in HS 660 Capstone Seminar.
Program of Study (39 Credits)
Required Human Services Courses (15–18 credits)
Required Psychology Courses (15 credits)
Elective Courses (6–9 credits)