Bachelor of Science in Human Services
This major is designed to provide students with a career-oriented degree which is combined with a rigorous liberal arts education. The major prepares the student to work in the community in professional capacities such as community outreach worker, case manager, community support counselor, clinician, mental health worker, and job coach. This major requires six credits of supervised internship experience. It is an interdisciplinary major drawing upon courses from several disciplines, including: Psychology, Sociology, Management, and Philosophy, in addition to the core general education courses.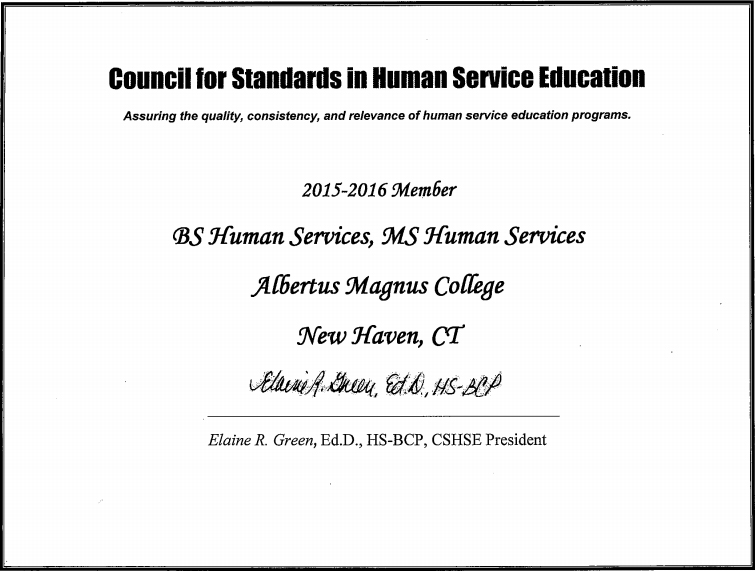 Note: Four of the required courses are offered annually in the Accelerated Degree Program: HS 101; HS 311; PY 213; and PY/SO 235. Day students are allowed to take these courses with Continuing Education students, subject to all other policies with respect to Day students taking Continuing Education courses.
Where Will Your Degree Take You?
Child Care Education Aide
Teacher Aide
Social Work Aide
Recreation Youth Worker
Social Services Youth Worker or Parent Aide
Alcohol/Substance Abuse Program Aide: Rehabilitation and Prevention Program
Program Of Study (54 Credits)
Core Requirements (33 credits)
HS 101 Introduction to Human Services
HS 280 Practicum I
HS 281 Practicum II
HS 311 Issues in Human Services
PY 111 Introduction to Psychology
PY 211 Abnormal Psychology
PY 213 Counseling Techniques
PY 250 Community Psychology
PY/SO 235 Drug and Alcohol Abuse
SO 111 Introduction to Sociology
MG 131 Principles of Management
Choose one: (3 credits)
PH 312 Bioethics
PH 352 Introduction to Peace and Justice
RS 211 Introduction to the Variety of Christian Experience
RS 383 Religion and Social Concerns
Choose two: (6 credits)
PY 214 Death and Dying
PY 330 Child Psychology
PY 331 Child Life: Concepts and Methods
PY 341 Adolescent Psychology
PY 350 Adulthood and Aging
Choose two: (6 credits)
SO 212 Social Work I
SO 213 Social Work II
SO 242 Minorities and Multicultural Diversity
Choose two: (6 credits)
SO 121 Contemporary Social Problems
SO 231 Deviance and Criminology
SO 232 Juvenile Delinquency
SO 241 Urban Sociology
Recommended Electives
CJ 111 Introduction to the Criminal Justice System
CJ/SO 233 Corrections
CJ 236 Death Penalty in America
CJ 238 Criminal Evidence
CO 141 Speech Communications
EN 246 Business Writing
PY/SO 218 Statistics for Behavioral Sciences (Note: Some graduate programs require successful completion of this course as a condition of admission.)
PY 240 Domestic Violence
PY 248 Cultural Psychology
PY 323W Social Psychology