Albertus Magnus College Leadership Immersion Program
August 16th through August 18th, 2017
The Leadership Immersion Program provides an opportunity for promising first-year students to develop the leadership habits and skills that will enable them to succeed personally, professionally, academically, and as members of society.
These core leadership habits and skills include:
How it works:
The program consists of an intensive three-day on-campus Leadership Camp before the start of the fall semester with four follow-up workshops and leadership activities during the freshman year. Students who complete the program and remain in good academic standing through their freshman year will receive a $1,000 scholarship for their sophomore year. To successfully complete the program, students will:
Participate in all three days of the August Leadership Immersion Program.
Complete an Action Plan for the first year of college.
Attend all classes during the first and second semester of the first year with no more than 3 - 5 absences in any one class, each semester.
Participate in two leadership workshops in the Fall semester and one in the Spring semester.
Attend a Career Services Networking Event in the Spring semester.
Complete self-assessment exercises and tests that will contribute to leadership development.
Develop a supportive relationship with a mentor and academic advisor.
Remain in good academic standing through the second semester of freshmen year.
Complete a minimum of 27 credits by the conclusion of the second semester of freshmen year.
Housing and Check-in
Students will be housed in Dominican Hall, our traditional four story residence hall on campus. It's located directly behind the Hubert Campus Center and less than a five minute walk to our classroom buildings.
Students participating in the program will be assigned rooms with a roommate for double occupancy. Rooms come equipped with a bed, mattress, desk, chair and dresser drawers for each student. For the program, students will need to provide their own sheets, bedding, pillows, towels and toiletries.
Who qualifies?
Participants must be accepted to the College and enroll for the fall 2017 to be identified and nominated by the Leadership Immersion Program Committee.
Check in for the program will be on Wednesday, August 16th from 8 am - 9 am in the Hubert Campus Center. Once students check in and receive their keys they will be shown to their room to drop off belongings. The program will start promptly at 9 am.
For more information about the Leadership Immersion Program please contact your admissions counselor.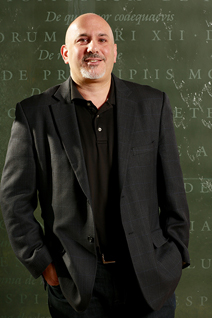 Director, Graduate Leadership Programs