Eligibility & Requirements
The Honors Program challenges our students to excel academically while exposing them to a variety of cultural opportunities. There is a sense of support and camaraderie within the program. Our Honors students work closely with each other, their professors and their academic advisor, Dr. Christine Atkins, forming friendships and lasting bonds that make their Albertus Magnus College experience "memorable, enjoyable, and rewarding."
Eligibility
Admission into the Honors Program as an incoming freshman is by invitation, after a review of all applicants' academic records. Fulltime students at Albertus Magnus College are eligible to participate in the Honors Program after their first year by maintaining a 3.5 cumulative grade point average.
Requirements
The Albertus Magnus College Honors Program, aligned with the four pillars of the Dominican Tradition of Prayer, Study, Service, and Community, offers valuable, practical opportunities for undergraduate students of high ambition and academic achievement. At Albertus Magnus, we offer extensive honors options such as: honors work in academic departments; the Aquinas Scholars Program; faculty-student collaborative research; and support for students applying for nationally competitive scholarships.
In order to graduate from the Honors Program, students must maintain a minimum cumulative G.P.A. of 3.5 and complete all academic and enrichment requirements.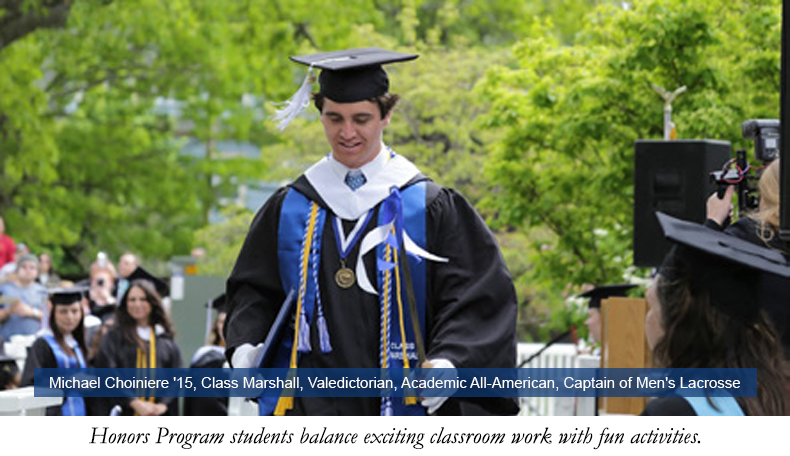 Top 5 Reasons to Join the Albertus Honors Program
Support! While you can expect increased academic rigor from your honors classes, you will find a supportive environment that challenges you to achieve your personal best.
Pizza! New Haven is internationally famous for its pizza and you will enjoy the camaraderie of like-minded peers over a slice during the program's kickoff luncheon each fall.
Front of the Line! You will be eligible for early registration for classes each semester.
Adventure! Events such as dinners, trips to the Yale Art Gallery, New Haven Symphony, Long Wharf Theatre, and New York's Metropolitan Museum of Art are just a few of the group adventures you will enjoy.
Props at graduation! Your hard work and dedication will be recognized at Laurel Awards and Commencement.
Photos