Master of Arts in Art Therapy and Counseling
The Master of Arts in Art Therapy and Counseling is committed to providing a high quality educational experience by preparing students with a broad understanding of art materials and the healing potential of the creative process along with sound psychological theory supported by scientific research. The program encourages professional growth within a cohesive and passionate community of students who are able to be sensitive to an ethical, reflective and socially aware practice of art therapy. The hallmark of the course curriculum is an intensive, rigorous and rewarding student-centered approach that fosters reflective thinking and a deep respect for diversity of the human experience.
What is Art Therapy
A human service profession that blends the disciplines of art, psychology, and counseling
Clients of varied populations use ART and creative process in therapy and as therapy
Communication with art uses the universal language to promote connection and healing relationships with self and others
Attend an Information Session
Learn more about the Master of Arts in Art Therapy and Counseling Program (M.A.A.T.C.) at Albertus Magnus College by attending an information session. Space is limited, so please be sure to register in advance by calling (203) 773-6998.
All Information Sessions will be in the conference room in the Professional & Graduate Studies office in Aquinas Hall at 5:30 pm.
Art Therapy at Albertus Magnus College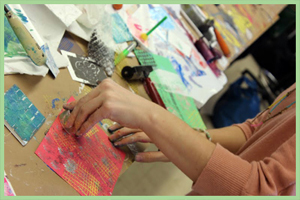 The Master of Arts in Art Therapy and Counseling Program at Albertus Magnus College offers a progressive and comprehensive curriculum designed to provide its students and graduates with a range of didactic and experiential learning experiences that will prepare them to function effectively as individual or group therapists in a variety of clinical settings.
The program's 60 credit requirements to graduate meet all educational requirements for licensure as a professional counselor (LPC) in the State of CT. and is approved by the Education Program Approval Board (EPAB) of AATA. This strong course of study provides graduates the opportunity to qualify for licensing as a professional counselor.
Admissions Requirements
The following will be required of all applicants accepted into the Master of Arts in Art Therapy and Counseling Program:
A bachelor's degree from a regionally accredited college or university
A minimum cumulative grade point average of 2.8 on a 4.0 system
A minimum of 18 credits in studio art. Credits must include courses in drawing, painting, and ceramics, with a minimum cumulative grade point average of 2.8
A minimum of 15 credits in psychology. Credits must include Developmental Psychology, Abnormal Psychology, and a course in Statistics for the Social Sciences, with a minimum cumulative grade point average of 2.8
For non-native English-speakers, proficiency in English as demonstrated by at least three years of successful academic work at a college or university using English as the primary language of instruction and evaluation, or by a minimum TOEFL score of 550 paper-based, 80 internet-based, or 213 computer-based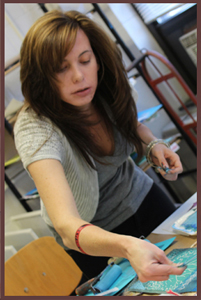 Students who lack some of the above requirements may be admitted to the Program on a conditional basis. Students will not be permitted to take graduate courses without having successfully completed a minimum of 12 undergraduate credits in psychology and 15 undergraduate credits in studio art. Outstanding prerequisites must be completed within the first year of the program.
Admission to the M.A.A.T.C. Program is selective and competitive, and not every applicant who meets the above criteria may be accepted. The Art Therapy Admissions Committee will make admission decisions after reviewing all application materials and conducting a personal interview with the applicant.
Application Process
The following must be submitted in order to have an application for admission evaluated:
A completed application and a $50 non-refundable application fee
Official transcripts from all universities or colleges attended
For non-native English speakers, minimum TOEFL score of 550 paper-based, 80 internet-based, or 213 computer-based
Proof of immunization in accordance with Connecticut State requirements
For applicants who intend to use Department of Veterans Affairs (VA) Educational Benefits

Military, university and college transcripts
Certification of Eligibility letter or, for reservists, Notice of Basic Eligibility
Veteran's Intent to Register form

Two letters of recommendation preferably from academic professors, clinical supervisors and/or persons in authority positions with awareness of your interpersonal, academic, and/or artistic skill sets.
A personal essay of at least two pages (typed in 12 point font) indicating one's reasons for applying to the program.
A portfolio of original artwork demonstrating competence with a variety of art media, including painting, drawing, and ceramics/sculpture. A minimum of 10 images must be submitted in .jpg format (minimum 1 MB in size) or pdf format with clearly labelled file names. You may also include a text document with supplemental information about the artwork. The portfolio must be submitted via the online application form. See the online application for more portfolio submission details.

All application materials should be sent to: The Master of Arts in Art Therapy and Counseling (MAATC) Admission Committee Albertus Magnus College 700 Prospect Street New Haven, CT 06511-1189

Transfer Credits

The M.A.A.T.C. program will accept a maximum of 12 graduate credits in transfer from a regionally accredited college or university toward satisfying degree requirements. Such credits must be in keeping with the degree requirements of the Albertus Magnus College Master of Arts in Art Therapy and Counseling Program and must have been completed with a grade of 3.0 or better. Transfer credits will be considered on an individual basis. Students requesting the transfer of credits must do so in writing to the program director. The request to transfer credits must be sent to the program director no later than one year prior to the student's final semester in the program.

Graduation Requirements

In order to qualify for graduation with the M.A.A.T.C., the student must:

Complete all credits applied towards the master's degree within seven years from the time of beginning the program
Complete all required graduate course work (minimum of 60 credits) and supervised clinical experience (minimum 725 hours) with minimum cumulative grade point average of 3.0
Complete a master's thesis approved by the Thesis Advisory Committee, the program director, and the chair of the Psychology Department
Receive a program faculty recommendation
Pay all tuition and fees

Graduation with Honors

M.A.A.T.C. students may graduate with honors who:

Have a minimum cumulative grade point average of 3.90
Receive a grade of A in AT/PY600—Thesis

2012 Community Outreach Project with the Printmaker's Network of Southern New England teaching printmaking techniques to graduate Art Therapy students at Albertus Magnus College