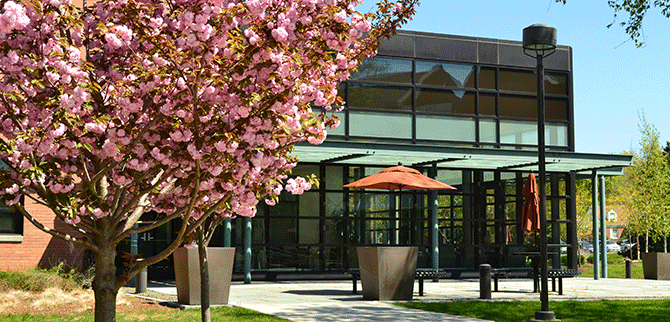 Celebrating milestone classes ending in 4 and 9
Register Now
Saturday, June 14
Albertus Magnus College Bookstore Open: 9 a.m. to 5 p.m.
Registration
Hubert Campus Center
9:30 a.m. to 4:30 p.m.
Pick up your welcome packet. You do not need to register prior to attending the liturgy.
Liturgy in Memory of Deceased Classmates
10:00 a.m., St. Albert Atrium, Tagliatela Academic Center
Coffee and pastries will be served.
Luncheon
11:30 a.m., DeDominicis Dining Hall, 2nd floor, Hubert Campus Center
Featuring the President's Address, Annual Meeting of the Alumni Association, presentation of the Alumni of the Year Awards (hyperlink to: http://www.albertus.edu/alumni/alumni-awards/), and Golden Society Induction Ceremony with champagne toast honoring the class of 1964. Class of 1964: No Charge
Adults: $20
Children ages 6 to 12: $10
Children ages 5 and under: No Charge
Golden Society Members: $10
Millennials: $10
Afternoon Enrichment Sessions
Session1: Bette Isacoff '68, '13 presents Memoirs and Memories of Albertus
2:30 – 3:30 p.m., Room 101, Hubert Campus Center
Isacoff received her BA in 1968 and her MFA in Creative Writing in 2013 from Albertus Magnus College and the College figures prominently in her book, Star Crossed. Join Bette for a discussion, reading, signing and walk down memory lane.
Session 2: Suzanne Palmieri '95, The Lost Witch
2:30 p.m. – 3:30 p.m., Room 113, Tagliatela Academic Center
Discussion, reading and signing by Albertus alumna, faculty member and novelist Suzanne Palmieri (Hayes) author of The Witch of Little Italy,(Saint Martin's Press/Griffin), and co-author of I'll be Seeing You (MIRA Harlequin). She has two upcoming novels due out in May 2014, The Witch of Belladonna Bay and Empire Girls.
Session 3: Beer Loves Cheese
3:45 – 4:45 p.m., DeDominicis Dining Hall, 2nd floor, Hubert Campus Center
Join Jason Sobocinski, cheese expert, owner and founder of New Haven's award-winning restaurant/cheese shop Caseus Fromagerie Bistro for a guided tasting of beer, wine and cheese.
Session 4: Faculty Panel Franz Kafka's Metamorphosis
3:45 – 4:45 p.m., Behan Community Room, Hubert Campus Center
Panelists include: Ross Edwards, Assistant Professor of Political Science; Eric Schoek, Assistant Professor of English and Humanities; Dr. Matt Waggoner, Assistant Professor in Philosophy and Religion; and Sarah Wallman, Associate Professor/Co-Director MFA Program. Moderated by Natalie DeVaull, Assistant Professor and Director of the Writing Program.
CHECK IT OUT: Open between 2:30 – 4:45 p.m.
Campus Walking Tour led by members of the Student Alumni Association
On demand, departing from the Room 114, Computer Lab, Tagliatela Academic Center
"New Albertus" highlights include Tagliatela Academic Center, Bree Common, Cosgrove Marcus Messer Athletic Center and will end at Rosary Hall. Students will be stationed at each of the open Residence Halls for your convenience.
Self-Guided Dorm Tours / Visits
McAuliffe, Nilan, Sansbury, Dominican and Mohun Members of the Student Alumni Association will be stationed in each building to greet you.
How do i? Help Desk: iphone, ipad, Android, and Apps, Social Media & More
Room 114, Computer Lab, Tagliatela Academic Center
Need assistance with your new mobile device, tablet or digital camera? Let our student experts help you with all your questions!
"Small Works, Shared Spirits" Exhibit
MacDonough Art Gallery, first floor, Hubert Campus Center
Art exhibit presented by the Albertus Magnus College Master of Arts in Art Therapy program faculty and students.
Cocktail Soirée
All classes welcome.
5 to 7 p.m., Bree Common and Courtyard
Class of 1964: No Charge
Adults $30
Golden Society Members $20
Millennials $20
All-Inclusive Package
Attend every event!
Adults: $45
Children ages 12 to 6: $10
Golden Society Member: $22
Millennials: $22
Class of 1964 – 50th Reunion
All Reunion events are free of charge for you and one guest. Please indicate which events you will attend.
Golden Society
Graduates from the Classes of 1928 – 1963.
Millennials
Graduates from the Classes of 2000 – 2013.
How You Can Help
Please be sure to check your class's list of lost alumni to help us contact missing alumni. If you're interested in serving on your class Reunion committee, please contact Stefanie Seslar, director of alumni relations, at sseslar@albertus.edu or call 203-773-8519. We look forward to seeing you on campus in a few short months. Please do not hesitate to contact the Office of Alumni Relations with any questions, concerns or special requests you may have at 203-773-8502 or alumni@albertus.edu.
Register Now