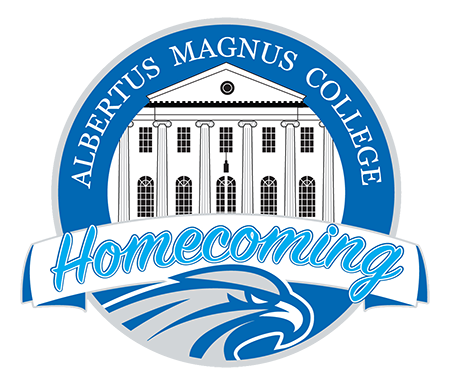 2017 Alumni Reunions
Traditional June Reunion has been reimagined with three different events celebrating milestone classes ending in 2 and 7. Alumni from ALL class years are welcome at ALL events.
Celebrating the 70's
Saturday, September 16
Celebration of the 70's!
All classes and their guests are invited to celebrate the decade of the 70's, the 45th reunion class of 1972, and the 40th reunion class of 1977. This special event is your opportunity to reconnect with classmates and meet the 14th President of Albertus Magnus College, Marc M. Camille, Ed.D. Hear first-hand from current students and faculty about Albertus today.
Schedule of Events
Noon to 5:00 p.m.
Registration, Tagliatela Academic Center Atrium
Falcon Campus Store Open, Hubert Campus Center
12:30 p.m.
Luncheon & President's Address by Dr. Marc C. Camille
Tagliatela Academic Center Atrium & Courtyard
2:30 to 3:30 p.m.
Albertus Today Panel
Tagliatela Academic Center Atrium
Featuring student leaders and representatives from the faculty and staff to present snapshots of Albertus today.
Also available:
Tours on demand guided by members of the Student Alumni Association
Optional All-College Read Book Discussion: "Man's Search for Meaning" by Viktor E. Frankl
Decade Display in Heritage Suite of Rosary Hall
Founders' Day Display, MacDonough Art Gallery, Hubert Campus Center
4:00 p.m.
Memorial Liturgy for Deceased Classmates
St. Catherine of Siena Chapel
5:00 to 7:00 p.m.
Cocktail Reception
Bree Common & Courtyard
Featuring plentiful hors d'oeuvre's, specialty cocktails, soft drinks and music of the decade.
Click here to R.S.V.P. The College looks forward to welcoming you home!
Albertus Magnus College Homecoming
Formerly known as Fall Fest. The same event you know and love is getting an upgrade!
Current students, parents, alumni, faculty, staff, family, and friends are all welcome to join us on campus.
October 13-15
Special reunion celebrations honoring milestone classes of:.
Friday, October 13
Party in the Pub hosted by the Office of Alumni Relations
(21 and over welcome)
Saturday, October 14
Alumni athletic competitions throughout the day: student organizations and activities for the whole family from 1:00 to 4:00 p.m.; local food trucks; hospitality tent; reunion class photos, and gatherings.
Athletic Schedule
Women's Volleyball 11:00 a.m., 1:00 p.m., and 3:00 p.m.
Women's Tennis 1:00 p.m.
Women's Soccer 3:30 p.m.
Men's Soccer 6:00 p.m.
Sunday, October 15
10:30 a.m. Homecoming Mass, St. Catherine of Sienna Chapel
11:30 a.m. Brunch, DeDominicis Dining Hall, Hubert Campus Center ($6 per person, pay on site)
More details to come, please check back soon! Contact alumni@albertus.edu or call 203-773-8519 with inquiries.
Note: These celebrations will replace the traditional June Reunion.
Golden Society Reunion was held on April 29, 2017 and included the Golden Society Induction of the Class of 1967 and Alumni Awards. All members of the Golden Society are welcome to attend the Golden Society Brunch celebrating the Class of 1968 in the spring of 2018.