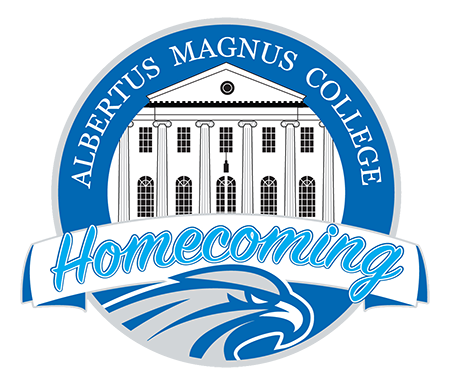 2017 Alumni Reunions
Traditional June Reunion has been reimagined with three different events celebrating milestone classes ending in 2 and 7. Alumni from ALL class years are welcome at ALL events.
Albertus Magnus College Homecoming
October 13-15
Current students, parents, alumni, faculty, staff, family, and friends are all welcome to join us on campus..
Friday, October 13
Evening with Rosa L. DeLauro
7:00 p.m.
Tagliatela Academic Center Atrium
Join us for an intimate conversation and book signing.  Reservations required, R.S.V.P. albertus.edu/delauro
Party in the Pub (21 and over welcome) 7:30 p.m., Hubert Campus Center
Saturday, October 14
Albertus Magnus College Library/USPS Passport Event 10:00 a.m. – 2:00 p.m.
Rosary Hall Library & United States Postal Serivce have teamed-up to offer a convenient & time-saving opportunity! Click here for more information.
Athletics Reunion Food and Fun
Celentanto Outdoor Facilities
Food Trucks - 1:00 p.m. to end of men's soccer.
Student Club Fundraisers & Activities for the whole family - 1:00 to 4:00 p.m.
Parent Reception in the Hospitality Tent - 1:30 p.m.
Reunion Receptions in the Hospitality Tent – 2:30 p.m.
Reunion class photos, gatherings, toast to milestone classes of:
35th Reunion Class of 1982
30th Reunion Class of 1987
25th Reunion Class of 1992
20th Reunion Class of 1997
15th Reunion Class of 2002
10th Reunion Class of 2007
5th Reunion Class of 2012
Hospitality Tent opens to all at 3:30 p.m.
Athletic Schedule
Women's Volleyball 11:00 a.m., 1:00 p.m., and 3:00 p.m.
Women's Tennis 1:00 p.m.
Women's Soccer 3:30 p.m.
Men's Soccer 6:00 p.m.
Sunday, October 15
Homecoming Mass
10:30 a.m., Tagliatela Academic Center
Brunch & Breakfast Bar featuring Bloody Mary and Mimosa Bar
11:30 a.m. DeDominicis Dining Hall, Hubert Campus Center
Click here to R.S.V.P.
Contact alumni@albertus.edu or call 203-773-8519 with inquiries.