Start early on your path to career success with the solid foundation you'll receive at Albertus Magnus.
Visit Career Services early on and throughout your time at Albertus to discover how we can help you develop realistic and flexible career goals that relate to your major and to future occupations. Learn the skills for lifelong career planning.
Access to our online resources is located in myAlbertus.
Log in to myAlbertus.


Career Services is found in the "Academic Services (CTLE)" tab on the top of the page.
Alumni Career Services
Alumni of Albertus Magnus College have lifelong access to Career Services. Among the many services offered are career counseling, resume consultations, and daily updates on Facebook and Twitter, and our job posting service, Jobs Just Inbox.
Contact us at careerservices@albertus.edu or 203-773-6989.
Like us on Facebook: Albertus Magnus College Career Services
Follow us on Twitter @AlbertusCareers
Important Information
Albertus Magnus College makes no representations or guarantees about positions listed by the Office of Career Services. Albertus Magnus College is not responsible for wages, working conditions, safety, or other aspects of employment at the organizations listed. It is the responsibility of each individual to research the integrity of the organizations to which they are applying and use caution and common sense when following up on job leads. The Office of Career Services assumes no liabilities for acts or omissions by third parties or for material supplied by them. The links to other Web sites from the Albertus Magnus College site are not under the control of the Office of Career Services. Therefore, the Office of Career Services is not responsible for the contents of any linked site. The Trustees of Albertus Magnus College and the Office of Career Services shall not be responsible or liable, directly or indirectly, for any direct or indirect damage or loss caused by or in connection with the use of or reliance on any such contents, products or services available on or through such sites.
Employers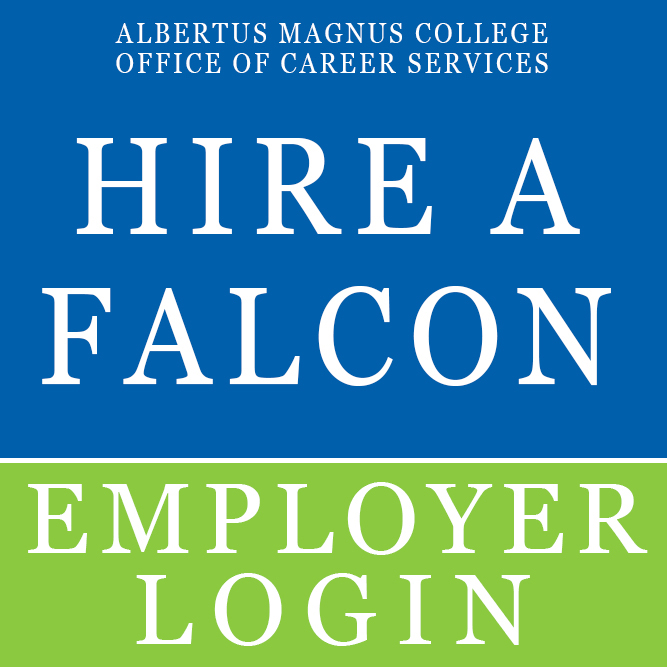 We use a paperless system to share job posting information with our students and alumni. Our preference is to be able to link to your company's website to view open positions. Send your link to careerservices@albertus.edu.
We also accept job postings in Microsoft Word format. Please submit your job opening information via e-mail to careerservices@albertus.edu as a Microsoft Word attachment. If we receive a PDF document we will do our best to incorporate your company's information into our online system. Though, we may not be able to share your job posting as a PDF. Our hope is to share information with our students and alumni exclusively online.
Thank you for your interest!
Additional Resources
Thanks to a partnership with Resume Target, a professional resume writing service, Albertus Magnus College is pleased to offer access to career related information and premium resume templates.
Employment Rates
For employment rates, contact Career Services at careerservices@albertus.edu or (203) 773-6989.