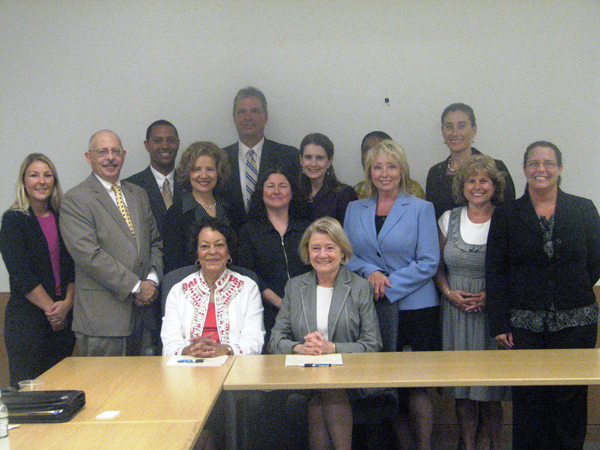 New London, CT July 10, 2012 - Albertus Magnus College, an independent college offering undergraduate and graduate programs at its main campus in New Haven and satellite locations in Connecticut, will sign an agreement with Three Rivers Community College to ensure that Three Rivers graduates can transfer their credits to Albertus Magnus College to earn a bachelor's degree. Three Rivers will become the sixth Albertus satellite school location to teach undergraduate and graduate accelerated degree courses.
The formal "articulation" agreement spells out details which will allow the transfer of credits associated with Three Rivers Community College associate of arts or associate of science degree to Albertus Magnus bachelor degree programs in its Traditional Day College and Division of Evening Undergraduate and Graduate Programs. Albertus has articulation agreements with Asnuntuck Community College in Enfield, Housatonic Community College in Bridgeport and Gateway Community College in New Haven. Without these types of articulation agreements, students who want to transfer from one college to another often lose credits that aren't recognized by the accepting institution.
Albertus is also pleased to announce that it will offer its innovative accelerated degree programs onsite at Three Rivers Community College. Three Rivers will join New Haven, East Hartford, Shelton, Enfield and most recently Bristol as Albertus satellite locations. Classes will be held at the Three Rivers Community College in Norwich, Connecticut.
A ceremonial event for both announcements is scheduled for Monday, July 16 at 1:00 p.m. in Norwich at Three Rivers Community College.
Dr. Julia M. McNamara, president of Albertus Magnus College, describes the agreement: "Albertus is a community of learners and educators - the students that come to us from Three Rivers Community College are academically prepared for the rigorous, quality education that Albertus Magnus College has to offer. We want to make this transition seamless and are pleased to assist students from Three Rivers Community College continue their post-secondary education and attain their goal."
Dr. Grace S. Jones, president of Three Rivers Community College added: "We are so pleased to be part of this articulation agreement. It will facilitate the transition of our students from Three Rivers Community College to Albertus Magnus College with minimum duplication of coursework. This aids Three Rivers to continue providing comprehensive, accessible, affordable and innovative educational opportunities, as stated in our mission, to all our students. The agreement with Albertus Magnus College is an excellent partnership and will enhance our students' success and allow them to progress even further in their educational achievements."
Albertus Magnus has two schools designed to meet the diverse needs of those seeking college degrees. Albertus provides a holistic educational foundation and prepares students to assume significant roles in business, education and society.
Its Traditional Day College offers bachelor degrees in the arts, science and fine arts. The College also offers master degrees in art therapy, the only one of its kind in Connecticut; leadership; liberal studies; fine arts in writing; management; business administration and education. The 50 acre park--like campus in the heart of New Haven offers residence halls for undergraduates, Division III athletics, and a variety of student clubs and activities.
The Division of Evening Undergraduate and Graduate Programs is offered to full- and part-time students at its main campus in New Haven and satellite locations. Albertus offers academic programs in innovative delivery systems that address the needs of working adult students. Flexible scheduling, collaborative learning, and blended or online course delivery are hallmarks of the adult programs. Adult students may pursue more than 14 undergraduate majors and graduate degrees, including a fully online MBA program.
Albertus Magnus College, founded in 1925, is a Catholic College in the Dominican Tradition. The College has a total enrollment of 2,000 students. It offers 50 traditional undergraduate programs, accelerated undergraduate programs for working adults, and graduate programs.
Three Rivers was formed in 1992 as a result of a mandate enacted by the Connecticut General Assembly which merged community and technical colleges in five geographic areas around Connecticut. In addition to the main campus in Norwich, the college also has two off-campus instructional centers located at the Naval Submarine Base in Groton.
The student population consisting of more than 5,000 enrolled students each semester and 2,500 Continuing Education students each year continues to grow. Through the integration of technical, career, and liberal arts programs within the college, Three Rivers' students are able to move with greater ease from one program to another. The college meets the diverse needs of the community by creating an environment that stimulates learning, while at the same time providing comprehensive, accessible, affordable and innovative educational opportunities.