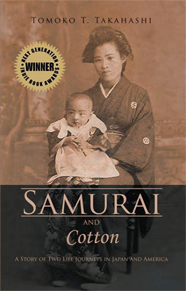 Albertus Alumna and Trustee Receives Book Awards
Dr. Tomoko Takahashi, Albertus alumna and trustee, has been named the Winner of the 2012 Next Generation Indie Book Award in the Autobiography category for her memoir entitled "Samurai and Cotton: A Story of Two Life Journeys in Japan and America", published in November 2011, which has also been honored as an Award-Winning Finalist in the Autobiography/Memoir category of the 2012 International Book Awards.
The award-winning book, Samurai and Cotton, is the English edition (translation and rewrite in English) of her book in Japaneseówith the same title that was originally published in Japan in June of 2010. A tribute to her father, family and ancestors, the book is based on the true stories of seven generations of the authorís family and centers on the life of her father. It takes on a historical journey through the world of the samurai as it transitions into the merchant class, culminating in the aftermath of the authorís decision to pursue her dreams to study in America.
"I am humbled by this honor," the award-winning author says. "Translating my own book into English, my second language, was a very unique and rewarding experience. As most authors do, I could have hired a translator, but I decided that it would be best translated by myself and written in my own voice. This recognition by the 2012 Next Generation Indie Book Awards, and the incredible response from the American public, confirms that this was the right decision."